Best books of 2019: The Flatshare, The Wicked King, Trick Mirror and more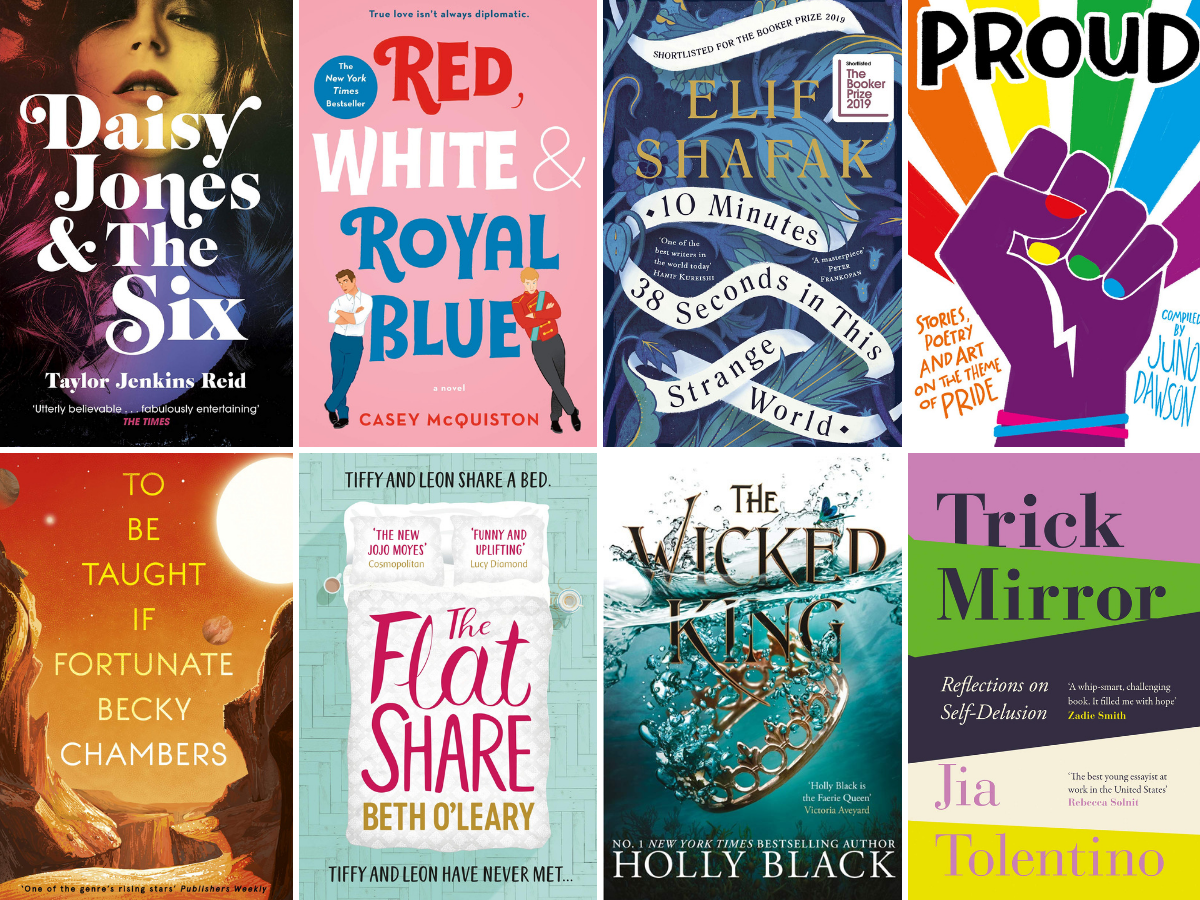 Every January we're left to wonder how this coming year could possibly top the one that came before it when it comes to the calibre of books on offer to readers, and every December it becomes clear that the publishing world has outdone itself once again.
In a year that saw a historic (if not divisive) awarding of The Booker Prize to two winners, with Margaret Atwood's The Testaments and Bernardine Evaristo's Girl, Woman, Other being named joint winners, readers were also being kept gripped by smart, raw and painfully relatable novels like Expectation by Anna Hope, Three Women by Lisa Taddeo and Chandler Baker's Whisper Network.
Meanwhile, YA fiction saw a wealth of bold, brilliant and important stories hit the shelves, from Laura Bates' The Burning to Holly Bourne's The Places I've Cried in Public, while fantasy fans saw trilogies that had kept them gripped for years reach their conclusions in Holly Black's The Queen of Nothing and Stephanie Garber's Finale.
It wasn't just fiction that kept us all turning pages, either, as Adam Kay followed up his million-selling This is Going to Hurt with an ode to the NHS at Christmas in Twas the Nightshift Before Christmas. My Friend Anna by Rachel DeLoache Williams told an extraordinary account of a con artist who caught the internet's (and Netflix's) attention, while Debbie Harry released her first autobiography, Face It, and Ronan Farrow told the story behind the era-defining #MeToo movement in Catch and Kill too.
With all that and more on offer over the last 12 months alone, our writers had a giant task on their hand to choose their best books of the year. But we did our best to whittle our picks down, and these are the books that we couldn't stop talking about in 2019.
The Night Tiger by Yangsze Choo (Quercus)
From the exotic cover to the captivating story held within its pages, Yangsze Choo's second novel is an absolute treasure of a book. Set in 1930's colonial Malaya, this is a tale of Chinese superstitions and strange coincidences, of servants and masters, of siblings lost and found. It's told from the dual perspectives of an intelligent, quick-witted apprentice dressmaker who moonlights as a dancehall girl but dreams of a more fulfilling life, and an orphan houseboy entrusted with a macabre task involving a missing finger. Full of lush, sumptuous imagery and whimsical mythology, The Night Tiger has everything a brilliant historical novel needs: Love, death, mystery, magical realism and an atmospheric setting that's at once alluring, peculiar, romantic and dangerous. – Natalie Xenos
Daisy Jones and The Six by Taylor Jenkins Reid (Hutchinson)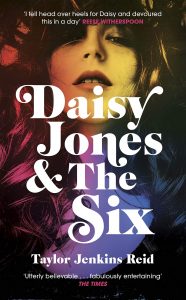 If you felt like you saw Taylor Jenkins Reid's Daisy Jones & The Six absolutely everywhere this year… well, you probably did – but with good reason. Daisy Jones & The Six transported readers to the heady world of 1970s LA as it chronicled the love, fame and music of a band that defined an era. This novel arrived in a whirlwind at the beginning of this year, offering readers a unique, entertaining and utterly engrossing story about the rise and fall of one of the biggest bands of the '70s, told via first-hand accounts of those who were there during the band's journey and ultimate breakdown. From the early days of their struggles to make it big, to the wild nights and parties that followed the first taste of success and culminating in the night that brought everything to a halt, there is not one moment of Daisy Jones & The Six that won't leave readers gripped – and all of it is told in such convincing detail, with completely believable characters, that it's a struggle to remember that it's all just an absolutely brilliant work of fiction. – Megan Davies
10 Minutes, 38 Seconds In This Strange World by Elif Shahak (Viking)
The last minutes of a murdered Turkish prostitute sounds just about the most depressing material for a book you could think of, but there's so much more to Elif Shahak's Booker Prize nominated novel than that. Yes, the incident at the centre is desperately sad, but Shahak allows Leila to be more than how she ended – a vivacious, fierce, loving character, who touched the lives of so many. 10 Minutes, 38 Seconds In This Strange World is a defiant, lyrical tribute to the strength of Turkey's outcasts. – Chloe Walker
Life Will Be The Death Of Me by Chelsea Handler (Random House USA)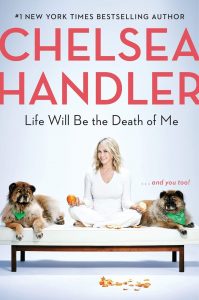 A comedian of some controversy, Chelsea Handler might not be everyone's cup of tea, (not that she'd be bothered, though might be interested in learning why) but she does have a way with words. Life Will Be The Death Of Me is her most personal work and that sense of authenticity and openness is what makes it such a stunning read. Deeply moving, Handler shares how the tragic loss of her brother at a young age affected her whole life, taking us through a year long, and beyond, journey to better understand herself. It's part memoir, part self-help book from someone who is not into self-help books. – Nick Gomez
The Wicked King by Holly Black (Hot Key Books)
Having had to wait over a year to get the sequel to 2018's The Cruel Prince, Holly Black's The Wicked King was by far my most anticipated YA novel of 2019. As expected from the queen of fantasy, it more than lived up to its predecessor – delivering even more darkness, danger, disloyalty and deceit against the beautiful and cruel backdrop of Black's Faerie world. The Folk of the Air series has always been a story of characters craving power but this book's overarching theme was how our fierce human protagonist Jude Duarte would hold on to that power and what exactly she'd do with it. Filled with devious political machinations, dysfunctional family drama and a delicious love-hate relationship between Jude and the titular Wicked King Carden, it's an exhilarating, heart in your mouth blend of murder, magic, desire and betrayal that left me gobsmacked by the end. Easily the best book in the trilogy. – Natalie Xenos
The Flatshare by Beth O'Leary (Quercus)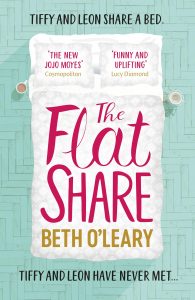 More than any other year, 2019 felt like the time that rom-com novels came into their own – and, this time, they were smarter, funnier and more self-assured than ever. Although there were plenty of these books that could have easily fitted into this end of the year list, for me no book did it better than The Flatshare by Beth O'Leary. Following Tiffy and Leon as they embark on a rather unorthodox – yet believable – living arrangement where they share a one-bed flat at different times of the day, The Flatshare is a feel-good read that tracks the growing friendship and connection between the two characters. This is a novel that's not afraid of exploring the messier parts of life, and it's a story that will stay with you long after you close the final page. – Megan Davies
Trick Mirror
: Reflections on Self-Delusion 

by Jia Tolentino (Fourth Estate)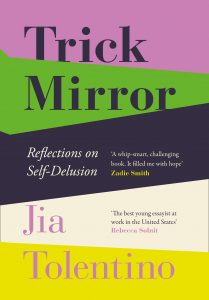 In her three years at The New Yorker, Jia Tolentino has become one of magazine's most heralded writers. Her remit is large – she covers books, fashion, race, the internet, countless other things – but every one of her pieces teems with insight and intelligence. Trick Mirror compiles a selection of her new essays, and it proves she is more than worthy of her stellar reputation. These past few years may have been tough going, but we are lucky to have Tolentino here to chronicle them. – Chloe Walker
Emily Eternal by M. G. Wheaton (Hodder & Stoughton)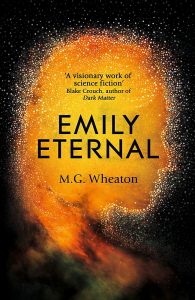 Months after reading Emily Eternal, I'm still thinking about this absorbing, exciting and science-fantastic book. Spanning the breadth of speculative fiction, this is the story of an artificial consciousness, Emily, learning to comprehend her existence and solve the most complex problems using her beyond human abilities. Happy to do her calculations, she is suddenly re-tasked with trying to save humanity once it becomes clear that a solar event is not only going to wipe out humanity, but it's happening sooner than anyone wanted to predict. This adventurous story travels – from a university campus lab, on the road across the country, and eventually even to space. – Nick Gomez
A Curse So Dark and Lonely by Brigid Kemmerer (Bloomsbury YA)
When it comes to fairytale retellings, I approach them with a sense of excitement and trepidation. Invariably they fall into one of two very specific camps: inspired or uninspiring. Thankfully, Brigid Kemmerer's contemporary fantasy retelling of Beauty and the Beast falls into the former category, blending the enchanting old-worldly setting of the original tale with an urban edge in the form of its headstrong protagonist Harper. This is a refreshingly modern and emotional fairytale with witty dialogue and hugely endearing characters who instantly captured my heart. An unputdownable YA fantasy tale that paves the way for what's sure to be an adventure-filled sequel in January. – Natalie Xenos
Enchantée by Gita Trelease (Macmillan Children's Books)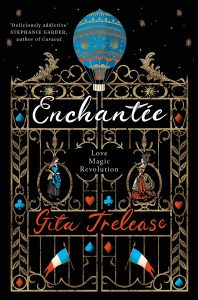 It's very rare that a book can come along and tick every one of your boxes, but that's exactly what Gita Trelease's Enchantée did for me the second I saw it. Set amidst the back streets of Paris in 1789, Enchantée explores a city on the brink of revolution and crafts a compelling tale of magic, deception and intrigue against all of that chaos. In a bid to provide for her younger sister after her irresponsible older brother disappears, recently orphaned 17-year-old Camille uses dark magic to transform herself into the Baroness de la Fontaine and infiltrate the glittering courts of Versaille. She's quickly caught up in the court's dizzying world of glamour, gossip and riches – but Camille's not the only one living a double life and if she's caught, the consequences could be deadly. With dangerous magic, a gorgeous romance and plenty of wicked characters for readers to love to hate, Enchantée is a YA historical fiction book with a difference – and the best part is the story is set to continue in next year's Liberté too. – Megan Davies
I Like To Watch by Emily Nussbaum (Random House USA)
Emily Nussbaum has been The New Yorker's television critic since 2011, and won the Pulitzer Prize for criticism in 2016. I Like To Watch is her long-awaited first collection of essays. Her writing is enthusiastic and evocative, intelligent and immensely readable. More than once I have welled up upon reading one of her reviews; countless times she has alerted me to a TV show I've ended up loving. What a delight to finally have some of her best work collected in one place. – Chloe Walker
To Be Taught, If Fortunate by Becky Chambers (Hodder & Stoughton)
Every year there's one book that creeps up on you and becomes an unexpected favourite. My surprise find this year was Becky Chambers' To Be Taught, If Fortunate – a high-concept sci-fi novella that follows a quartet of explorers sent into space to conduct ecological surveys of habitable worlds light-years from Earth. Set in the future, at the turn of the 22nd century, this is a thought-provoking tale that explores humanity's insatiable curiosity for discovery and space adventure. It veers from joyful to melancholic, surreal to painfully real, as the crew survey new landscapes and stumble upon weird and wonderful life forms. There's a quiet beauty to Chambers' writing that envelops you in her story and holds you tight until the very end. Proof that a novel doesn't have to have hundreds of pages to be impressive. – Natalie Xenos
Proud by Various (Stripes Publishing)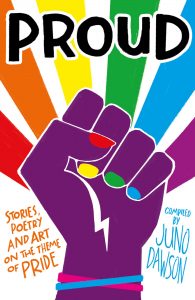 We need more LGBTQIA books like Proud that do a good job of actually covering all the (very necessary) letters in the initialism. This young adult collection of short stories is great for teens, certainly, but also anyone who enjoys the formative, hopeful, emotionally complex narratives that make up YA. Some stories lean into the fantastical, some are romantic, others are rebellious and inspiring. There is lots of love in this book, plus each story includes a drawing from an LGBTQIA+ artist that marries with the tale. A great read from start to finish. – Nick Gomez
Dread Nation by Justina Ireland (Titan Books)
The Walking Dead meets Hamilton meets Pride and Prejudice and Zombies in Justina Ireland's crossover fantasy novel. Following witty and whip-smart warrior-cum-protector-of-the-wealthy Jane McKeene, Dread Nation is set in the aftermath of the American Civil War, which was derailed when an apocalyptic plague broke out on the battlefields of Gettysburg and Chancellorsville. Drawing from Native American culture and history, Ireland introduces readers to a cruel, dangerous world in need of saving – thankfully Jane is more than up to the challenge. It's a thrilling and action-packed story about race, power, humanity and, most importantly, survival. – Natalie Xenos
Red, White and Royal Blue by Casey McQuiston (St. Martin's Griffin)
If you're in the stage of your reading life where you miss young adult stories but the inner narrative of a teenage protagonist feels less relevant, and where the adult fiction section is still too intimidating and you just want some good, old-fashioned rom-com literature, Red, White and Royal Blue by Casey McQuiston was written with you in mind. Aside from being a balm for the heart of those who spend a lot of time worrying about the state of the world, it hits all the romance beats you want and need, with the added bonus of being able to see the relationship grow and become more lived-in. – Melanie Kress
Scrublands by Chris Hammer (Wildfire)
With its dark, riveting mystery and isolated Australian setting, Chris Hammer's debut is a crime novel that packs a serious punch. It follows struggling journalist Martin Scarsden as he arrives in a drought ravaged country town to write a feature on the one-year anniversary of a tragedy that saw a charismatic young priest kill five of his congregation before being shot dead by the police. There's so much tension simmering under the surface of this novel, so many secrets and lies that bury the truth Martin is trying desperately to uncover. Unnerving and authentic in its detail of a rural town in decline, Scrublands is a brilliant page-turner. The sequel, Silver, should be on every crime readers' TBR pile for the New Year. – Natalie Xenos
Honourable Mentions: The Testaments (Margaret Atwood), The End of the World Survivors Club (Adrian J Walker), City of Girls (Elizabeth Gilbert), The Silent Patient (Alex Michaelides), Ninth House (Leigh Bardugo), The Wayward Girls (Amanda Mason), The Warehouse (Rob Hart), Finale (Stephanie Garber), Gods of Jade and Shadow (Silvia Moreno-Garcia)