Book Review: The Queen of Nothing by Holly Black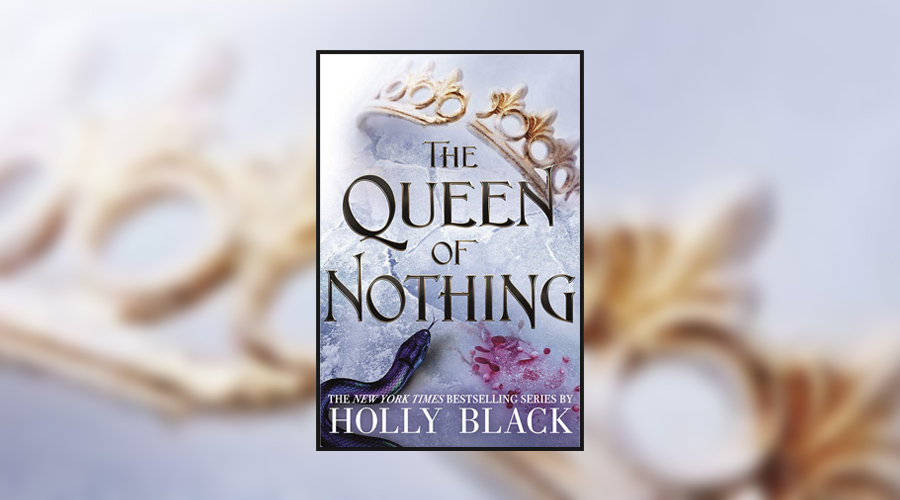 There are books that you eagerly binge in a day and books that you deliberately read slowly because you don't want them to ever end. The Queen of Nothing is that rare treat of a YA fantasy novel that you want to both devour quickly and savour slowly. Because this is it Faerie fans – the third and final book in the captivating Folk of the Air series, which started as a game of pure court politics and culminates in a battle for not just the throne but for love, loyalty and family too.
When The Wicked King concluded, Jude had put her doubts aside and been pronounced Queen of Faerie, only to be outmanoeuvred and exiled to the mortal world by her new husband, Carden. After licking her wounds and building her guard back up, our fearless little trickster jumps at the chance to return to the Faerie world when her desperate twin sister Taryn shows up asking for a favour. She faces imprisonment, torture and death but when has that ever stopped Jude Duarte? If anything, the thrill of impending doom is what drives her forward.
Jude has always wrestled with her conflicting feelings for Carden and she continues to be at war with herself as she seeks both justice and revenge. There's even more affection and admiration between the two now, even if their interactions are still fuelled by fire and sarcasm, but whilst Jude and Carden's reunion is a scene worth waiting for, there's much more at stake than their love-hate relationship. When a dark curse is unveiled, Jude must find a way to break it and restore balance to the world of Faerie – not an easy task for a mortal queen unaccustomed to controlling her own lethal impulses, let alone an entire land of magical folk who don't consider her a legitimate ruler.
'But your beauty will fade,' he continues, just as softly, speaking like a lover. 'And all you have and all you are will rot away to nothing. You will be nothing. You are nothing.'
Enchanting from the very beginning, the Folk of the Air series has grown more exhilarating and more scheming with each book. It was always going to be difficult to beat The Wicked King, a novel that delivered shock after shock of devious conspiracies, heart-breaking betrayals and devilish curveballs. That The Queen of Nothing falls a little short of exceeding that same breathless drama and danger isn't really a surprise. When an author constantly raises the bar, readers come to expect more and more. So whilst it doesn't exceed The Wicked King's brilliance, it does come close to matching it – offering up more of Jude putting herself in the firing line and Carden/the Court of Shadows working behind the scenes to outwit their many enemies.
At this point in the series we know and understand Black's complex characters and the elaborate world of Faerie, allowing us to really focus on Jude's desperate mission. Her plight has always been personal but here she's directly going up against her father, Madoc. It's a battle of strategy, strength, fortitude and mental agility, and it always feels as if it could go either way. Madoc isn't going to back down, neither is Jude, and their likeness makes them worthy opponents. But whilst Madoc might have experience on the battlefield and a ruthless bloodlust, Jude has the human capacity for benevolence, which is her own strength.
With The Queen of Nothing, Holly Black delivers what we've all been longing for and then threatens to send it up in flames as the bloody war for the crown finally comes to a head. There's action, romance, magic, double-crossing and intricate scene setting. Black's writing is fantasy perfection – at once dark, beautiful and filled with enchantment. Concluding Jude and Carden's story carries with it a sense of bittersweet finality but with all great series, it will be a pleasure to revisit as we live in hope of Black returning to her Faerie world in the future.
★★★★
The Queen of Nothing is published by Hot Key Books on 19 November 2019