Book Review: Gods of Jade and Shadow by Silvia Moreno-Garcia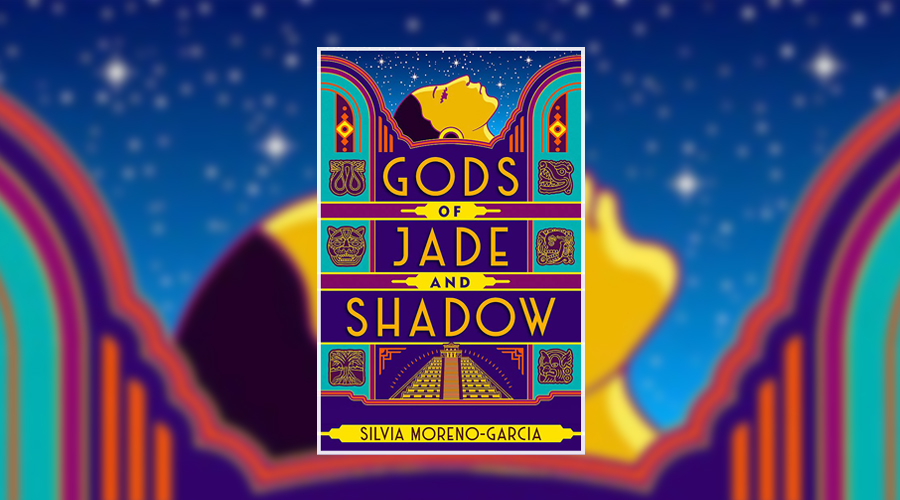 Think Cinderella, but in Mexico, in the 1920's. And instead of a handsome prince, there's a handsome death god.
Casiopea is the eighteen-year-old granddaughter of a town elder. Despite his privileged status, questions over her paternity lead him to treat her like a slave, with his bullying grandson Martín adding to her misery.
She longs to escape, and gets her chance one day upon finding a heap of bones inside an old discarded chest. Before her very eyes, those bones become Hun-Kamé, the Mayan god of death. With one of his bones embedded in her skin, Casiopea and Hun-Kaméare magically bound together, so he takes her along on a dangerous quest to enact revenge on his treacherous brother, Vacub-Kamé. The journey will change them both, forever.
Silvia Moreno-Garcia's Gods of Jade and Shadow is a magical novel, in both senses of the word. Her writing is so lush and vividly transportive it leaps off the page, grabbing you by the hand and dragging you into the richly visualised universe. It's such a cinematic book, one would imagine there'll be a big screen adaptation in the not too distant future.
Basing her story on real-life Mayan folklore, Moreno-Garcia introduces us to a fantastical roster of gods; tricksters and seductresses, evil and benevolent. Even more mesmerising are the different environments to which she takes us. On their journey, Casiopea and Hun-Kamé travel through some real life cities which are painted in rich, evocative strokes. Most evocative of all though is Xibalba, the mythical 'Land of Shadows' that Hun-Kamé and Vacub-Kamé are fighting over. The big finale is set within the dark, ever-shifting landscape of the underworld, and it's a terrifying place to visit. There could hardly be a better setting for a battle with such life and death stakes.
Amidst all this mystical mayhem, there is a very human story grounding Gods of Jade and Shadow; one of first love, fraternal discord, and a young woman's desire to escape the confines of home. Moreno-Garcia does well to always keep the realistic side of her novel as – or more – interesting than the otherworldly. The evolving relationship between Casiopea and Martín is well-drawn and believable, mirrored to great effect in the relationship between Hun-Kamé and Vacub-Kamé. It is to the author's credit that she refuses to villainise the ostensible villains, focusing instead on the emotional reasons why they have ended up in their malevolent state.
The most enjoyable aspect of Gods of Jade and Shadow is the romance between Casiopea and Hun-Kamé. All the excitement and starry-eyed ardour of a first love affair is magnified ten-fold by the fact that the object of Casiopea's affection is a literal god. Moreno-Garcia writes some rapturous scenes for the two of them, and although the ending of their courtship is somewhat preordained, it's still a lot of fun to get swept up in the swoony, over-blown romanticism of it all.
Colourful, romantic and moving, Gods of Jade and Shadow is a sensational novel from beginning to end. Movie studios, if you're on the hunt for the next great fantasy blockbuster to option, you need look no further.
★★★★★
Gods of Jade and Shadow is published by Jo Fletcher Books on 23 July 2019