Best Books of 2018: Normal People, The Toymakers, The Cruel Prince and more

Before we allow ourselves to get too excited by the promise of another great year of reading ahead of us in 2019 – and it's already shaping up to be a good one – there's still plenty of time to reflect on the brilliant fiction and non-fiction titles that 2018 delivered in order to make this year one of the best ones for books yet.
From tense domestic thrillers like Louise Candlish's Our House and Karen Cleveland's Need to Know to exciting new entries into the fantasy series of Stephanie Garber's Caraval and Katherine Arden's Winternight trilogy, 2018 had a book for everyone.
Literary fans could enjoy the historical imaginings of The Mermaid and Mrs Hancock by Imogen Hermes Gowar, as well as the Booker Prize winning Milkman by Anna Burns, while YA lovers were treated to new books like Adam Silvera and Becky Albertalli's What If It's Us and Kass Morgan's Light Years.
Meanwhile, in non-fiction, readers got to know about Michelle Obama with her memoir Becoming, while Reese Witherspoon invited us all into her world with her lifestyle book Whiskey in a Teacup.
With all of this in mind, our writers have chosen their favourite books of the year, and these are the books that had us raving in 2018.
The Tattooist of Auschwitz by Heather Morris (Zaffre)
In a similar vein to The Boy in the Striped Pyjamas, Heather Morris' debut centres not solely on the war itself, but on the power of the human spirit and humanity's capacity for kindness amidst atrocious circumstances. The book began life as a screenplay after Morris struck up a friendship with the tattooist of the title, Holocaust survivor Lale Sokolov. Yet Lale's story – so full of both horror and hope – evolved into a moving historical novel that will resonate for generations to come. It's a real life story of courage, loyalty, love and friendship that neither sugarcoats nor sensationalises what life was like for the prisoners of Auschwitz-Birkenau. – Natalie Xenos
The Cruel Prince by Holly Black (Hot Key Books)
Holly Black kicked off 2018 with a new YA fantasy novel that became the book to measure other books' success by, but very few books managed to live up to the standard set by The Cruel Prince. The book follows seventeen-year-old Jude, who has spent 10 years trying to fit into the High Court of Faerie, only to be relentlessly mocked, tormented and hated for being mortal – with Prince Cardan, the youngest son of the High King, being one of the worst offenders. As Jude fights to win a place at Court, she becomes more deeply caught up in its intrigues and deceptions. In its prologue alone, The Cruel Prince establishes a magical, dangerous world that hooks you in and doesn't let up, jumping between action, passion, betrayal, twists and turns in the pages that follow. Packed full of magic that's both wondrous and wicked, the first of The Folk of the Air series started 2018 off strongly, offering a dark, twisted, mature and brilliant book that guaranteed it a place on Best Books of 2018 lists everywhere. – Megan Davies
The Guilty Feminist by Deborah Francis-White (Virago)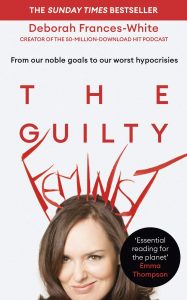 This is the perfect book for anyone who is struggling with feminism and its intersections, but who wants to understand why it's important and how they can get on board. As with the podcast of the same name, The Guilty Feminist is an inward look at how the patriarchy affects us all, as well as what in the world the patriarchy actually is. It's amusing, accessible and diverse in its voices – as we hear from not just the author but her friends, fellow comedians and more. – Nick Gomez
Normal People by Sally Rooney (Faber & Faber)
If books are sometimes described as mirrors to our world, reading Normal People was like glancing into one, freshly polished and in full light, your reflection with every pore and crease on display. I, like everyone else in my age bracket of mid twenties to mid thirties, struggle with the identifier of 'millennial' and the condescension it normally implies. But if this is to become the novel of this millennial generation, I for one am completely at ease with that. Rooney's simple story follows the relationship between an Irish boy and girl from school through university from the late noughties to early 2010s, and through varied quiet tragedies and triumphs. It is honest, perfectly observed, and infused with so many overwhelming moments of 'yes, I have been there, and felt exactly like that'. It has received popular and critical success, most recently winning the Waterstones Book of the Year, and deservedly so. I hope it leads to many others discovering these characters and their 'normal', extraordinary story. – Kim Evans
Legendary by Stephanie Garber (Hodder & Stoughton)
The sparkling follow-up to Stephanie Garber's 2017 debut reunites readers with Caraval Master Legend and his eclectic troupe of performers. This time around the stakes are higher and the cryptic game even more thrilling, as younger Dragna sister Tella becomes embroiled in an intricate web of riddles, mysteries and devious bargains. By shifting the focus from older sister Scarlett, Garber successfully sidesteps the dreaded middle book syndrome that's prevalent in YA fantasy. Throw in a murderous heir to the throne, a doomed loved story, sumptuous settings and lavish costumes, and this is one hell of a sequel. Legendary is an emotional, romantic, tragic, fantastical novel, bolstered by an impulsive, spirited heroine and a cast of equally endearing characters – be they good, wicked, or – the best kind – a little of both. It sets the scene for what promises to be an epic, exciting and extravagant finale. – Natalie Xenos
Eat Up
by Ruby Tandoh (Serpent's Tail)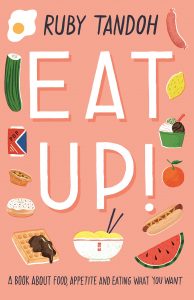 Ruby Tandoh has been admiringly frank and controversial since her Bake Off introduction and public life thereafter. In an era of enduring fitspo and Instagram, Eat Up exists to tell you about food history and, in the process, to not just eat your food, but to savour every bite, lick your fingers clean and enjoy it. With delicious recipes snuck between honest and heartfelt advice, it's just as at home on your kitchen shelf as it is among any informative or moving non-fiction picks. – Melanie Kress
Sunny Side Up by Susan Calman (Two Roads)
Fresh off competing in Strictly Come Dancing, Susan Calman's Sunny Side Up is heartwarming, life affirming and full of little chuckles. It's the follow-up to Cheer Up Love: Adventures in depression with the Crab of Hate, in which Calman delved into how her depression affects her life as a comedian and how she learned to cope. Sunny is the other side of the coin to Cheer Up Love, finding the positive where one might be tempted to dwell on the negative. It's also excellent in audio form, read by the author. – Nick Gomez
The Toymakers by Robert Dinsdale (Del Rey)
Robert Dinsdale's The Toymakers is a masterpiece of speculative fiction. It's the tale of two brothers destined to be perpetual rivals, of a young runaway who finds a home in an unlikely place, and of men haunted by the ghosts of war. Starting in 1906, readers are invited into The Emporium, a magical toy shop run by the notorious craftsman Papa Jack, whose creations live and breathe within the walls of the store. Whilst the first half of the book reads like an enchanting reverie, the second half explores the very human tragedies and consequences of warfare. It's simply beautiful storytelling, sweeping readers along with its fusion of fantasy, myth, fairytale and history. It's an extraordinary novel with the power to break hearts and delight minds all at once. – Natalie Xenos
Emilia by Morgan Lloyd Malcolm (Oberon)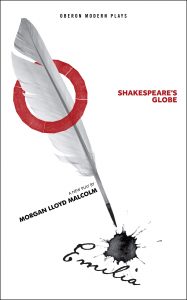 Mother, muse, and mistress: the roles of historical, fictional, and theatrical women are frustratingly, characteristically restrictive. The preface for Morgan Lloyd Malcolm's play Emilia asks prospective performers to 'cast against type', and, premiered with an all-female cast and three actresses in the title role, Emilia practises what it preaches on the page. Emilia was a mother of two, the mistress of a courtier, and a muse to the most famed playwright of all time, yet she was also a poet, an activist, and a proto-feminist, and for the first time, she's free to play all those parts. Malcolm's play is poetic and playful, tragic and triumphant, angry and elegiac, and, like Emilia's poetry – also printed with the playtext – a magnificent call-to-arms. – Leah Tozer
Promising Young Women by Caroline O'Donoghue (Virago)
This belter of a debut novel is a sharp, dark and entirely compelling read, and one that will no doubt resonate with every 20-something woman who picks it up. Promising Young Women is a timely look at gender relations and office politics, following adrift 26-year-old Jane Peters who finds herself playing the role of Other Woman after a drunken mistake leads to a promotion and success at work. But soon she learns that a world of sex and power can come at a cost, and for Jane, it's her friendships, her health and her life that could end up paying the price. With smart writing and a darkly engrossing subject matter, Caroline O'Donoghue has crafted a witty, relatable narrative that grips you and doesn't let go until you feel every step of Jane's journey as keenly as it were happening to you – which only makes you all the more determined to race towards the final page. – Megan Davies
The Unlikely Heroics of Sam Holloway by Rhys Thomas (Wildfire)
The world needs more Sam Holloways, in literature and in life. On the surface he's a solitary, obsessive-compulsive character who likes order and mundanity. What we very quickly learn about Sam is that he has another life as a superhero, albeit a clumsy, awkward one without any powers. Hilarious, tragic and heartrending, Rhys Thomas' third novel is an exploration of grief and how we cope with loss and loneliness in different ways. The Unlikely Heroics is a relatable, surprisingly uplifting and funny novel about love, kindness and redemption – one that will have you tearing up with empathy for Sam one moment, and crying with laughter at his haphazard heroics the next. It's easily one of 2018's most life-affirming books. – Natalie Xenos
Transcription by Kate Atkinson (Doubleday)
I've read my fair share of novels this year that have left me wondering what all the hype was about. So when the critics started raving about Kate Atkinson's Transcription, I was a little nervous. Would this wartime tale of espionage live up to its promise? The answer is a resounding yes. Skilfully weaving two time periods – the story flips between 1940 and the BBC 10 years on – Atkinson has managed to fashion an ingenious puzzle that enthrals and keeps you guessing until the very last page. At its heart is a witty, fascinating and refreshingly complex heroine, Juliet Amstrong. Thrust into a world of spies and double agents – as tedious as it is terrifying – at the age of 18, she's given the job of transcribing conversations with Nazi sympathisers. It's this past that comes back to haunt her when, years later, she's confronted by someone intent on revenge. Atkinson is that rare thing – a 'literary' author who can craft a page-turner that entertains as much as it impresses. – Alexander Newson
The Wicked + The Divine Volume 6: Imperial Phase II by Kieron Gillen, Jamie McKelvie, Matt Wilson (Image Comics)
The Imperial Phase Part 2 is the sixth, of an intended eight volumes, of the highly acclaimed The Wicked + The Divine series and it feels like we are heading towards a majestic grand finale. The continued story of 12 gods reborn in the modern day is rendered in an immense art style by McKelvie with bold and intense colours by Matt Wilson. Gillen's story has deepened his mythos with each volume, but it always seems like there is a clear path ahead. You never know what might happen next, be it death, resurrection, betrayal or a really good reveal. Whatever it is, you'll love it. – Nick Gomez
Only Killers and Thieves by Paul Howarth (One)
This brutal and visceral outback western could rival the best American frontier novels. Set in Central Queensland towards the end of the nineteenth century, the story follows two brothers whose lives are irrevocably changed when their parents are murdered. It sets in motion events that will change both boys as they team up with a callous landowner and the ruthless Native Police, seeking justice and revenge. Howarth's debut asks nuanced questions about humanity, morality and complicity as it explores race, brotherhood, ownership and the historic consequences of British colonial power. It's a powerful and, at times, savage novel that's incredibly compelling, promising great things from Howarth in the future. – Natalie Xenos
Honourable Mentions: Palm Beach Finland (Antii Tuomainen), Flames (Robbie Arnott), Last Time I Lied (Riley Sager), Milkman (Anna Burns), The Chalk Man (CJ Taylor), Women In Battle (Marta Breen and Jenny Jordahl), Children of Blood and Bone (Tomi Adeyemi), America Is Not The Heart (Elaine Castillo), The Long Forgotten (David Whitehouse), To Kill a Kingdom (Alexandra Christo), Anatomy of a Scandal (Sarah Vaughan)