Book Review: Anatomy of a Scandal by Sarah Vaughan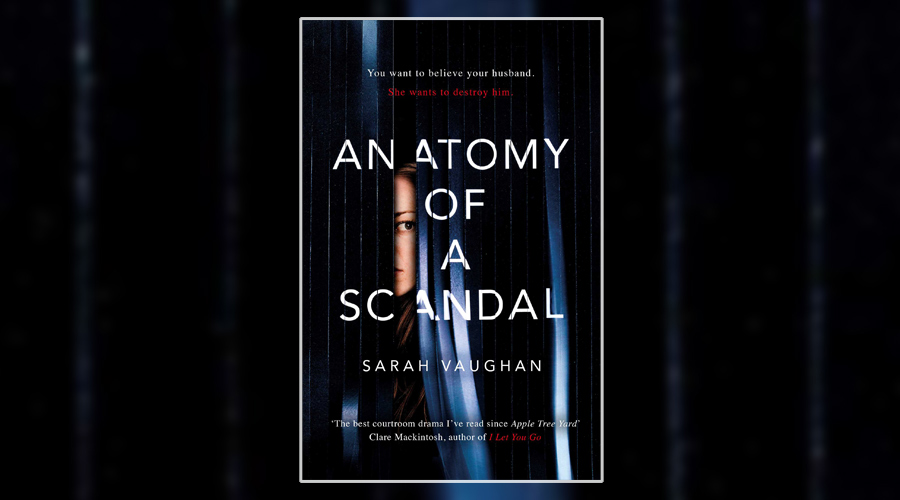 When Sarah Vaughan started writing Anatomy of a Scandal, she couldn't have anticipated just how timely the plot for her novel would be upon publication. Of course, the themes that the story explores aren't anything new if your eyes are open to the world around us – women have always had to contend with issues of male privilege, entitlement, consent and exploitation. However, all the recent revelations in the news and media give this cautionary drama an added layer of significance.
The story opens with Kate, a strong-minded and successful criminal barrister who specialises in prosecuting sexual crimes and whose job is her life. Consequently, she's forty-two, divorced, single and has never had children. She's just lost a particularly tricky case when a new, high profile one lands on her desk. For Kate – who isn't just on the side of the winners, but on the side of the truth – it's too important to turn her back on.
The case in question involves James Whitehouse, an Eton and Oxford educated junior Home Office minister and close friend of the PM, whose seemingly perfect marriage is thrust into the spotlight when a steamy affair with his 28-year-old aide, Olivia, hits the papers. What begins as a celebrity scandal soon takes a darker turn when Olivia accuses James of sexual assault. It's his respected word against her less influential one; her damning version of the truth vs. his more 'innocent' take on the incident.
Meanwhile, James' devoted wife Sophie is putting on a brave face, distraught by her husband's now very public affair but determined to show a united front to the papers and put to rest the allegations against the man she loves. Amidst these present day events, the story travels back to the early 1990s and adds a fourth voice to the tale – that of Oxford student Holly, as she's introduced to the elitist institution and, more appropriately, the privilege and protection its affluent male students are swaddled in.
Drawing from her time at a historic Oxford college, as well as her experiences working as a news reporter and political correspondent, Vaughan's story is part courtroom drama, part psychological thriller that delves into the many facets of a marriage and asks the question of how well we know those we share a bed with. It's a devastating exploration of male entitlement and the corruption at the heart of powerful, highbrow establishments, as well as the exclusive 'clubs' they endorse.
Anatomy of a Scandal is a sharply written and quietly unsettling book that simmers with suspense and tension, alternating between the past and present whilst showing events from numerous perspectives. James and Olivia both believe their own accounts – it's Kate's job to unravel the truth and it's Sophie's duty – as a wife, as a mother, and as a woman – to do the right thing, even if it means betraying her marriage. Getting justice becomes just as important to the reader as it is for them both.
Intelligent, relevant and unputdownable, Anatomy of a Scandal deserves all the praise it gets.
★★★★★
Anatomy of a Scandal is published by Simon & Schuster on 11 January 2018