2020 fiction preview: 25 books to look forward to reading this year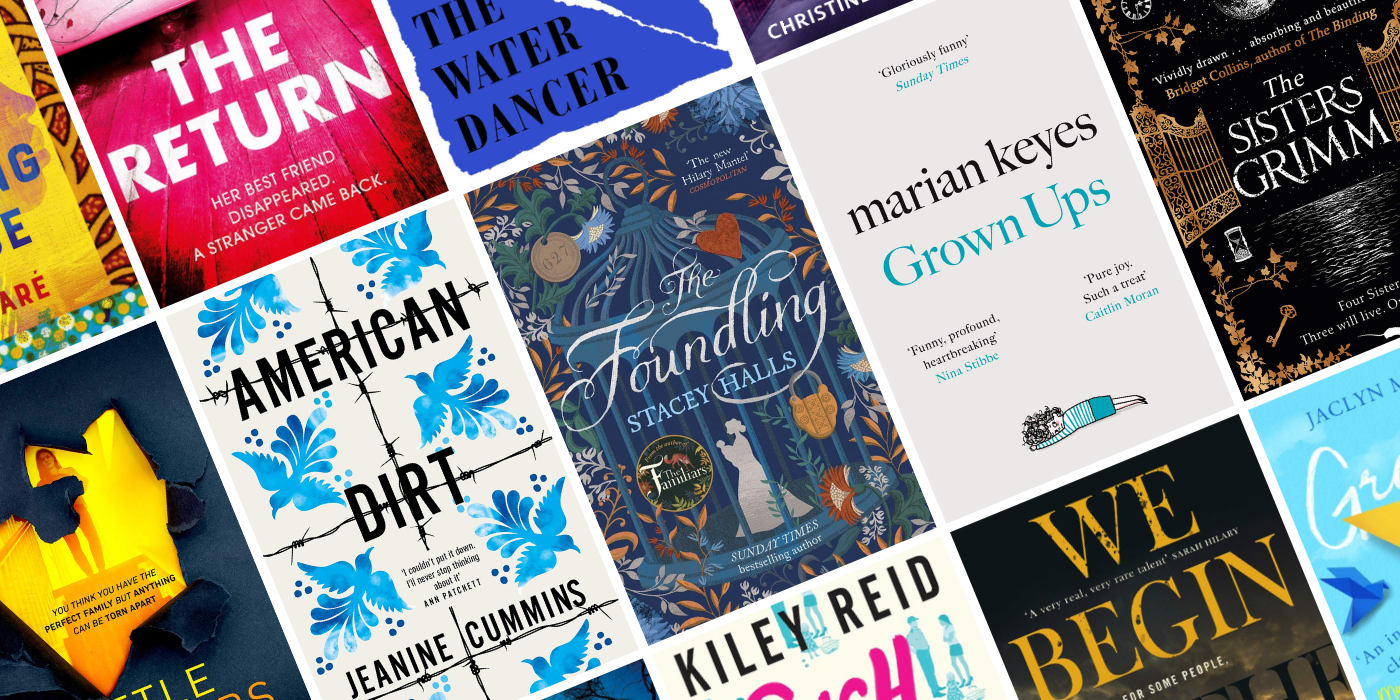 2019 was a brilliant year for books, but 2020 is already set to eclipse it with hotly anticipated new novels from some of literature's finest including Marian Keyes (Grown Ups), Hilary Mantel (The Mirror and the Light), Sebastian Barry (A Thousand Moons), Maggie O'Farrell (Hamnet) and Emily St. John Mandel (The Glass Hotel).
Fantasy and sci-fi readers are in for a treat with Menna Van Praag's The Sisters Grimm and Simon Jimenez's The Vanished Birds, whilst crime thriller fans can look forward to devouring Chris Hammer's Silver, Will Shindler's The Burning Men and Lynda La Plante's Buried.
There are also plenty of debuts hitting shelves across the different genres – from Kate Elizabeth Russell's My Dark Vanessa and Francine Toon's Pine to Ta-Nehisi Coates' The Water Dancer and Helen Moffett's Charlotte.
If that's not enough to get you excited about the bookish year ahead, here's our round-up of 2020's must-read fiction books. Time to clear some space on your TBR pile in anticipation.
Gravity Is The Thing by Jaclyn Moriarty
Jaclyn Moriarty's debut novel for adult readers is one of the first books released this year but you're likely to still be talking about it months down the line. It centres on Abigail Sorensen, who was sixteen when her brother disappeared and she first received chapters from The Guidebook in the mail. This unusual self-help collection promised to change Abigail's life for the better; all she had to do was reply 'yes' to a no-obligation, free subscription. Twenty years later, Abi – now a single mother and café owner – is invited to attend a retreat where she will finally learn 'the truth' behind the book. Heart-warming and absorbing, you'll never want this book to end. (2 January, Allen & Unwin)
Such A Fun Age by Kiley Reid
Such A Fun Age is a witty and entertaining page-turner that delves into privilege, money, race and assumptions. When Emira is apprehended at the supermarket for 'kidnapping' the white child she's actually babysitting, her well-intentioned employer Alix – a feminist blogger who makes a living showing other women how to get what they want – sets out to make things right, despite Emira's reluctance to make a fuss. Kiley Reid's debut is an astute and empathetic social commentary that shines a bright light on contemporary issues. (7 January, Bloomsbury Circus)
Silver by Chris Hammer
Chris Hammer's debut was featured in our best books of 2019 list and the follow-up is another compulsive crime thriller set against the backdrop of a sweltering Australian landscape. The sequel reunites readers with journalist Martin Scarsden as he returns to his hometown, a place that holds traumatic memories he thought he'd left behind for good. Martin's arrival coincides with the murder of his best friend from childhood and the police suspect Martin's new partner Mandy as being the killer. As the media catch on to the scandal and descend on the coastal town of Port Silver, Martin's past and present collide. If you loved Hammer's first book, you won't be able to put Silver down either. (9 January, Wildfire)
American Dirt by Jeanine Cummins
Exploring the perilous, unimaginable experience of illegally crossing the US-Mexico Border through the eyes of a desperate woman forced to become a migrant, Jeanine Cummins' American Dirt is the kind of story that leaves your mind reeling and your heart aching. It follows bookstore owner Lydia who flees her comfortable, middle-class life in Acapulco with her eight-year-old son Luca, riding atop the high-speed freight trains known as 'la bestia' in search of a safe haven that the drug cartels can't reach. This is a timely, essential read about sacrifice, love, hope and humanity. (21 January, Tinder Press)
Haven't They Grown by Sophie Hannah
Having driven her son to an away football match, Beth can't resist the urge to sneak past her former best friend's house and try to catch a glimpse of her. She hasn't seen Flora for twelve years but as she parks outside and watches from across the road, she's confronted with a shocking, impossible scene. Flora looks the same, albeit slightly older, which is to be expected. But her children, Thomas and Emily, who were five and three when Beth knew them, haven't aged a day and remain exactly as they did over a decade ago. An instantly gripping premise and Hannah's intriguing, tightly-woven plot makes this a must-read. (23 January, Hodder & Stoughton)
The Unlikely Escape of Uriah Heep by H. G. Parry
The debut novel from H. G. Parry is an absolute treat for literature lovers. It tells the story of Charley Sutherland who's spent his entire life trying to conceal a magical ability he hasn't been able to master: the power to bring characters from books to life. When these popular literary characters begin to threaten the world, and it becomes apparent that someone else shares Charley's remarkable gift, Charley and his totally normal brother Rob must join forces to stop them. The Unlikely Escape of Uriah Heep has mystery, adventure, wit and magic – all the ingredients for an enchanting and vibrant fantasy tale. (23 January, Orbit)
Our Fathers by Rebecca Wait
Tom was eight years old when his father took a shotgun and killed his family. As the only survivor, Tom left his shell-shocked island community, trying for twenty years to escape his past. But the pull for answers is always there and Tom is drawn back to the wild landscape of the Hebrides. Rebecca Wait's third novel is a story of fathers and sons, and of ordinary people unable to move on in the aftermath of inconceivable violence. It's a haunting yet compassionate portrait of grief, trauma and the memories people try to forget. (23 January, Riverrun)
The Likely Resolutions of Oliver Clock by Jane Riley
Oliver Clock lives a perfectly regimented existence. He has a steady job, colour-coded socks and an alphabetically organised pantry. He's not exactly living his best life but he's plodding along just fine. So when the woman he secretly loves, Marie, is tragically taken out of his life, Oliver suddenly faces a bleak, uncertain future. Confronted with Marie's private diary, which reveals she secretly loved him back, Oliver resolves to open himself up to love and the unpredictable chaos of life. Jane Riley's debut is a lovely, life-affirming tale to banish the January blues. (1 February, Lake Union)
Grown Ups by Marian Keyes
Marian Keyes' fourteenth novel is a wise, warm and witty story that questions what it means to be a grown up. It centres on the Caseys, an outwardly happy and glamorous family who are less than perfect on the inside. All it takes is one thoughtless remark at a family birthday party and the secrets of these so-called 'grown-ups' begin to unravel, prompting them to re-evaluate their lives. Keyes absolutely nails the essence of a modern-day family, with all the struggles and conflicts that we all face. Just brilliant. (6 February, Michael Joseph)
The Sisters Grimm by Menna Van Praag
If we're judging books by their covers, then Menna Van Praag's The Sisters Grimm will be one of the most beautiful books you'll set eyes on in 2020. Thankfully, the story held within its pages is equally bewitching. Set between contemporary Cambridge and an eerie otherworld called Everwhere, this is a coming-of-age tale about four sisters born to different mothers on the same day and the destiny that entwines them. It's a darkly beguiling delight that's perfect for fans of rich and imaginative fantasy books akin to Erin Morgenstern and Neil Gaiman. (6 February, Bantam Press)
The Foundling by Stacey Halls
The Foundling transports readers to Georgian London as it centres on two women from different backgrounds. One of them is mourning the loss of her illegitimate daughter after someone else dishonestly claimed her from the foundling hospital, whilst the other is a young, reclusive widow in need of a nursemaid for her own daughter. Stacey Halls was one of last year's breakout literary stars with her debut The Familiars. This second book – an absorbing tale of motherhood, class and equality – is set to secure Halls' place as one of the UK's most exciting historical fiction writers. (6 February, Manilla Press)
The Water Dancer by Ta-Nehisi Coates
Ta-Nehisi Coates needs no introduction. A journalist known for tackling political, social and cultural issues, he's also the critically acclaimed author of two non-fiction books (We Were Eight Years in Power and Between the World and Me), as well as a Black Panther series for Marvel Comics. Coates' first fiction novel – published in February – follows a gifted man born into slavery on a Virginia plantation who joins a network of secret agents working to liberate the enslaved. It's a moving and lyrical story of oppression, freedom, loss and family. (6 February, Hamish Hamilton)
Winter in Sokcho by Elisa Shua Dusapin
When a French Korean receptionist meets a French cartoonist searching for inspiration, she agrees to accompany him on trips to discover an 'authentic' Korea, though it's plain the cartoonist isn't interested in the everyday Sokcho that the receptionist knows. Winner of the Prix Robert Walser literary prize, this is an elegantly written debut that delves into life on the border between South and North Korea in winter. It's the first book published under the Daunt Books Originals imprint and perhaps one of the most unusual books you'll read this year. (20 February, Daunt)
Firewaching by Russ Thomas
Russ Thomas' debut introduces a new detective to the crime fiction scene in the form of DS Adam Tyler, who has his work cut out for himself when a body is found bricked into the walls of a house. Meanwhile someone is starting fires in Sheffield. What begins with small fires in dustbins and sheds soon escalates into much bigger and more devastating targets, leaving Tyler to figure out who's starting the fires and how it might be connected to him personally. A tense, twisty psychological thriller and clever police procedural rolled into one. (20 February, Simon & Schuster)
The Inland Sea by Madeleine Watts
In the early 19th century, British explorer John Oxley traversed the wilderness of central Australia in search of a mythical inland sea. He never found it but never ceased to believe it existed. Two centuries later, his great-great-great-great granddaughter is living in Sydney, working part-time as an emergency dispatch operator and struggling with her own reckless, self-destructive existence. Australian author Madeleine Watts' impressive debut unfolds like a reverie, exploring human and ecological destructions on both an intimate and expansive scale. (27 February, Pushkin)
See Also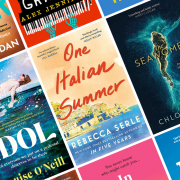 The Girl with the Louding Voice by Abi Daré
Having won the Bath Novel Award in 2018, Abi Daré's The Girl with the Louding Voice is one of this year's most anticipated literary debuts. It's a story of hope and fortitude, following fourteen-year-old Nigerian girl Adunni as she's first removed from school and sold as a wife to an old man, only to be sold again as a domestic servant to a wealthy household in Lagos, where her predecessor mysteriously disappeared. Yet Adunni is determined to find her voice and speak for all the mistreated girls – the ones that came before, the ones suffering now, and the ones still to come. (5 March, Sceptre)
A Good Neighbourhood by Therese Anne Fowler
Class, race and romance are at the heart of Therese Anne Fowler's new novel, which sees two families in a tight-knit North Carolina neighbourhood at war with each other. When the new-money Whitmans move in next door to professor Valerie Alston-Holt and her talented biracial son, it's instantly clear they have very little in common. Yet as they fight, they fail to notice the blossoming relationship between their two teenagers; a star-crossed romance with the power to shatter everything. This is a thought provoking and gripping novel – the kind that will have you savouring every page. (10 March, Headline)
We Begin At The End by Chris Whitaker
We Begin At The End is a book you'll be hearing a lot about this year. It's full of damaged, well-drawn characters – including a man released from prison for murder, his deeply troubled ex-girlfriend, who also happens to be the victim's sister, and the ex-girlfriend's plucky thirteen-year-old daughter-cum-protector, who acts as carer for her younger brother too. A chain reaction of events is inadvertently set off, with vengeful, murderous consequences. The less you know about the story before going in the better. In short, this is Chris Whitaker's best yet. (2 April, Zaffre)
Little Disasters by Sarah Vaughan
Sarah Vaughan's Anatomy of a Scandal was a quietly unsettling story that simmered with suspense. Her latest, Little Disasters, is a tense drama that shines a spotlight on parenthood and responsibility. Liz and Jess have been friends for ten years but when Jess brings her 10-month-old baby to the hospital with a head injury and an unconvincing explanation for what happened, doctor Liz begins to question everything she thought she knew about their friendship, as well as herself. Vaughan explores the boundaries between personal and professional lives, and how they can become blurred. (2 April, Simon & Schuster)
The Silent Treatment by Abbie Greaves
Frank and Margot have been married for forty years. But for the last six months, Frank hasn't spoken a single word to his wife. Their marriage has continued as it always did – they sleep in the same bed, eat all their meals together – only they live in solitary silence. And Margot has no definitive reason why. Yet when Frank finds his wife collapsed at the kitchen table and she's placed in a medically induced coma, he must try to find the words to explain the last six months' silence before it's too late. This is an emotional and beautifully paced story of fractured relationships, love, mental health and heart-breaking secrets. (2 April, Century)
The Deck of Omens by Christine Lynn Herman
Fans of Stranger Things and Riverdale will want to add Christine Lynn Herman's The Deck of Omens to their 2020 reading list. The follow-up to last year's YA-crossover fantasy The Devouring Gray explores the bonds between family and the true meaning of evil as a new threat looms in Four Paths. This time the stakes are higher as the Founder descendants have to put their differences aside in order to save their home and protect the people they love. Small-town mystery, dark magic and otherworldly monsters make this a thrilling, atmospheric sequel. (21 April, Titan Books)
The Return by Rachel Harrison
2020 is a year of exceptional debuts, one of which is The Return. When Elise's best friend Julie goes missing, Elise never stops believing that she's still alive. Precisely two years after she disappeared, Julie resurfaces but she has no memory of what happened to her. She might look the same but Elise knows there's something off with her friend. As they reunite with two other close friends at the remote hotel, they become stranded by bad weather and things take a sinister, eerie turn. Fusing horror and thriller together, it's an unsettling tale of rivalry, envy, fear, friendship and love. (30 April, Hodder & Stoughton)
Charlotte by Helen Moffett
Helen Moffett's beautifully written debut shares the untold story of Elizabeth Bennet's best friend Charlotte Lucas. If you've read Pride and Prejudice, you'll already be familiar with Charlotte – the plain, poor and single woman who accepts the proposal of clergyman Mr Collins after Lizzy rejects his buffoonish advances. Now we're invited into Charlotte's world as she's given the married life she always longed for, along with the duties, secrets, alliances and grief that accompanies it. Picking up where Jane Austen left off, Moffett's reimagining is layered with intelligent wit, feminism and forward-thinking spirit – much like Austen's novels. (14 May, Manilla Press)
Utopia Avenue by David Mitchell
With his previous books Cloud Atlas and The Bone Clocks, David Mitchell made a name for himself as an author capable of crafting wildly creative, complex and mind-bending tales. His upcoming summer novel takes readers on a journey of music, fame, love and revolution as it charts the uncensored story of British band Utopia Avenue. It asks the question: Can we change the world in turbulent times, or does the world change us? Expect to see this on lots of book club and 'best of' lists come June. (2 June, Sceptre)