Book Review: A Heart So Fierce and Broken by Brigid Kemmerer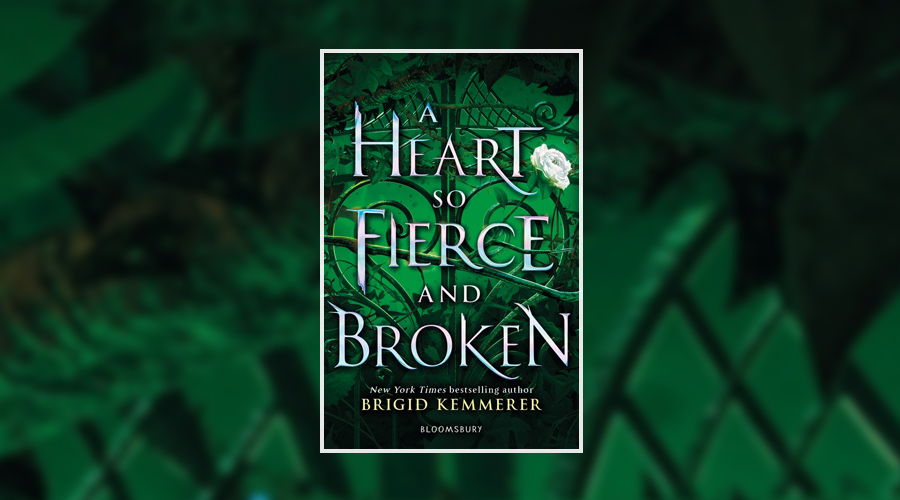 Brigid Kemmerer's A Curse So Dark and Lonely was an adventure-filled retelling of Beauty and the Beast, which put a fresh spin on the classic tale as old as time by weaving together an enchanting old-worldly setting with contemporary YA elements. When the book came to a close, our headstrong heroine Harper had succeeded in breaking the curse that threatened the Kingdom of Emberfall, subsequently freeing Prince Rhen by falling in love with him. However, as this sequel very quickly proves, the threat is far from over and Rhen's hold on the throne is in more jeopardy than ever.
After a brief opening chapter from Harper's perspective, A Heart So Fierce and Broken shakes up the previous book's format by offering a dual narrative that's, unexpectedly, neither Harper nor Rhen's. Instead, it's partly told from the POV of Grey, Rhen's former guard commander, who's fled the castle and is in hiding after learning the destructive truth of his parentage from the evil enchantress Lilith. He's also discovered he's potentially the last magesmith in the kingdom – not that he knows how to wield or call upon his supposed magic.
Meanwhile, Rhen and Harper are trying and failing to suppress damning rumours of a rival heir with a claim to the throne, as well as the whispers that 'Princess' Harper of Disi – and the impressive army she claimed to possess – is nothing but a fraud. Someone keen to capitalise on their deception is Karis Luran, who they previously defeated but who's now back with a vengeance with her two daughters, one of which is Lia Mara – our alternate POV. When their paths cross, Lia Mara and Grey find themselves working together as they try to figure out how to avert a mounting all-out war with Rhen.
There is no path here. I feel as though the curse never ended. The players simply changed."
Having spent so long with Harper and Rhen in A Curse So Dark and Lonely, it's initially slightly jarring to find they actually feature very little in this book. Thankfully, Grey was always the best part of ACSDAL, and it doesn't take long for him and Lia Mara to become compelling protagonists. They start off as adversaries because they've been fighting on opposing sides and under different rulers. But the guard-in-hiding and enemy princess are much more alike than they realise. They're both selfless, kind and loyal to a fault, and they've spent their lives putting others before themselves. AHSFAB is about Grey and Lia Mara learning that they don't have to yield to other people; that they have a choice.
By changing up the perspectives, AHSFAB moves further away from the fairytale retelling of the first book, adding another dimension to the story. Whilst the curse was a dark and destructive backdrop for Harper and Rhen falling in love, there are much more interesting arcs to explore here. From the complex relationship between Lia Mara and her sister, who are pitted against each other by their ruthless mother, to the shifting allegiance Grey has for Rhen, this feels like more of a character driven tale. There's still adventure and romance but Kemmerer delves more into the internal struggles these characters are warring with and the battle between duty and desire.
Grey's character development is the real highlight of this novel as he goes from Rhen's stoic, steadfast defender to his biggest threat. But such emphasis on the growing discontent between these allies-turned-opponents makes Lia Mara feel like a supporting character in her own story. At times, she seems to exist only to move Grey from one point to another. Like Harper, Lia Mara is a wise, warm-hearted heroine who deserves to be more than a plot device to propel other characters into conflict. But unlike Harper, who was a fierce, fully-fleshed out character in her own right, Lia Mara suffers from being significantly less interesting than her male counterpart, and that is a problem as the Cursebreaker series continues.
Even with that issue, A Heart So Fierce and Broken is a perfectly paced story that fuses all the best elements of fantasy and contemporary YA, blending romance, magic, adventure and struggles with morality in a way that makes readers care about the characters. And if it wasn't clear from the first book, A Heart So Fierce and Broken leaves us in no doubt that Brigid Kemmerer can write an epic epilogue that will instantly have you desperate to find out what happens next.
★★★★
A Heart So Fierce and Broken is published by Bloomsbury YA on 7 January 2020