Book Review: Defy The Night by Brigid Kemmerer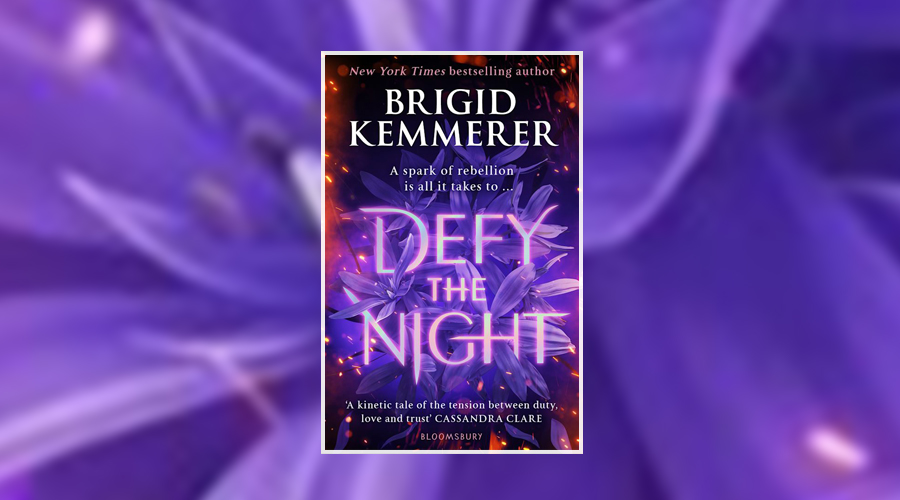 Only a couple of months ago, Brigid Kemmerer was announcing a brand new YA series set in the same magical and dangerous world as her bestselling Cursebreaker trilogy. Whilst fans patiently await those upcoming books, the first of which – Forging Silver Into Stars – doesn't hit shelves until May 2022, we do have another series from the author to keep us going until then. A true fantasy fiction blockbuster, Defy the Night introduces readers to a new world, a new set of characters and a new divided Kingdom on the brink of collapse. But if there's one thing it has in common with its fairytale inspired predecessor, it's that this is also a high stakes, action-packed and romantic story that you can completely and truly lose yourself in.
The kingdom of Kandala is on the cusp of ruin. A mysterious sickness is sweeping through the streets and only the richest can afford a cure. A deficit of Moonflower petals, the only known medicine to keep the sickness at bay, means the poor are dying and rifts between the different sectors are increasingly heightened by the widespread chaos. King Harristan and his brother, Prince Corrick, the King's Justice, are forced to rule with a brutal iron fist to keep the peace, but in secret they're struggling to maintain control. Their people are suffering and with few options, and fewer people the brothers can trust, rebellion is building.
At the centre of the uprising is Tessa Cade – an apothecary apprentice and masked outlaw who, along with her friend Weston, robs from the rich to help the poor. When Wes fails to return from one of their secret missions to steal supplies, Tessa makes a desperate and dangerous decision to sneak into the palace on her own. Beset by grief and with half-baked ideas of assassinating the King swirling around her head, Tessa finds her impulsive plan thwarted as she's captured and imprisoned. To her surprise, instead of the torture or swift execution she was expecting, she's presented with an alternative mission to help those who need it most – one that will force her to work with the very people she intended to undermine and destroy.
When there are calls for revolution," I say to him, "we should be riding at the front, not hiding in the shadows."
Inspired by the legendary tales and philosophy of Robin Hood, Defy the Night is as much a story of justice as it is a tale of rebellion. The perspective alternates between Tessa and Corrick's POVs, which gives a wider lens in which to view what's happening to the kingdom and its people. For Tessa, Harristan and Corrick are the ultimate evil; they're supporting the rich, letting the poor suffer and punishing anyone desperate enough to steal the medicine they can't afford. But there's much more going on behind the palace walls. The brothers are trying to do the right thing; they're just failing, miserably. Not only are they contending with a kingdom in revolt but they also face betrayal from their apparent allies too. They can only really trust each other and even that is put to the test when Tessa crashes into their lives.
When she wrote Defy the Night in 2019, Kemmerer didn't envision the very real pandemic that would knock the world sideways. This is categorically not a "pandemic book" but the global suffering naturally shaped the way the author looked at her fantasy kingdom, and in Kemmerer's own words, "what responsibilities rulers have to their citizens, especially in times of tremendous challenge and strife." That's such an important aspect to this story. The central characters here have to make difficult decisions that conflict with their own hearts; they always put the people first and themselves last, even if it doesn't seem that way to those on the outside looking in. The fact that these characters aren't perfect, that they make mistakes and judge themselves harshly for it, makes you love them even more.
Defy the Night has all the classic Robin Hood style adventures and it never loses sight of what's driving the outlaws to take matters into their own hands – that people are hurting and someone brave needs to stand up and help them. Is that someone a girl who's lost everyone she loves and can't bear to lose anyone else? Is that someone a prince who's been worn down by all the terrible things he's been forced to do? Is that someone a king who doesn't know who to trust but wants his people to be able to trust him? In this story, it's all three. Kemmerer weaves all these fantasy adventure elements with duplicity on all sides and plenty of teasing and tender star-crossed romance too, which will keep readers riveted from start to end.
This wholeheartedly feels like the kind of YA fantasy book we all need right now – one that knows what's important – duty, empathy, love, friendship, family – and gives its characters the challenge of trying to make their world a fairer, better place, whilst maintaining their own humanity in the process. Whether they achieve it is a question for the next book, but Kemmerer ends the novel in a place between ruin and hope, which is the perfect point for the sequel to pick up.
★★★★★
Defy the Night is published by Bloomsbury YA on 14 September 2021