Book Review: Several People Are Typing by Calvin Kasulke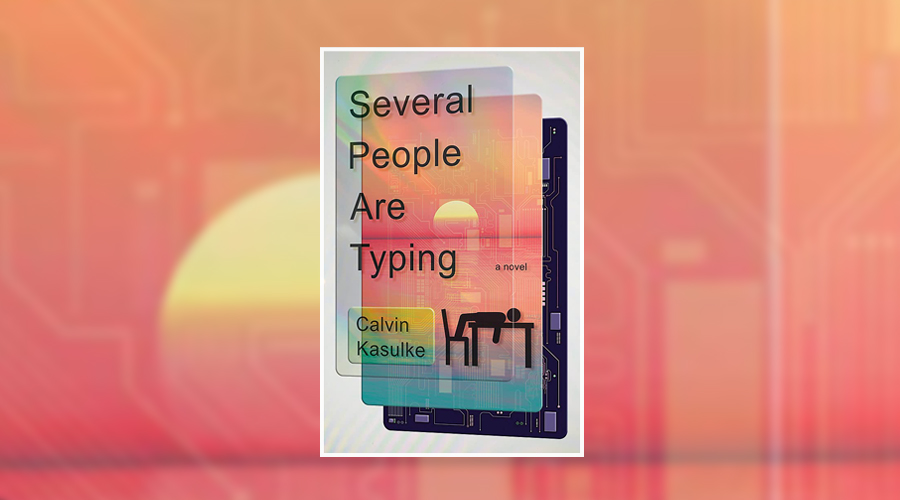 Gerald, who works for an advertising agency in New York City, gets absorbed into his company's Slack channel. At first, his colleagues think he is 'doing a bit', or is just using his predicament as a bizarre way of getting more work from home time. It's only when he manages to get his friend Pradeep to check on his apartment, and Pradeep sees Gerald's body slumped in front of his computer, that anyone realises that Gerald's consciousness is literally stuck within the instant messaging service his colleagues use to talk to one another.
Even with Pradeep in on the truth, it's a struggle to get the rest of the company to pay much attention to Gerald's travails. The thing is, with nothing to distract him, he answers e-mails at any time of the day or night. He may not be physically present, but he's turning in the best work of his career. So as his unwitting colleagues continue with their work-a-day lives of deadlines and affairs and sniping behind each other's backs, Several People Are Typing follows Gerald's increasingly desperate attempts to return to his corporeal form.
Calvin Kasulke's debut novel is told entirely in the form of Slack instant messages, which makes it an easy and fun book to tear through in a couple of hours. And while the specifics of the narrative are the stuff of absurdism – especially later in the story, when the Slackbot takes over Gerald's body and poses as him – the world that Kasulke creates feels very, very real. The forced bonhomie between the managers and the employees, the pressure to always be contactable, the cavalcade of buzzwords that makes the difference between the real people and the chatbots almost indistinguishable; Several People Are Typing captures all those dreadful aspects of corporate life with depressing, hilarious precision.
And there's equal emphasis on both those words. There's a crushingly existentialist edge to Kasulke's novel, and a bone-deep understanding of how deadening that life depicted at its centre can be. In her messages in the group chats, one of Gerald's colleagues keeps speaking about 'the howling' she can hear all the time; only one person pays her any real attention, and he's powerless to do anything to help. There's no room to talk seriously in this environment of strained corporate jollity; no escape from a soul-destroying job except to quit – but then how to pay the rent? Everyone (except chatbots!) needs to eat, after all.
Still, Kasulke finds plenty of humour, and a little bit of hope, amidst all that despair, largely in the relationship between Gerald and Pradeep. From the moment the latter finds the former's body and informs him via Slack that he has grown an attractive beard (which temporarily distracts Gerald from his dilemma – later he asks Pradeep if he can upload a picture to Slack so he can see it!), there's an obvious spark between the two, and its delightful to watch them grow closer as the preposterous action progresses. An unconventional romance, and an unconventional book, perfect for these unconventional times.
★★★★★
Several People are Typing is published by Hodder Studio on 9 September (£12.99)