Paul McCartney: the godfather of rock at the O2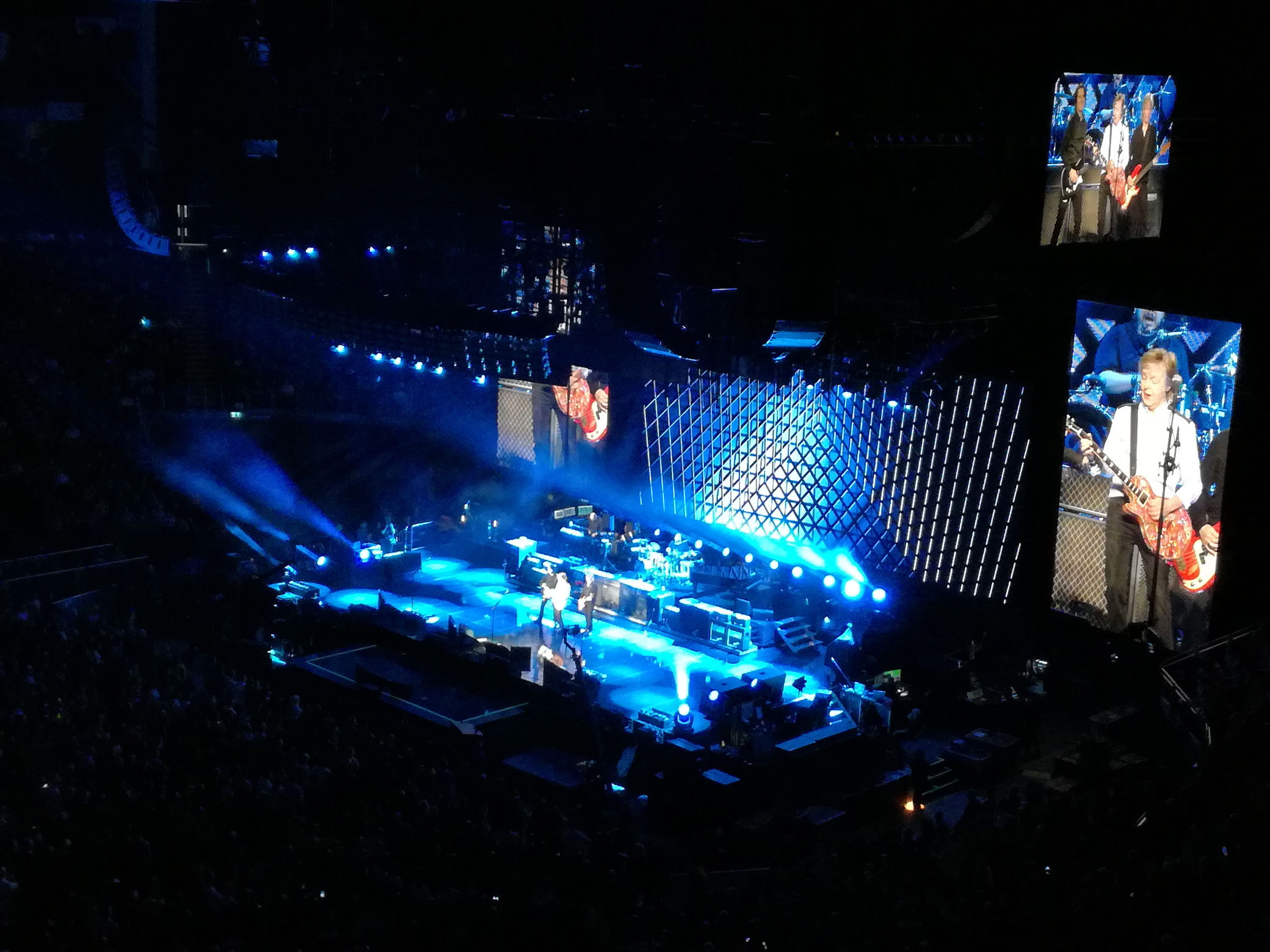 At stage right, a small platform is rising out of the floor. On it, bathed in yellow-pink spotlights, stands a grey-haired DJ, head ducking like a superannuated chicken. He stabs sporadically at the decks in front of him, firing off warbling electronic burps that would make Ross Geller wince. It should be the most stomach-turningly embarrassing warm-up act in the history of this faceless venue – but it isn't. The DJ is spinning a dub remix of Tomorrow Never Knows, the apocalyptic synth drone that indelibly marked the Beatles as the defining act of their generation. Even now, 52 years after its release, it sounds like the oncoming wrath of God.
It's quite a thought: half of the Lennon-McCartney axis, the boys that honed and perfected pop music, is about to walk out onto the stage and in doing so envelop us in one of the greatest stories of the 20th Century.
The enormity of it is hard to get around. A million column inches have been shuffled into the archives of the world declaiming the cultural impact of the Beatles, sketching out their place at the apotheosis of social development, filling in the colour of mania and invention, washing over the decades of plaudits and claims of influence. It is a dull truism that without the Beatles and Bob Dylan, popular music would never have happened. It would still be stuck wearing the candyfloss-and-bubblegum grins of the fifties, kowtowing to record producers, eking out long-mined seams of throwaway sentiment. The Beatles made pop songs into art, and along the way helped invent rock music – the bigger, hairier brother. Every concert you attend, every album you purchase owes them its very existence.
Perhaps that's why the anticipation brings tears to my eyes. Perhaps – but more likely, it's that for most of us, the Beatles have simply always been there. 1was the first album I ever owned, and I learnt every word aged seven. I pored over my Dad's Beatle Books, watched A Hard Day's Night with avid fascination, giggled at my sister's miscasting of the chorus to Can't Buy Me Love ('sweet bonny lo-ove…'). When I was older, I had my soul kicked by the proto-psych of Revolverand my head banged by Helter Skelter. By the time I washed up at The End in my late teens, that closing bittersweet melody was like the death of a family friend.
I know that I'm not alone in this regard. The front rows are filled with people waving signs that scream how many McCartney gigs they've been to – Mr 120 gets a Macca mention. Seeing Paul McCartney play the canon live isn't just a cultural moment. It's a reunion with a man I've never met, but whose music has sunk deep, deep into my brain.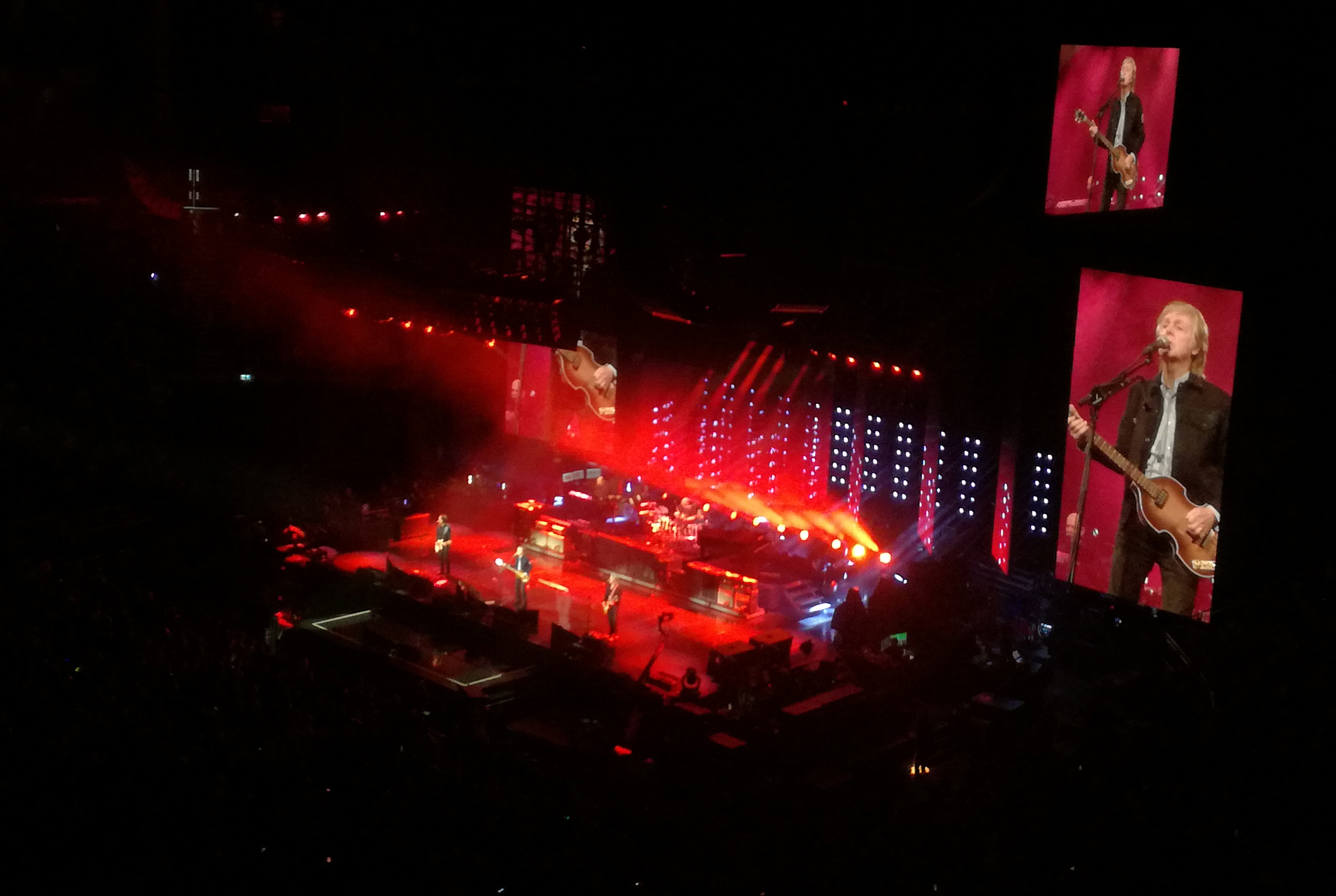 And so to the concert itself. The one thing this show is not about is age – there's not a hint of the 'greatest golden oldie hits of all time part two' nostalgia that haunts contemporaries like Rod Stewart. McCartney still has the roar and the whoop, he still has the fingers (there's an extended Hendrix tribute mid-set, which is not something that many 76-year-olds would attempt) and he still knows how to put on a bloody good rock'n'roll show. The Wings and solo material is far better than you would expect, lifted by a typically excellent session-maestro band. The solos are rich and creamy, the drums are manned by a deeply entertaining fellow called Abe, and the light show is suitably gargantuan. It's a long way from the Cavern. Think what the Fab Four could have done with this PA…
Admirable though the Wings dishes are (particularly the pyro insanity of Live and Let Die), no-one would argue that they're the main course. Hearing McCartney sing Beatles songs is like seeing Henry VIII walk out of a painting and casually order a beheading. There's an uncanny feeling of warp. The barrier of legend bends around you and then admits you with a sudden rush into the room where Love Me Dois being belted out by its co-author. McCartney sounds weathered, but the grinning moptop is still there in the grain. It's properly wonderful.
Two moments will remain with me. The first comes when McCartney is handed a ukulele that was given to him by George Harrison, and he breaks into a jaunty take on Something. At the solo, the band slide in with him, slowing the beat down, and the delicious melody wavers out over us as images of George flood the screen. Him on his own, him and Paul laughing in front of a mic, crafting their legacy with a wink. The tears return with a vengeance. The stage swims before my soppy eyes. What an infinity of moments these musicians have soundtracked, into how many lives they have been projected.
The second moment is what McCartney describes as 'a bit of a surprise'. 'A Beatle fan's waking dream' would also cover it. You've guessed it: after the encore, one Richard Starkey bounds onto the stage, waving those ever-present peace-Vs over his head. He's preceded by Ronnie Wood of the Stones, which, while a nice extra and a pleasing bridge over the age-old Beatles/Stones dichotomy, is a bit like telling your kids that as well as a puppy, you've got them a football for Christmas. All very well, but – a puppy!
The Living Beatles launch into a loose, rolling version of Get Back, and the screaming O2 bathes in the light of moving, breathing history. Not that it's just a monument – it's rock'n'roll. It's live, clattering, squealing, driving rock'n'f'n'roll! Music that moves you, music that grabs your hand and runs headlong down the street, pointing and shouting and whooping. They made it, and it's still theirs. Like the God-given Earth, this rock'n'roll is their material to mould.
The rest is hyperbole.