Book Review: Palm Beach, Finland by Antti Tuomainen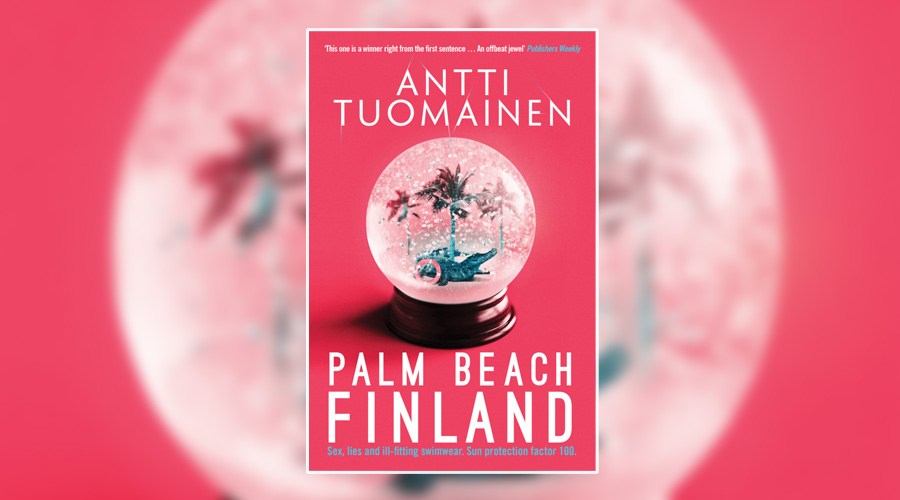 The darkly comical Fargo might be worlds away from Baywatch, but bring the two together in book form and you've got Antti Tuomainen's Palm Beach, Finland. The Finnish author's seventh book eschews the typical bleak tropes and landscapes of the Scandinavian crime genre in favour of black comedy and hapless Minnesota-style hijinks that wouldn't be out of place in a Coen Brothers' movie.
Similarly to its cinematic inspiration, Tuomainen's novel begins with a disclaimer: "The following is based on real events and real people. Nothing has been changed. In Finland, the sun shines all year round." If you take that literally, you're not the right audience for this sardonic, offbeat and cleverly plotted story. That early satirical wit runs throughout Palm Beach, Finland, as it follows a handful of unlucky, oddball characters that become embroiled in a murder investigation in a sleepy costal town.
The victim is an unknown man who was murdered under mysterious circumstances. The suspect is Olivia Koski, who arrived home to find her house trashed and said victim dead on her kitchen floor. Detective Jan Nyman, of the covert operations unit of the National Central Police, is sent deep undercover to investigate the crime and specifically Olivia, who he can't rule out just because she doesn't look like a typical trained assassin. Upon arrival at the bizarre holiday village known as Palm Beach Finland, Nyman forms his list of suspects, one that expands and evolves as the story progresses.
"Old ladies having sex, twenty-five thousand euros in cash stashed inside a microwave, the sauna burning down – not to mention that before all of this a body had turned up in the kitchen. And everything, every detail, related one way or another to that woman."
Either Olivia is playing an incredibly clever long game, or she's being targeted by someone who is, and Nyman is determined to discover the truth, even if it means he has to play the part of a windsurfing, cycling tourist. Readers know early on who was murdered; we know the how and why and who did it. Unlike so many crime authors, Tuomainen doesn't make his readers play detective, he makes us complicit. We're co-conspirators to the various parties and their respective crimes, as we witness them all from different perspectives.
This isn't a book of shocking reveals; it's about characters tying themselves up in knots. Some are trying to cover up their crimes, others are trying to solve a mystery that's not nearly as complicated as they think it is. Like Fargo before it, unfortunate events take place and people get in over their heads, digging themselves deeper and more hopeless holes, until there's no way they can ever climb out of them. Yet despite the murderous subject matter, Palm Beach, Finland refuses to take itself too seriously. The off kilter, black comedy tone is perfect for such a far-fetched story, guaranteeing plenty of spontaneous bouts of laughter.
As the cover of the book says, this is a thriller of 'sex, crime and ill-fitting swimwear' – the latter of which gets plenty of description. It's also a cautionary tale of money, greed, lost opportunities and long-held dreams, which manages to be both funny and poignant at the same time. Nyman isn't your standard troubled detective, Olivia isn't your typical damsel in distress, and Palm Beach Finland is definitely not your average holiday destination. It does make for a brilliant location though, if not one you'd want to visit then one you'll happily – and entertainingly – read about.
★★★★
Palm Beach, Finland is published by Orenda Books on 18 October 2018