The best books of 2020: The Glass Hotel, Hamnet, The Foundling and more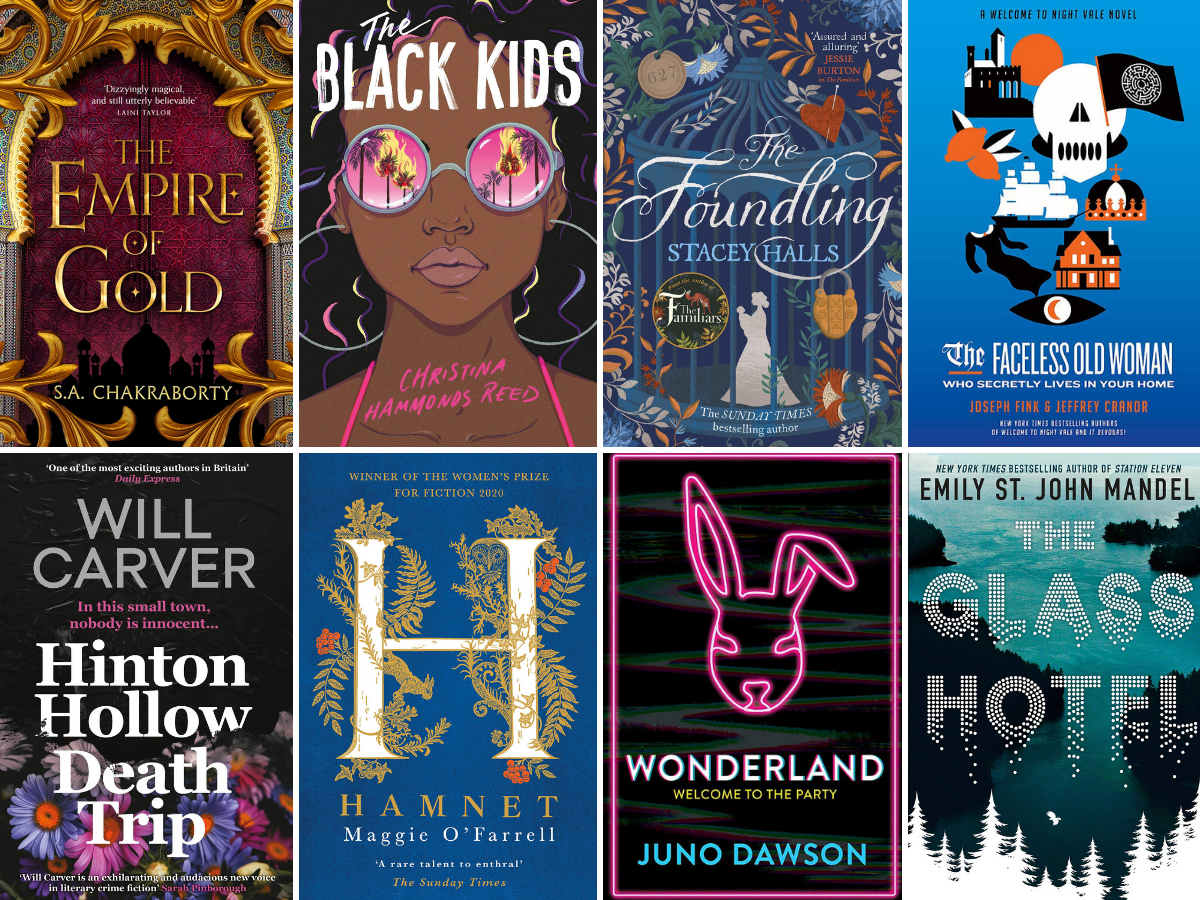 In a year that's seen so many theatre productions shut down, close to all movie release dates delayed and fewer new TV shows on hand to offer a distraction, at least there were still plenty of books being published for us to enjoy just when we needed them most. And, thankfully, 2020 has been a really great year for books.
From Elena Ferrante's latest Neapolitan novel The Lying Life of Adults to Brit Bennett's provocative page-turner The Vanishing Half, there really was a book for everyone and every mood this year. Whether you preferred to lose yourself in the pages of hard-hitting releases like Kate Elizabeth Russell's My Dark Vanessa and Kate Reed Petty's True Story, get swept away in the romance of Emily Henry's Beach Read or enjoy getting to know more about some big names with Barack Obama's A Promised Land or Ant and Dec's Once Upon a Tyne, this year's new releases more than had you covered.
It was a difficult task to narrow down all of the books published in 2020, but from wondrous fantasy novels to future YA classics and a return to the world of Night Vale, these are the books that get the Culturefly team's picks for Best Books of the Year.
Anna K by Jenny Lee (Penguin)

It's no mean feat adapting a classic text for a modern audience, but in her debut YA novel Anna K, Jenny Lee did just that, putting a contemporary spin on a book that's often hailed as the greatest work of literature ever. But while you may think that Leo Tolstoy's Anna Karenina – with its hefty 900-odd page count, ruminations on life and agriculture in 19th century Russia and iconic, if undoubtedly tragic, ending – isn't a solid basis for a fun, emotional and engaging YA novel, Jenny Lee's Anna K is here to prove you wrong.
This novel is what you get when you cross Tolstoy with Gossip Girl, with Lee swapping the ballrooms of Imperial Russian high society for all of the high school drama, gossip and scandals of rich kids at private school in NYC. It's a whirlwind of a novel that treads the well-known beats of the original with plenty of interesting modern day comparisons to keep the story new and exciting too. With a diverse cast of characters and a story that offers an unflinching look at everything from friendships and relationships to addiction, social expectations and the double standards therein, Anna K is a brilliant, engrossing, dazzling book that is a joy to get lost in – whether you've read the Tolstoy classic or not. Megan Davies
Kingdom of the Wicked by Kerri Maniscalco (Hodder & Stoughton)

The new YA fantasy novel from Kerri Maniscalco – author of the Stalking Jack the Ripper quartet – is a darkly romantic story that combines the underworld monsters of Supernatural and the sisterly bond of Caraval with all the danger and doom you'd expect from a story rooted in demon mythology and the seven deadly sins. Maniscalco's pacing is perfection and she weaves in such a beautiful sense of history and place to the story, stemming from the Mediterranean island setting and the descriptions of typically Italian food and family life. Kingdom of the Wicked's publication coincided with the Halloween season and it really is the kind of novel that's best read whilst you're curled up under a blanket, with the lights dimmed and candles flickering (eyesight be damned – it's all about the spooky mood with this one!). – Natalie Xenos
The Last Smile in Sunder City / Dead Man in a Ditch by Luke Arnold (Orbit)

Luke Arnold's debut novel and it's sequel, both released in 2020, kick started a new gritty, emotional fantasy detective series in a world where the source of magic has been broken. Now every creature is a decaying, warped shadow of their former selves, save for magic-less humans. The series follows Fetch Phillips, a man-for-hire, in the dark, industrial city of Sunder, as he tries to solve enough cases to pay for his next meal, while reluctantly chasing leads that seem to suggest the magic could come back. – Nick Gomez
Hamnet by Maggie O'Farrell (Tinder Press)

A tale of devastating grief with Shakespearean influence, O'Farrell's novel is an elegy to the fragility of life, and follows the everyday, everlasting, ever-lingering effect of loss on a playwright and his wife living in Stratford-upon-Avon in the late 1500s. Though this is evidently Shakespeare, as he also experienced the death of his young child early in life, O'Farrell's Will isn't the illustrious playwright. Rather he's the young Latin tutor falling in love, the longed-for father following his work to London, adrift from his wife and children in Stratford, and the artist so desperate to author a different life for his lost child that this act of preservation proves too poetic, too disaffecting, for his grieving wife, Agnes. As, after all, it's not the lofty poetry of Will's life in London that's the focus of the novel, but the practicalities of death and the private duty that Agnes devotes her life to in Stratford. Laced with detail and with all of O'Farrell's elegance, Hamnet, like grieving, lingers, delicate and devastating, long after the final act. – Leah Tozer
The Glass Hotel by Emily St. John Mandel (Picador)

Station Eleven may have been Emily St John Mandel's fourth novel, but upon its release in 2014 it quickly became a huge critical and commercial success and it's now St John Mandel's best-known published work by far. With the hype well and truly established, the anticipation for Station Eleven's follow-up was high, but fans faced a six-year wait before the author's fifth novel, The Glass Hotel, was finally published this year – albeit, a few months later than expected thanks to certain world events. Thankfully, The Glass Hotel was worth the wait. In her signature dreamy writing style, St John Mandel once again crafted a cleverly layered narrative, joining together people, places and events to tell a story that's, on the surface, about the fallout of a Ponzi scheme, but goes much further to reflect on the people at the heart of its story, the ghosts they carry with them and the paths they did and did not take.
St John Mandel's writing has an effortless quality to it, and the joy of The Glass Hotel is as much about the story being told as it is the way in which it unfolds. This is a story that's built from fragments, following a core group of vividly-written characters as they go through life, along with detours into the lives of some of those whose paths they cross along the way too. But the real enjoyment comes when you turn the final page and all the disparate pieces of the story are brought together to form a deeply satisfying whole. The Glass Hotel is a book to read, re-read and then read again, just to be sure you've taken in every single brilliant detail, and it's always worth diving back into. – Megan Davies
The Foundling by Stacey Halls (Manilla Press)

Inspired by a visit to the Foundling Museum in Bloomsbury, Stacey Halls' second novel centres on two women from different backgrounds who are bound by the same child. It transports readers to Georgian London and offers up a fascinating glimpse into life for women in the 1700's from both sides of the class divide. London in the 18th century provides a vibrant, evocative backdrop to this interfamilial drama and it works so wonderfully because there's such an absence of modern day amenities, giving a real sense of a slower, simpler time – though one that's so much tougher in many ways too. The Foundling is a beautifully written, absorbing and atmospheric tale of motherhood, class and inequality. It secures Halls' place as one of the UK's most exciting historical fiction writers. – Natalie Xenos
The Faceless Old Woman Who Secretly Lives In Your Home by Joseph Fink and Jeffrey Cranor (Orbit)

Spun from the podcast, Welcome to Night Vale, you don't have to be familiar with the strange and ominous Faceless Old Woman who secretly lives in the homes of Night Vale residents in order to love this book. It is an epic origin story, a tale of mysterious, high seas adventuring, with the help of a band of equally unique and endearing friends, and revenge. There is a lot of love in this novel, from the action-adventure to the surprising emotional beats. – Nick Gomez
The Black Kids by Christina Hammonds Reed (Simon & Schuster Children's)

Few YA coming-of-age novels have resonated quite as strongly as Christina Hammonds Reed's The Black Kids – in this year, or any other. Although this novel is set in 1992, the themes and issues it explores – of race, class and violence – and the experiences of its protagonist are just as prevalent today, making for a hard-hitting and powerful debut that's both frighteningly relevant and more important than ever. While it was published at the height of the 2020 Black Lives Matter protests, it's the 1992 Rodney King Riots that serve as the backdrop for The Black Kids, following privileged high school senior Ashley Bennett as her safe, protected world is shattered around her. As violent protests and riots engulf Los Angeles, Ashley is no longer just one of the girls in her group of rich, white friends; instead, she's one of 'the Black kids', and Ashley is left to question who she is, how she behaves and the kind of person that she wants to be.
In this novel, Reed addresses everything from toxic friendships and family tensions to identity, racial injustice and social class. She does it all with empathy, grace and a beautiful, character-driven narrative that ensures The Black Kids is just as much about Ashley growing up and discovering who she is as it is a discussion of race, prejudice and privilege. The Black Kids is an insightful and introspective novel that deserves to be on everyone's bookshelves, young adults and adults alike. – Megan Davies
We Are All The Same In The Dark by Julia Heaberlin (Michael Joseph)

Julia Heaberlin's We Are All The Same In The Dark is an atmospheric small-town mystery that tells an intertwining story of lost girls and a dark search for the truth. Yet underneath the novel's psychological thriller veneer is an emotionally charged story that's held together by the relationship between women and girls – those that are missing, those who are found, and those who are searching. There are so many layers to Heaberlin's story; you can peel back one and reveal another, which keeps the mystery going right up until the end. This is a disquieting, tense and suspenseful slow-burner of a book that really stays with you after reading it. – Natalie Xenos
And The Stars Were Burning Brightly by Danielle Jawando (Simon & Schuster Children's)

Danielle Jawando's YA novel is strikingly powerful as it takes on the searing subject matter of teen suicide. Al is a young Black man on an estate in Manchester with dreams of pursuing his art, yet his sudden death leaves in it's wake the impact of bullying and struggles with mental health. His brother, Nathan, and his close friend, Megan, slowly uncover what each of them didn't know about Al while searching for answers to why he took his own life. This story has a universality and a clear specificity. An excellent read for older teens and adults. – Nick Gomez
The Empire of Gold by S. A. Chakraborty (HarperVoyager)

The Empire of Gold is the final book in SA Chakraborty's Daevabad trilogy, bringing an end to the story of the con-woman and the idealistic djinn prince who join forces to save a magical kingdom from a devastating civil war. Following on from 2017's The City of Brass and 2019's The Kingdom of Copper, The Empire of Gold saw the stakes raised ever higher, the political intrigues run ever deeper and the plotting, scheming and machinations becoming ever more intertwined as the novel raced towards its conclusion, making for a finale that's as pacy and exciting as it is satisfying.
The Daevabad trilogy as a whole is a wonderful, magical adventure, spanning from the streets of 19th century Cairo to the mythical lands of Daevastana and the golden city of Daevabad at the heart of it all. But The Empire of Gold, being the final book in an already-established trilogy, benefits all the more from not having to worry about introducing the world to its readers and explaining the magical creatures and history that governs it all. The result is a novel that revels in the chance to fully engage in its world with readers who are more than happy to go along for the ride, with confident and self-assured characters, complex and believable relationships and plenty of action at every turn. As is fitting for a trilogy-ender, The Empire of Gold is an epic journey and a worthy conclusion to a very strong series, offering everything from politics and violent battles to deep-rooted family feuds and a little romance along the way too. There truly is no better book series – and no better world – to lose yourself in, and The Empire of Gold is the best of the lot. – Megan Davies
Hinton Hollow Death Trip by Will Carver (Orenda Books)

Narrated by Evil itself, Will Carver's high-concept literary thriller recounts five days in the history of a quintessential rural town. As the book unfolds, we play witness to the darkness that visits the quaintly named Hinton Hollow and how it infects the residents, seeping into the dormant furies and hairline fractures in their lives. Seething in its commentary on contemporary society, Hinton Hollow Death Trip is a novel quite unlike any other. The story lays all our human faults and foibles bare, holding a mirror up to our world that's unflinching and unforgiving. It's the third book in the Detective Sergeant Pace series but it can easily be read as a standalone too. And whilst you might feel a little less sure about the fate of humanity after reading it, one thing you'll be certain of is just how good a writer Will Carver is. This is an essential book for crime readers' shelves. – Natalie Xenos
Wonderland – Juno Dawson (Quercus)

You didn't know you needed this interpretation of Alice in Wonderland. Shifting to a modern, London setting, Alice is a trans woman whose schoolfriend Bunny goes missing, leading her to take a trip to the exclusive party hosted by the rich and reckless called, naturally, Wonderland. While Alice searches for breadcrumbs that could lead her to Bunny, she enjoys her youthful sexuality, wrestles with her mental health issues, and discovers more about how others see her transness. Funny, witty and decadent are just some of the words that describe this Wonderland. – Nick Gomez
Incendiary by Zoraida Córdova (Hodder & Stoughton)

This is the book that officially pushed me out of my lockdown reading slump earlier in the year, so of course it had to appear on this list. Zoraida Córdova's epic and imaginative high-fantasy tale sees a memory thief going up against a monarchy hell-bent on the destruction of her people. It's loosely inspired by the Spanish Inquisition in the 15th century, with an intricate and intriguing magic system that allows for plenty of clever machinations and twists within the story. Incendiary is the absolute best kind of fantasy book – one with captivating characters, fascinating worldbuilding and fast-paced, heart-in-your-mouth action. The good news is you can pre-order the second book (it's a duology) now, which will hit shelves in May 2021. It can't arrive soon enough! – Natalie Xenos
The Summer of Everything by Julian Winters (Interlude Press)

Julian Winters has managed to capture summertime on the page, giving us all the summer we didn't have in 2020 with The Summer of Everything. Set in Santa Monica, California, Wes is about to start university and has no idea where he's heading in life. What he does know is that he is still completely in love with his best friend Nico, and he wants to finally tell him. If he can get up the courage. And if he doesn't get too distracted trying to save the bookshop where he works from closing. Between cold bottles of orange soda, subtle touches and takeout pizza, Wes' gang of young adults savour the last days of summer. – Nick Gomez
Honourable mentions: Summerwater (Sarah Moss), These Violent Delights (Chloe Gong), Deacon King Kong (James McBride), True Story (Kate Reed Petty), Clap When You Land (Elizabeth Acevedo), The Vanishing Half (Brit Bennett), Rodham (Curtis Sittenfeld), Deathless Divide (Justina Ireland), Separation Anxiety (Laura Zigman), Real Life (Brandon Taylor), Piranesi (Susanna Clarke)