Book Review: These Violent Delights by Chloe Gong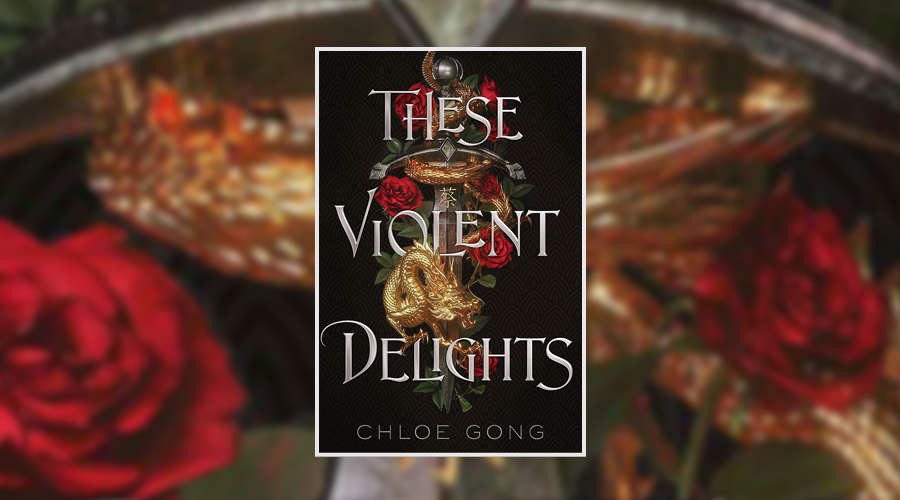 From Brigid Kemmerer's Beauty and the Beast reimagining, A Curse So Dark and Lonely, to Renée Ahdieh's One Thousand and One Nights inspired epic, The Wrath & The Dawn, we've seen many fantasy retellings over the past few years that have breathed beautiful new life into old tales. Chloe's Gong's These Violent Delights is the latest novel to put a fresh spin on a well-known tale, this time Shakespeare's classic tragedy Romeo and Juliet. But instead of fair Verona, Gong's scene is set amidst the heady, electric atmosphere of 1920's Shanghai.
Our star-crossed lovers here are Juliette Cai, a former flapper who's returned to China from the United States to assume her role as the rightful heir of the Scarlet Gang, and Roma Montagov, the heir to the Russian White Flowers and Juliette's first love, who captured her heart and subsequently betrayed her. The Scarlets and the White Flowers have been enemies for generations but when a brutal madness begins sweeping through the streets of Shanghai, compelling people to tear out their own throats with their bare hands, it becomes clear to both Juliette and Roma that a much bigger enemy exists – a monster that threatens not only their respective dynasties, but also the city they call home.
With gangsters on both sides succumbing to the madness, and their families unwilling to temporarily halt their blood feud for the greater good, Juliette and Roma must begrudgingly work together in secret, putting aside old feelings and still-raw grudges to stop the contagion. But when they don't know the cause, and they can't source a cure, it's a mission that seems doomed from the beginning – much like their ill-fated romance.
"Juliette had been betrayed, and here she was, still reeling from it four years later. Here she was, harboring this pulsating lump of hatred burning in her stomach that had only gotten hotter and hotter in the years she had been robbed of a confrontation, an explanation, and yet she still did not have the courage to sink her knife right into Roma's chest, to get revenge in the only way she knew how."
Just as Shakespeare borrowed from Arthur Brooke's The Tragical History of Romeus and Juliet, Gong expands on the Bard's play we're so familiar with, using the overarching themes of forbidden love, warring factions and fate as a solid foundation for her modernised fantasy twist. Unlike the aforementioned recent retellings, These Violent Delights is firmly rooted in our own world, albeit in the decadent, debauched roaring twenties, with all the cultural, political and societal issues that came with that era. Gong's story simmers with torn loyalties and slow-burning romantic tension, but it's also rich in historical detail too. As the novel progresses, we see how the ancient Chinese traditions of the Scarlet Gang clash with Roma's Russian heritage; how both gangs are being pushed out and diminished by communist ideologies and British colonialism.
Like their Shakespearean counterparts, Juliette and Roma are products of their upbringing and they exist in a permanent state of chaos – whether it's the gangster feud that dictates they should be enemies rather than lovers, or the monster lurking in the shadows, infecting their city. They're both young, fierce and intelligent characters, completely trapped by their duties, their families, and the hatred that's been bred into them. And yet they both have the power to surprise, never behaving like they should, or as readers – or indeed each other – would expect. They might spend much of the novel chasing after a literal monster, but there are many other monsters prowling in this tale, not all of them with claws you can see.
These Violent Delights is a superior fantasy novel; multi-layered, diverse and reflective in its themes, whilst at the same time offering up the kind of darkness, romance and emotion that leaves you yearning for more – not just more of this particular story and its endearing, complex characters – which we've already been promised – but more from Chloe Gong beyond her star-crossed lovers too.
★★★★★
These Violent Delights is published by Hodder & Stoughton on 17 November 2020