8 YA books to pack in your summer holiday bag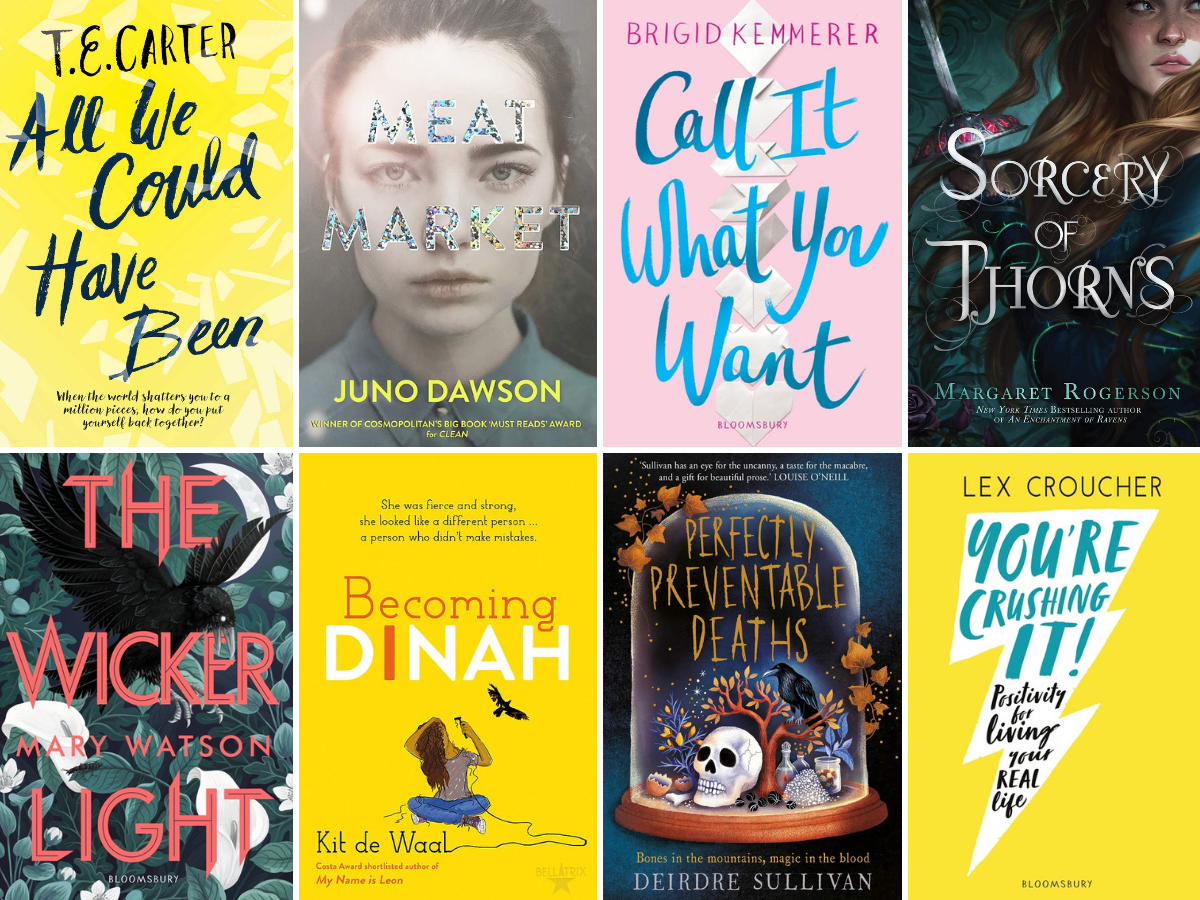 The first half of 2019 has delivered some unputdownable YA novels. From Stephanie Garber's spellbinding Finale and Kat Cho's Korean urban fantasy Wicked Fox, to David Owens' timely technological tale All The Lonely People and Angie Thomas' instantly engaging On The Come Up.
With summer in full swing, here's our round-up of eight more page-turners to add to your holiday bag. Featuring witchcraft, romance, teen angst, self-help and a feminist retelling of a seminal classic, there's something for every YA reader.
All We Could Have Been by T. E. Carter
Following her haunting debut I Stop Somewhere, T. E. Carter returns with another emotional and thought-provoking tale centred on a teenage girl struggling with the consequences of a terrible crime. Lexi is used to starting over. She's used to moving schools, changing her name and hiding the fact she's the sister of a criminal. But it's senior year and Lexi has finally found a place where she feels welcome.
As Lexi is forced to face her past in order to move on with her future, Carter explores the repercussions of the crime on Lexi's life and mind-set. It's a story of family, friendship, trauma and forgiveness, told with humanity and realism. (2 May, Simon & Schuster Childrens)
Meat Market by Juno Dawson
When Jana Novak is unexpectedly scouted by a modelling agency, she's thrown into a world that's not as glamorous as it looks on the outside. Catapulted to high-fashion stardom, Jana finds herself alone, vulnerable and exposed to the harsh realities of teen modelling.
Meat Market shines a probing spotlight on the fashion industry, exposing its dark underbelly with a frankness that's refreshing. Yet what makes this such a compelling and timely read is how Dawson balances the ugliness with humour and heart without being moralistic. (23 May, Quercus Childrens Books)
Call It What You Want by Brigid Kemmerer
Rob was the golden boy until his father was caught embezzling funds. Maegan is fraught over maintaining her 'perfect' family's facade and keeping her sisters' pregnancy a secret from their parents. When they're paired together for a school project, the two teens form an unexpected connection that's threatened when Rob comes up with a plan to fix his dad's mistake.
Kemmerer's latest contemporary romance has all the ingredients for a perfect YA beach read, including conflicted characters, complicated relationships and family drama. Race through this and then move on to the author's on-going Cursebreaker series, which is equally captivating. (27 June, Bloomsbury YA)
Sorcery of Thorns by Margaret Rogerson
For beautiful, immersive world building and an exhilarating plot, look no further than Sorcery of Thorns. Set in a world where magical grimoires have the power to transform into grotesque monsters, the story follows Elizabeth as she's implicated in an act of sabotage that entangles her in a centuries-old conspiracy with her sworn enemy, the sorcerer Nathaniel Thorn.
Fans of Laini Taylor and Holly Black will love Rogerson's second YA book, which is the kind of action-packed, romantic and atmospheric fantasy you can completely lose yourself in. Just be prepared to feel a little bereft when you finish it. (13 June, Margaret K. McElderry Book)
The Wickerlight by Mary Watson
From the author of The Wren Hunt comes this eerie thriller about a girl trying to unravel the riddle of her sister's death. Zara has questions: Why was Laila so interested in local folklore? And what does her death have to do with David, the boy who lives in the big house nearby? Soon Zara finds herself entangled in an ancient magical feud that threatens to send her down the same path as Laila.
This is another story steeped in myth and ritualistic traditions. Alternating between Zara and David's perspectives, it's beautifully atmospheric and the setting of Kilshamble once again provides a spooky backdrop for Irish magic. (30 May, Bloomsbury YA)
Becoming Dinah by Kit de Waal
Kit de Waal kicks off a brand new feminist YA collection with this poignant coming-of-age re-imaging of Moby Dick. It follows seventeen-year-old Dinah's escape from her commune home and the subsequent VW Campervan roadtrip she's persuaded to embark on.
Accompanied by a grumpy man with one leg, Dinah's journey of self-discovery gives her the time and space to confront her rather unorthodox past. At its heart this is an absorbing contemporary adventure tale about a teenager grappling with her identity and the paths she's taken in life. (11 July, Bellatrix – Orion Children's Books)
Perfectly Preventable Deaths by Deirdre Sullivan
Looking for something to fulfil your craving for witchery whilst you await the return of Chilling Adventures of Sabrina? Deirdre Sullivan's Perfectly Preventable Deaths is a delightfully macabre tale of witchcraft, love, sisterhood and sacrifice, perfect for anyone who enjoys Gothic fantasy with a feminist twist.
The story centres on fifteen-year-old twins Madeline and Catlin, who start a new life in a peculiar isolated town in Ireland, a place where teenage girls have gone missing in the surrounding mountains for the last sixty years. A dark, surreal and chilling slow-burner that'll crawl under your skin and make you wish for more. (30 May, Hot Key Books)
You're Crushing It by Lex Croucher
We all need a little more positivity in our lives, which is exactly what Lex Croucher delivers in her debut life guide. For anyone not familiar with the popular vlogger-turned-podcast-host-turned-author, Croucher uses her online platform to champion women and promote positive change.
If you've ever listened to her podcast, Make Out With Him, you'll know how passionate Croucher is about empowerment and she brings that same spirit to this book. It's a witty and honest survival guide for young adults, covering everything from body confidence and mental health to relationships, social media and friendship. The ideal read for when you need a little encouragement. (13 June, Bloomsbury Childrens Books)