Book Review: On The Come Up by Angie Thomas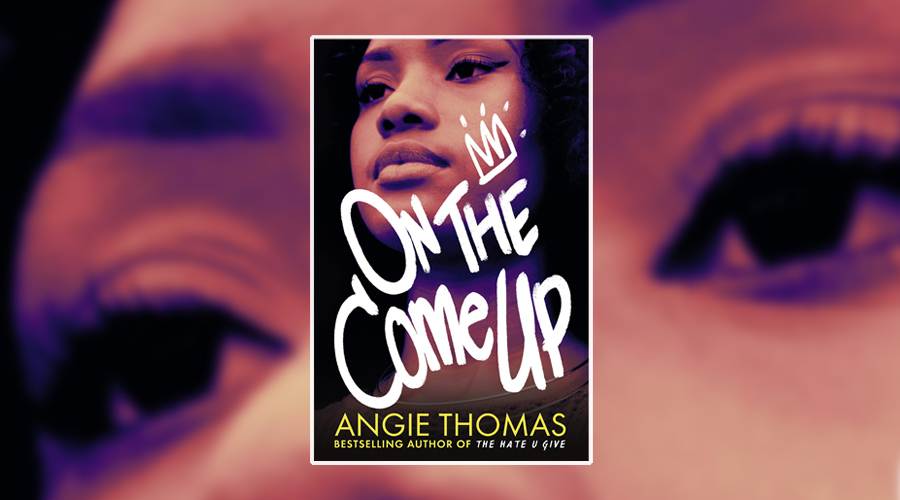 When your debut novel makes as much of an impact as The Hate U Give did (and is still doing), there's no doubt that the scrutiny on your next novel will be intense. Enter Angie Thomas with On the Come Up to show you how it's done. In her second novel, Thomas once again taps into social issues, exploring the experience of everything from black working-class families and living in working poverty, to racial profiling and freedom of speech, and tackles them all with an unflinching eye, a sharp wit and an accessible narrative voice through her new protagonist, Bri.
Sixteen-year-old Brianne Jackson – or Bri, L'il Bit, Breezy, Bookie, Princess or L'il Law, depending on who she's talking to – wants to be one of the greatest rappers of all time but, as the daughter of an underground hip-hop legend who was killed before he could make it big, she's got big shoes to fill. When her mum loses her job and her family is unable to pay their bills, leaving them without heat or electricity and getting their food from food banks all the while facing eviction, Bri no longer wants to make it big – she has to, to help her family out.
But when her first song goes viral for the wrong reasons, Bri finds herself at the centre of a controversy that has the public making her out to be someone she's not. She's left struggling with the questions of who she is versus who everyone wants her to be, and determines to fight for her dreams, even when the odds are stacked against her.
"All these folks I've never met became gods over my life. Now I gotta take the power back."
As a lead character, Bri is endearingly frustrating. She's dedicated, passionate and hilarious, with some of the most well-written and realistic dialogue I've seen in YA fiction, but she's also impulsive, prone to jumping to conclusions and yes, young and a little naïve too. It serves to make Bri an incredibly well-rounded and fleshed out character, and being inside Bri's head gives readers the opportunity to really experience life from her perspective. It doesn't take long before her voice is as familiar as your own. Granted, this makes it hard to watch Bri make some poor choices, but it's also clear to see that her bad decisions come with the best of intentions. Seeing the media and the public twist Bri's experiences and music into their own self-serving narrative is as outrageous for us as it is confusing for Bri.
There's also a lot to be said for Angie Thomas' confidence in portraying the reality of a lot of difficult experiences, like Bri's mother Jay's past battles with drug addiction and its ongoing impact on their family, or certain communities turning a blind eye to the poor, brutal treatment of minorities. As On the Come Up is also set in Garden Heights and takes place just a few months after Khalil's shooting and the subsequent riots seen in THUG, it continues to expand on some of the issues introduced in that story. While there's no doubt Thomas' links to her first book are a nice nod to readers, it's also an important reflection of real-life too – not least in the fact that Bri and her friends are still living the aftershocks of those events, including a heightened police presence, neighbourhood surveillance and continued protests about how they're treated.
But all that's not to say that On the Come Up is all social and political commentary and you shouldn't read it – in fact, it's quite the opposite. The strength of this book in particular (and of Angie Thomas more generally) is that first and foremost this is a book about a sixteen-year-old girl with a dream to make it big and a compelling journey to follow. Even on its own, Bri's introduction to the world of the music industry, with all of its money-making priorities and lack of scruples, is an engaging storyline to get stuck into, while Bri's navigation of her personal life, complete with budding romances, family concerns and the changing nature of her relationship with her two best friends, makes this a book worth picking up too.
Anyone going into this novel expecting the same emotional impact of The Hate U Give will likely be disappointed, particularly as Bri's story plays out on a much smaller stage. However, with On the Come Up, Angie Thomas has crafted another instantly engaging story that soon proves itself to be just as powerful and important as its predecessor.
★★★★★
On the Come Up is published by Walker Books on 7 February 2019