Book Review: Blackout – a series of love stories by six of YA fiction's biggest authors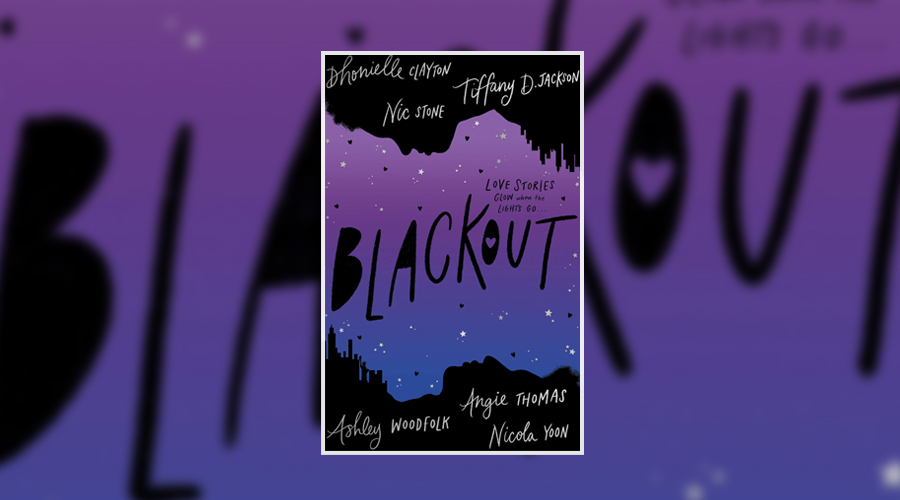 Blackout is a delightful, sprawling, warm and funny YA novel from six authors: Dhonielle Clayton, Tiffany D Jackson, Nic Stone, Angie Thomas, Ashley Woodfolk and Nicola Yoon. On a hot summer's day, as the evening comes, New York is plunged into darkness. Over the course of the blackout, the novel weaves across the city and into the lives of various Black teenagers to tell their love stories.
Like vignettes woven together, Blackout leads with exes Tammi and Kareem who become stranded with one another in Harlem and decide to walk to a block party in Brooklyn. As they make their way through Manhattan, negotiating being around one another as a non-couple who know each other deeply, the novel veers off and we meet individuals and couples in various stages of their romances. From strangers meeting for the first time and people in orbit around one another who finally take a new step, to couples considering a break and best friends wondering if there is more love between them than either has been willing to admit. All their lives are connected, in big and small ways, and Blackout wonderfully flies between their stories as the sun starts to set.
These love stories include queer characters, as befits modern YA, and forgoes pain-laden angst in place of burgeoning understanding of the self and the open acceptance of others. You can read about queer people thriving in love, in the embrance of their family and friends, which can't fail to spark joy. There are also poignant stories about love where romance with another person isn't the answer or the solution, that values sitting with your feelings rather than burying them because of assumption or expectation. Blackout is romantic but not all about the swoon.
One of the last chapters of the novel includes the lines: 'It feels like a celebration. Like the blackout gave everybody an excuse to relax and be with each other.' This strikes on exactly what reading Blackout is like too. In exploring these love stories, in reading (or listening) to the book, about an unusual event in a specific location, you become immersed in that place and time.
You could easily read the whole book cover to cover, but there are times after finishing a chapter when you want to stop and reflect. To take stock of where you are and when. For example, when Tammi and Kareem find themselves in Times Square, and all the light-less screens are around them, Kareem advises Tammi not to rush on but to sit in that moment, to take in the unique experience. Or when a pair stuck on a tour bus discuss how the tourists continue to marvel at the city around them while the cityfolk look at their phones. These scenes make you want to take a long walk where you live, to look up and around at what you haven't noticed in rushing through your daily life.
Blackout is a charming and entertaining read. The authors' aim when creating Blackout was to 'celebrate Black joy at a time when this is needed most'. Written during 2020, the year of the COVID-19 pandemic and numerous protests in answer to racial injustice and the murders of Black people in the US, Blackout certainly feels like a loving and uplifting story (or stories, depending on how you look at it) about the lives of Black young people. Anyone who is a fan of YA will love this book.
★★★★★
Blackout was published by Electric Monkey on 24 June 2021