The best pop culture companions, autobiographies, poetry and non-fiction books for Christmas 2018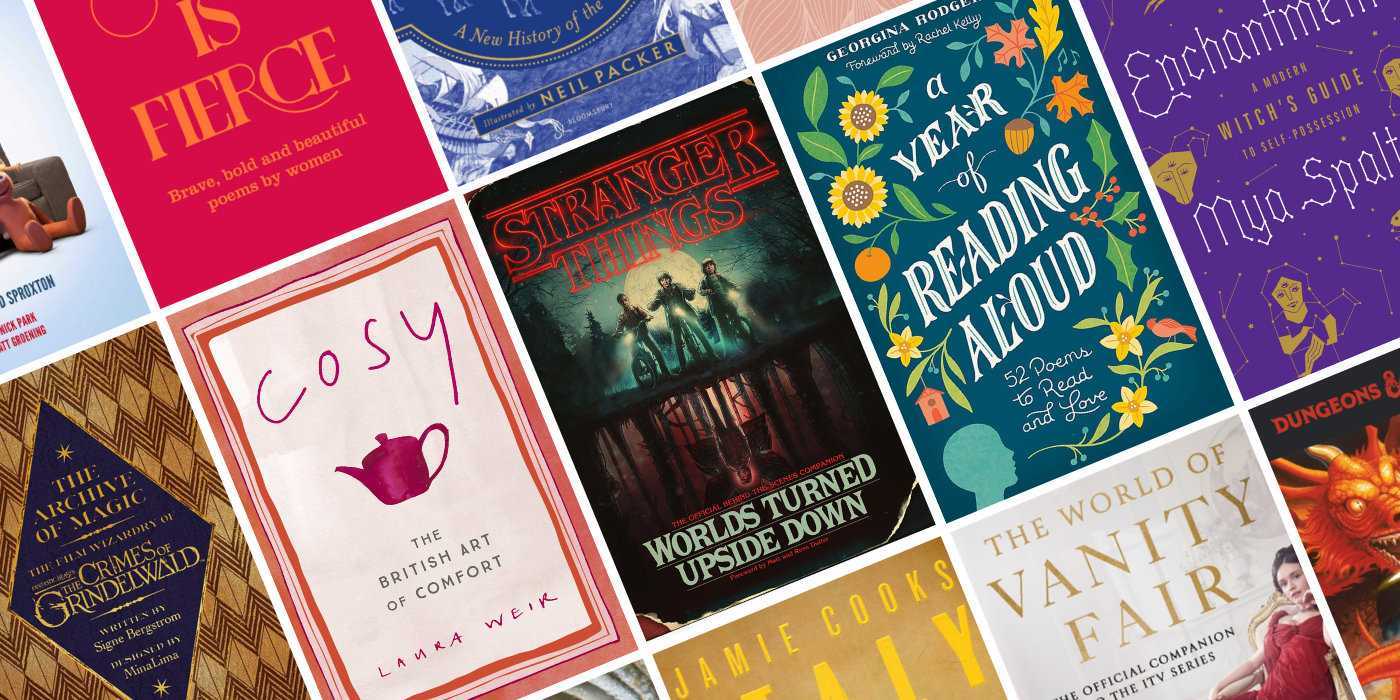 From jam-packed pop culture companions to luxe coffee table books, our festive guide is brimful of lovely gift ideas for non-fiction, poetry and entertainment readers.
1. Cosy: The British Art of Comfort by Laura Weir
Laura Weir's celebration of all things cosy is the perfect read for these cold, dark winter nights when all you want to do is snuggle down with a cup of tea and a good book.
Cosy explores our intrinsic British habits, traditions and loves during the chilly season, from roaring open fires and hearty feasts to creating a warm and welcoming home environment.
It makes you feel cosy and comforted just reading it.
Buy Now: Cosy: The British Art of Comfort – Yellow Kite, £13.19
2. Harry Potter: Page to Screen Updated Edition by Bob McCabe
Bob McCabe's Harry Potter: Page To Screen is a magical book befitting of JK Rowling's spellbinding story.
Produced in collaboration with the creative team behind the blockbuster series, this updated, deluxe tome captures over a decade's worth of cinematic history. It features over 500 pages of exclusive behind-the-scenes photographs, concept art and on-set stories from the cast and crew, revealing how the tale of The Boy Who Lived was adapted for screen.
Page to Screen is the book equivalent of taking a trip to the Warner Bros. Studio Tour – a true collector's item for Potterheads.
Buy Now: Harry Potter: Page to Screen – Titan Books, £32.49
3. The Silk Roads: A New History of the World – Illustrated Edition by Peter Frankopan
In this Illustrated Edition of the Sunday Times bestseller, Frankopan presents a new history of the world with lavish, life-like artwork by Neil Packer.
It takes readers on a voyage through time and history, starting with the ancient world and travelling through the rise of Europe and the world wars to the present-day political landscape. The book explores religion, power, slavery, science and important historic figures, from Alexander the Great to Martin Luther King Jr.
A fascinating book to be enjoyed by both children and adults.
Buy Now: The Silk Roads Illustrated Edition – Bloomsbury Children's Books, £10.31
4. The World of Vanity Fair by Emma Marriott
ITV's period drama based on William Makespeace Thackeray's 1848 book was a sumptuous affair, stunningly shot with lavish sets and costumes.
Emma Marriott's official companion book offers a behind-the-scenes look at that world, with beautiful on-set photos and fascinating insights into the characters, the locations and the historical period the story takes place in.
It also includes a foreword by Michael Palin, who starred as the author and narrated the beginning of each episode of the 7-part series.
Buy Now: The World of Vanity Fair – Sphere, £8.49
5. She Is Fierce: Brave, Bold and Beautiful Poems by Women collected by Ana Sampson
At a time where women are still fighting for equality, She Is Fierce celebrates brave and bold women – from suffragettes and civil rights activists to aristocrats, students and performance poets.
The poetry spans centuries and continents, exploring love, mental health, friendship, defiance, endurance and more.
This beautiful collection of 150 poems should be a permanent fixture on any bedside table.
Buy Now: She Is Fierce – Macmillan, £7.07
6. Portillo's Hidden History of Britain by Michael Portillo
Published to tie in with the second series of Portillo's Hidden History of Britain on Channel 5, this companion book provides an evocative investigative look at our country's forgotten history.
Portillo plays historian and detective as he explores 'lost' buildings, including abandoned prisons, empty hospitals, derelict defence structures and areas of tourism such as Brighton's West Pier and Grand Hotel.
Bolstered by atmospheric photos, it's a really insightful read.
Buy Now: Portillo's Hidden History of Britain – Michael O'Mara, £8.99
7. 
Aardman: An Epic Journey: Taken One Frame at a Time by Peter Lord & Dave Sproxton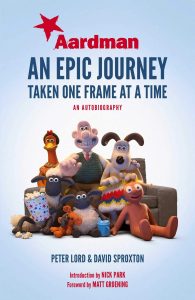 Told by Aardman co-founders Peter Lord and Dave Sproxton in their own words, An Epic Journey is the behind-the-scenes story of the award winning British animation studio.
The autobiography follows over 40 years of timeless characters including the much-loved Wallace and Gromit, Shaun the Sheep and Morph.
It recounts the duo's fascinating and inspiring creative journey, from the studio's humble beginnings to the bright lights of Hollywood.
Buy Now: Aardman: An Epic Journey – Simon & Schuster, £15.99
8. Stranger Things: Worlds Turned Upside Down: The Official Behind-the-Scenes Companion by Gina McIntyre
Worlds Turned Upside Down is a retro keepsake for fans of the hit Netflix show, bringing the first two seasons to life through cast interviews, exclusive photos and creative insights.
This official companion delves into the costumes, visual effects, pre-production process and 80's cultural references that inspired the show.
There's also a special Upside Down chapter, which – true to the show – is bound upside down. The book itself is designed to look like a treasured, well-loved copy of a classic suspense novel, complete with a die-cut cover to simulate the appearance of wear and tear.
Buy Now: Stranger Things: Worlds Turned Upside Down – Century, £25.00
9. The Little Book of Goat Yoga by Lainey Morse
Invented two years ago on Morse's farm in Oregon, goat yoga capitalises on the 'feel good hormones' that come from animal therapy, resulting in an instant source of happiness.
With The Little Book of Goat Yoga, Morse captures the simple joy and relaxation that comes from exercising with mischievous goats running around.
The book features adorable, uplifting and heart-warming photos of her famous goats and the classes they partake in. It guarantees warm and fuzzy feels.
Buy Now: The Little Book of Goat Yoga – Yellow Kite, £10.99
10. Jamie Cooks Italy by Jamie Oliver
Anyone who enjoyed watching Jamie Oliver cooking with the nonnas in Italy will love his new cookery book, which features delicious food from the Channel 4 show.
There are over a hundred recipes, including tasty comfort food, fresh Mediterranean feasts and delectable Sicilian sweets.
There's fast cooking, slow cooking, delicate fish dishes and indulgent classics, providing the ultimate guide to authentic Italian cuisine. Bellisimo!
Buy Now: Jamie Cooks Italy – Michael Joseph, £10.00
11. Enchantments: A Modern Witch's Guide to Self Possession by Mya Spalter
Witchcraft isn't just for Halloween. Mya Spalter is an experienced practitioner and employee at New York City's oldest occult shop. Now she's sharing her first-hand knowledge with readers, offering practical, accessible information for self-guided witchcraft.
Learn about magical ingredients, understanding the planets, casting love and protection spells, using candles and much more.
Spalter presents her practices in a fun, humorous and positive way, ensuring everyone can unleash their inner Sabrina.
Buy Now: Enchantments – Pisces Books, £10.80
12. Fantastic Beasts: The Crimes of Grindelwald Tie-In Books 
Step into the world of Fantastic Beasts with these magical full-colour companions.
Designed by MinaLima, the creative wizards behind the graphic props for the Harry Potter series, The Archive of Magic is a treasure trove of a book, with foldout and removable facsimile reproductions of materials from the movie.
Cinema-buffs will enjoy Lights, Camera, Magic!, which delves deep into the making of the film, telling an illustrated tale of the locations, characters, costumes and production design.
For even more visual wizardry, The Art of Fantastic Beasts: The Crimes of Grindelwald invites readers to step inside the design process, with jaw-droppingly impressive paintings, concept art, sketches and storyboards.
These books guarantee squees of delight from Fantastic Beasts fans.
Buy Now: The Archive of Magic – HarperCollins, £17.78
Buy Now: Lights, Camera, Magic! – HarperCollins, £9.89
Buy Now: The Art of Fantastic Beasts: The Crimes of Grindelwald, £22.75
13. Rituals for Every Day by Nadia Narain & Katia Narain Phillips
Published to coincide with Self Care Week, Rituals for Every Day is about finding time for yourself and the things that matter to you.
Sisters and wellness pioneers Nadia and Katia celebrate the small but special things in life, delivering easy-to-follow and effective advice on personal happiness.
From positive morning rituals and sage rites of passage, to more general practices on enjoying each day, this wellness guide is insightful and – most importantly – practical.
Buy Now: Rituals for Every Day – Hutchinson, £10.49
14. Fantastically Great Women Who Made History by Kate Pankhurst
Children who read and loved writer/illustrator Kate Pankhurst's Great Women Who Changed The World will adore this follow-up book.
Imaginatively designed, with fun illustrations and fascinating facts, it puts the spotlight on extraordinary women from around the world.
Young readers can explore the life of Frankenstein writer Mary Shelley, venture back to Egyptian times with female pharaoh Hatshepsut and charge into battle with the fearless Boudicca. History lessons have never been so much fun.
Buy Now: Fantastically Great Women Who Made History – Bloomsbury Children's Books, £5.03
15. Our Story: A Memoir of Love and Life in China by Pao Pingru
English Pen Award winner Rao Pingru's graphic memoir is a beautiful book to sit on any shelf. The story within its pages is equally captivating, providing a unique insight into the history and culture of 20th century China.
Spanning eight decades, it's also a moving tale of enduring love and timeless, old-fashioned romance; at once tragic, inspiring and utterly unique.
Buy Now: Our Story – Square Peg, £15.77
16. Dear John: The Road to Pelindaba by Jeff Osment
Jeff Osment's Dear John is not your standard biography. The author is a life-long friend of the book's subject – co-founder of ethical cosmetics retailer Lush, Mark Constantine – which gives it a very personal feel.
The biog follows trichologist Mark's story from his childhood in Dorset to his teenage years and subsequent homelessness to the global success he eventually became. At the heart of the biography though, is the search for Constantine's long-lost father, a mystery Osment secretly pursued.
This is as much a story of friendship and love, as it is of innovation and business.
Buy Now: Dear John – Lush, £14.95
17. A Year of Reading Aloud by Georgina Rodgers
Poetry and self-care go hand-in-hand in this calming anthology collated by Georgina Rodgers (Peace of Mind: A calm book for busy mums).
Through memorising and reciting poetry, A Year of Reading Aloud encourages readers to slow down, switch off and enjoy the beauty of the spoken word.
With 52 poems, one for every week of the year, it features poetry by old favourites like Emily Dickinson, E. E. Cummings and Edgar Allan Poe, with notes on each author and the themes they explore. It's a lovely book, inside and out.
Buy Now: A Year of Reading Aloud – Yellow Kite, £10.28
18. Unladylike by Cristen Conger & Caroline Ervin
From the hosts of the Unladylike podcast comes this funny and to-the-point field guide on how to live an inclusive feminist life and smash the patriarchy.
Driven by facts and brilliantly illustrated by Tyler Feder, the book champions 'unladylike' women and explores patriarchy in the real world.
Conger and Ervin blend history, stats and self-help advice to encourage feminists to claim their space. Dating, sex, friendship, work, intersectionality, politics – nothing is off the table in this essential guide.
Buy Now: Unladylike – Ten Speed Press, £13.88
19. Bernard Who?: 75 Years of Doing Just About Everything by Bernard Cribbins & James Hogg
Having spent 75 years in showbiz, Bernard Cribbins is a national treasure.
Bernard Who? is a definitive look at the British actor and musical comedian's career, taking readers back to his early life during World War 2 and his many accomplishments in the decades since he first joined Oldham Repertory Company in 1943.
It's a jovial and candid celebration of Cribbins as a man and an entertainer – one that promises plenty of smiles.
Buy Now: Bernard Who? – Constable, £13.96
20. Wine Folly: Magnum Edition: The Master Guide by Madeline Puckette and Justin Hammack
Wine connoisseurs can brush up on their knowledge with the deluxe Magnum Edition of Madeline Puckette and Justin Hammack's master guide to vino.
Wine Folly isn't just for experts though – it provides everything a novice needs to understand all things wine.
The comprehensive guide features taste profiles, infographics, region maps, tips for serving and methods for tasting. It makes for an attractive coffee table book too.
Buy Now: Wine Folly – Michael Joseph, £15.45
21. First Man In: Leading from the Front by Ant Middleton
Royal Marine and SBS Sniper Ant Middleton rose to prominence with Channel 4's Mutiny, where he recreated Captain Bligh's 4000-mile voyage across the Pacific, and SAS: Who Dares Wins.
First Man In shares the lessons that Middleton has learned throughout his life, from the tough, gut wrenching lows to the high-octane thrills – of which there have been many.
It's an honest, no holds barred, personal account of life as a sniper, as a survivor, and as an inspirational leader.
Buy Now: First Man In – HarperCollins, £10.00
22. Dungeons and Dragons Art and Arcana – A Visual History – Kyle Newman & Jon Peterson
Penned by an all-star author team, Art and Arcana is a one-of-a-kind illustrated guide dedicated to the beloved fantasy role-playing game D&D.
Through over 700 pieces of artwork – including illustrations, sketches, paintings, photographs, advertising and other visual ephemera – the book chronicles the history and evolution of the iconic game and the franchise it became, providing an unprecedented look at how it's inspired pop culture since its inception in the 70's.
Buy Now: Dungeons and Dragons Art and Arcana – Ten Speed Press, £22.75
23. Die Hard: The Ultimate Visual History by James Mottram and David. S. Cohen
Cinephile authors Mottram and Cohen have joined forces to deliver a comprehensive behind-the-scenes look at the entire Die Hard franchise.
The visual history celebrates 30 years of Yippee-ki-yay action through rare imagery, set photography, concept art and exclusive interviews with the cast and crew.
It goes beyond just the original movie, exploring the sequels, comics, video games, merchandise and the saga's enduring legacy.
Buy Now: Die Hard: The Ultimate Visual History – Titan Books, £22.75