2019 fiction preview: 20 books to look forward to reading this year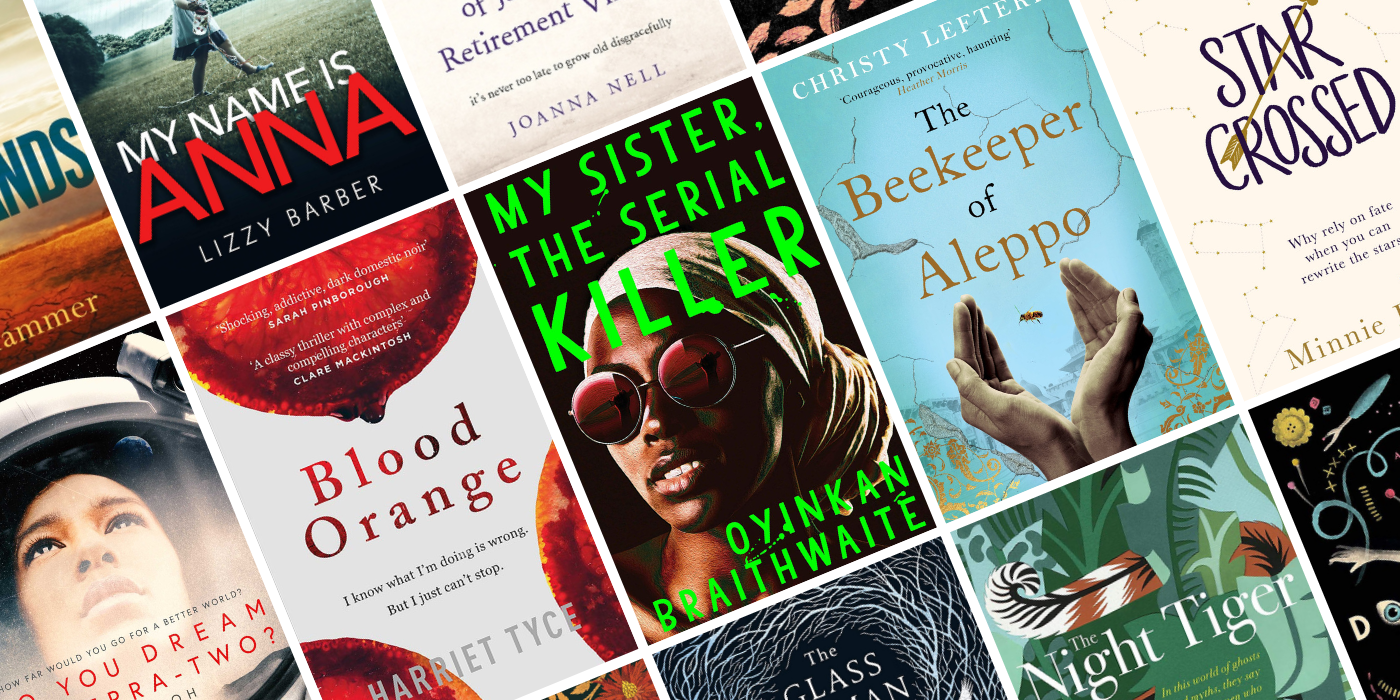 For bookworms, the most exciting thing about heading into a brand new year is the prospect of all the lovely new books that will be published across the next twelve months.
With so much choice it can be difficult to know where to start. Do you prioritise that much-hyped thriller everyone's talking about? What about the literary darling that has award-winner written all over it?
We've put together a preview of our most-anticipated books of 2019 to get your TBR list started. There's crime, romance, drama, space, history and everything in-between – promising a book everyone.
1. My Sister, The Serial Killer by Oyinkan Braithwaite
Family comes first in Oyinkan Braithwaite's darkly comic novel about love, lies and Lagos. Korede has become adept at cleaning up after her murderous sister, Ayoola, who keeps killing her boyfriends. When Ayoola starts dating the man that Korede not only works with but who she's in love with, it's only a matter of time before he winds up dead. A choice must be made, even if it means Korede sacrificing one of her loves for the other. My Sister, The Serial Killer gives a whole new meaning to the phrase 'blood is thicker than water'. (3 January, Atlantic Books)
Read the full review here.
2. Scrublands by Chris Hammer
When journalist Martin Scarsden arrives in the isolated, drought ravaged town of Riversend, he intends to write a feature on the anniversary of a tragedy that saw a charismatic young priest kill five of his congregation. In his bid to uncover the truth behind the inexplicable massacre, Martin starts to unravel the town's secrets – secrets that powerful forces are determined to keep buried. Engaging, unnerving and authentic in its detail of a rural town in decline, this is an Australian crime debut that packs a serious punch, singling Hammer out as an exciting author to watch out for. (8 January, Wildfire)
Read the full review here.
3. My Name Is Anna by Lizzy Barber
Anna has lived her whole life in a small town on the outskirts of Florida, abiding by the virtuous rules of her ardently religious mother. Rosie grew up in London in the shadow of a sister who disappeared, tearing her once happy family apart. The girls are linked by a dangerous cult, and as a fifteen-year-old mystery begins to unfold, shocking revelations will force both of them to make tough, life-altering decisions. Lizzy Barber's psychological suspense debut is fast-paced, compelling and impossible to put down. (10 January, Century)
Read the full review here.
4. The Truths and Triumphs of Grace Atherton by Anstey Harris
The Truths and Triumphs of Grace Atherton is an uplifting and life-affirming story about heartbreak, friendship and overcoming the tough obstacles life throws at you. It follows the titular Grace who, with the help of a spirited elderly man and a sassy teenager, has to put her world back together again after it crumbles apart. Like Eleanor Oliphant before her, Grace is an unintentionally charming and endearing character who will weave her way into your heart and make it burst with warmth. (10 January, Simon & Schuster)
5. The Single Ladies of Jacaranda Retirement Village by Joanna Nell
We've had The Unlikely Pilgrimage of Harold Fry, The Little Old Lady Who Broke all the Rules and The Curious Charms of Arthur Pepper. Now it's time to let a new pensioner into your heart: 79-year-old Peggy Smart – widow, resident at the Jacaranda Retirement Village and a long-time admirer of the Residents' Committee treasurer, Brian. A chance encounter with an old school friend – the glamorous Angie – sends Peggy on an unexpected journey of self-discovery that proves you're never too old to start anew. A funny and poignant exploration of growing old disgracefully and enjoying your twilight years. (24 January, Hodder & Stoughton)
Read the full review here.
6. The Familiars by Stacey Halls
Set during the real-life Pendle witch trials of the early 17th century, Stacey Halls' debut follows Fleetwood Shuttleworth, a young mistress and noblewoman plagued by repeated miscarriages. Her friendship with midwife Alice Grey provides her with hope of giving birth to a healthy baby, but it also draws her into the witchcraft accusations sweeping Lancashire and the North-West. The Familiars is an accessible piece of historical fiction that casts a light on not just the witch trials but on women's rights, or lack thereof, during that particular era. (7 February, Zaffre)
7. The Glass Woman by Caroline Lea
If The Familiars has you yearning for more haunting historic tales, The Glass Woman is an evocative and atmospheric novel set towards the end of the 1600's in Iceland. Betrothed unexpectedly to the mysterious and wealthy Jón Eiríksson, Rósa moves to his isolated, windswept village, where the locals are suspicious of outsiders and whisper about the unexplained death of Jón's first wife. Rósa feels a dark presence in the house and begins to fear she will be its next victim. Mystery and superstition meld to make this a memorable read. (7 February, Michael Joseph)
8. The Dreamers by Karen Thompson Walker
Panic grips an isolated college town in the hills of Southern California as a strange sickness traps its victims in a permanent state of sleep, giving them heightened dreams. The first to succumb is a first year student, who falls asleep and doesn't wake up. A second girl falls asleep, then a third, and the fear becomes palpable as nobody can explain what's happening. It's a slow-building, philosophical and unique novel that's at once a thought provoking character study and a subtle science fiction tale. (7 February, Scribner)
9. The Night Tiger by Yangsze Choo
This magical story set in 1930's colonial Malaya follows Ji Lin, a quick-witted apprentice dressmaker moonlighting as a dancehall girl, and Ren, a Chinese orphan and houseboy. The two are brought together by a series of unexplained deaths and superstitions, as rumours of men who turn into tigers sweep through the district. Richly detailed and beautifully written, The Night Tiger is a vibrant page-turner full of ancient myth, fantasy and Malaysian folklore. (12 February, Quercus)
Read the full review here.
10. Blood Orange by Harriet Tyce
Harriet Tyce is an author you'll be hearing a lot about in 2019. Her debut is a dark domestic noir, a legal drama and a psychological thriller rolled into one, exploring the many facets of desire, betrayal, love, hate and jealousy. Alison is a successful lawyer, a doting mother and loyal wife on the outside; she's also having an affair with a colleague and someone is intent on making Alison pay for her mistakes. If you enjoyed Apple Tree Yard, you'll love this. (21 February, Wildfire)
Read the full review here.
11. Do You Dream of Terra-Two? by Temi Oh
What kind of person chooses to leave everything and everyone they've ever known behind? That's the question Temi Oh ponders in her first novel – a sci-fi tale about humanity, survival, sacrifice and hope. The year is 2012 and Britain is leading the space race. Ten astronauts – four veterans and six teenage scientists – begin the twenty-three year journey to Terra-Two, an earth-like planet they hope will eventually sustain the world's population. As with all space-set stories where quarters are close and stakes are high, things don't exactly go to plan. Epic in scope with compelling characters, Terra-Two is an immersive and imaginative debut. (7 March, Simon & Schuster)
12. Past Life by Dominic Nolan
Memory is at the centre of Dominic Nolan's bold and sharply written book about a detective suffering from retrograde amnesia after she's kidnapped for four days. Lost in her own life, Abigail Boone must explore her own abduction, as well as the case she was investigating before she vanished, in order to put the pieces together and reclaim her lost memories. In a genre oversaturated by samey stories, Past Life is a dark crime fiction debut that feels fresh, smart and thrilling. (7 March, Headline)
13. The Courier by Kjell Ola Dahl
The award-winning Godfather of Nordic Noir takes on one of Norway's darkest and most disturbing periods of modern history in this sophisticated standalone wartime thriller. In 1942, Jewish courier Ester flees Oslo and escapes to Stockholm, where she meets resistance hero Gerhard Falkum. The two begin a relationship, which ends in tragedy when Falkum is killed in a fire, only for him to inexplicably reappear twenty-five years later, forcing Ester to consider the reason for his return and revisit her wartime training. The Courier offers an enthralling reading experience for the author's new and old fans alike. (21 March, Orenda)
14. Liar by Ayelet Gundar-Goshen
Israeli author Ayelet Gundar-Goshen's third book is a controversial tale of lies, mistakes and moral dilemmas. When average teenager Nofar accuses faded celebrity Avishai Milner of sexually assaulting her, she's catapulted into the spotlight. Suddenly she's not invisible anymore and everyone wants to talk to her. But the consequences are more serious and far-reaching than Nofar could ever have imagined. Liar is a piercing and razor-sharp social commentary that deftly explores how quickly and widely lies can travel, and how we approach issues of morality. (28 March, Pushkin)
15. The Choke by Sofie Laguna
Set during the early 70's in the rugged Australian outback, The Choke follows 10-year-old Justine as she silently observes the chaos and neglect around her. Raised by her war-scarred grandfather, Justine finds solace in the beauty of the Murray River and an ally in fellow outsider Michael. As the years pass, Justine's sanctuary is threatened and she's exposed to a harsh world of toxic masculinity. Laguna's poetic and moving coming-of-age tale is about a young girl learning just how unforgiving the adult world can be. It'll stick with you. (28 March, Aardvark Bureau)
16. Star Crossed by Minnie Darke
Fans of romantic comedies will adore Minnie Darke's wonderfully funny and feel-good story about love, friendship and rewriting the stars – literally. When Justine bumps into her teenage crush Nick, it's as if fate has weaved its magic. Nick relies on a magazine astrology column to guide him in life, a magazine Justine just happens to work for. By making a few small edits to the Aquarius horoscope, she hopes to push Nick in the right romantic direction, with hilarious results. Charmingly flawed characters and a delightfully refreshing Australian vibe make this one of the best rom-coms you'll read all year. (4 April, Bantam)
17. The Dollmaker by Nina Allan
The third novel from Nina Allan is a literary love story about two very unusual people: Andrew Garvie, an antique dollmaker obsessed with his creations, and Bramber Winters, who lives a sheltered life in an institution on Bodmin Moor. These strange, solitary characters find each other through an enigmatic personal ad in a collector's magazine, leading Andrew to devise a plan to rescue Bramber from her trapped existence that he understands so well. A beautifully rich and multi-layered story. (4 April, Riverrun)
18. Liberation Square by Gareth Rubin
Following the disaster of D-Day, Nazi occupied Britain is liberated by Russian forces who arrive from the east, whilst the Americans arrive from the West. The nation is divided between the two superpowers, with a partition running through London like the Berlin Wall. What unfolds is a tangled web of murder, corruption and deception, as Gareth Rubin reimagines a dystopian 1950's Britain under the iron fist of the Soviets. Reminiscent of The Man in the High Castle, Liberation Square offers up a fascinating alternate history and murder mystery plot that will have readers hooked. (18 April, Michael Joseph)
19. The Beekeeper of Aleppo by Christy Lefteri
Inspired by the author's time working as a volunteer at a Unicef supported refugee camp in Athens, The Beekeeper of Aleppo is a poignant tale of love and courage amidst tragedy. It centres on beekeeper Nuri and his artist wife, Afra, who flee Syria after all they care for is destroyed by war, causing Afra to become blind. Embarking on a perilous journey towards an uncertain future in Britain, the couple must confront their own personal loss and pain, as well as the wider hardships that threaten refugees. Lefteri's novel is a book of darkness and light, of horrors and hope, and of the true power of the human spirit. (2 May, Zaffre)
20. On My Life by Angela Clarke
When Jenna is arrested on suspicion of murdering her teenage stepdaughter, her perfect life with a loving fiancé and a beautiful home comes crashing down around her. Pregnant, locked up and awaiting trial, Jenna's sure someone is framing her. She needs to clear her name, protect her baby and find the killer before time runs out, but it's not so easy when the police think you're guilty and there are worse threats from within the prison. This tense, fast-paced and claustrophobic psychological thriller should be at the very top of all crime lovers' summer reading lists. (11 July, Mulholland Books)