Book Review: Blood Orange by Harriet Tyce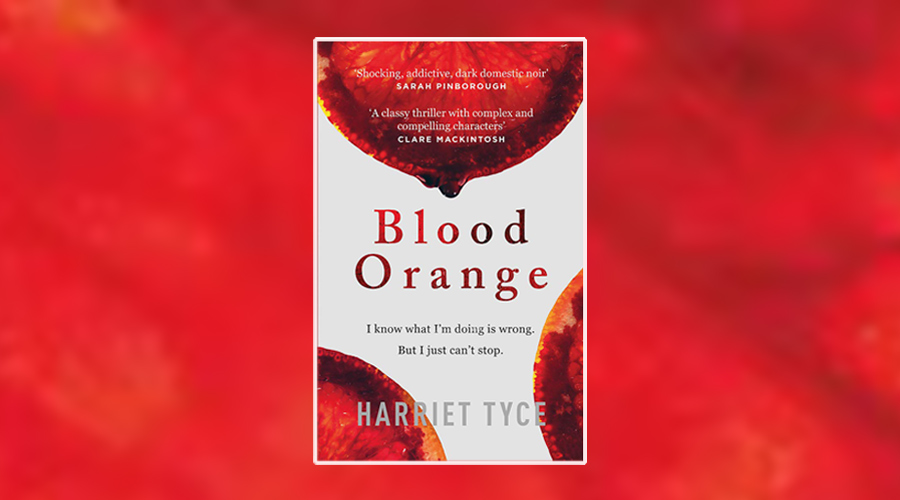 Reading the early chapters of Harriet Tyce's Blood Orange, you could be fooled into thinking this is just another psychological thriller with an unreliable and flawed female protagonist. But this dark debut soon distinguishes itself as an addictive and unforgettable domestic noir, at once shocking, sharp and seriously twisted.
Alison seems to have it all. She's a doting mother, a loyal wife and a successful lawyer who's been given the biggest case of her career. Except only one of those things is actually true. Alison might have the perfect life on the outside but peer behind the glossy facade and her world is a nasty, bitter mess. She drinks too much, often waking up with little recollection of the night before, and she neglects her young daughter. Worse still, she's having a purely physical affair with a high-powered colleague who doesn't seem to respect Alison, let alone genuinely care for her.
As the affair begins to push boundaries that make Alison feel increasingly uncomfortable, someone is intent on making her pay for her mistakes. Alison knows that her infidelity has been discovered; she knows that she should put an end to it and be a better wife, a better mother. But she can't, or rather won't, stop. There's a self-destructive nature to the character that compels her to keep lying and cheating as she tells herself it's "just one more drink", or one last night of reckless passion with her lover. The only thing she's actually in control of is the murder case she's working on, but even that might not be so clear-cut.
Blood Orange certainly shares similarities with the likes of Apple Tree Yard, The Girl on the Train and Anatomy of a Scandal. It has themes of murder, sex and marital betrayal, and it also has a damaged, untrustworthy and toxic central character who makes her bed and then doesn't want to lie in it. Yet there's a dark, unsettling undertone right from the beginning that makes this an entirely unique read. Alison isn't a likeable character but you want her to get her act together all the same; you will her to be the best version of herself for her daughter's sake.
Tyce kicks off her story with a clever scene completely out of context. It won't make sense until the end, and when that light bulb moment hits you, you'll race back to the beginning in order to slot the jagged pieces together. The legal drama runs parallel to Alison's personal journey as she defends a woman on trial for murdering her husband. She might not be able to understand her client's apparent sudden loss of control to begin with, but as she fights to hold her family together, Alison starts to understand the things women are willing to do to protect not only themselves, but their children too.
This is a searing exploration of love, hate, marriage, control and consent. Tyce toys with readers' expectations, leading us in one carefully constructed direction only to circle back and show us what really happened. It's full of the kind of suspense that leaves you feeling breathless, tense and in need of a stiff drink. Though given the role alcohol plays in Alison's downfall, you'll just as likely want to pour any bottles of wine down the sink.
★★★★
Blood Orange is published by Wildfire on 21 February 2019