Saturday and Sunday at Glastonbury: Songhoy Blues and Ed Sheeran delight the crowd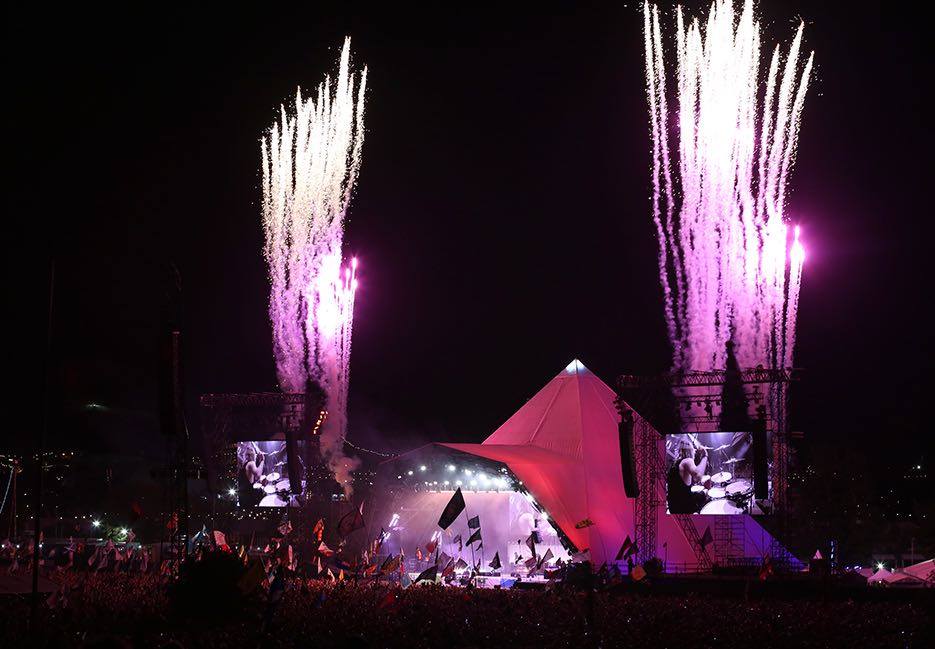 https://www.instagram.com/p/BVuHfGRgV9x/?taken-by=glastofest
https://www.instagram.com/p/BVvOh-3ARYO/?taken-by=glastofest
After hitting it pretty hard for four days straight, my energy was beginning to wane, but Saturday was finally the day I got to see Songhoy Blues.
To give you a little back story, a few months ago I'd never even heard of the desert punk/blues band. But after a night with my friends, where we played one song of every single band performing at Glastonbury 2017, I became obsessed with the group's music. They're from Timbuktu and play blues that will make even the grumpiest of listeners tap their toes.
After a pre-party glittering and a few drinks at camp it was time to head to The West Holts for Toots and the Maytals. We sat and enjoyed the sunshine under the flags for about an hour before an announcement was made that the band weren't going to make it onto stage as they weren't even on site yet. So we headed up to The Park Stage instead, devouring pizza on our way, and found a spot to wait for Songhoy Blues. Luckily we arrived in time to catch the last songs from Temples, who had the crowd bopping away and were just as good as the last time I saw them (at Festival No. 6, 2013).
Songhoy Blues arrived on stage with lead vocalist Aliou Touré showing off his dance moves from the get go, giving 1000% as he performed to a jiving crowd donned with flower crowns, fruit bowl hats and jazzy shirts. It was here that my friends and I created a new form of abstract dance involving toilet roll ribbons, as well as a good crump-off competition. There really is nothing greater than dancing in a field with some of the people you hold most dear and having no inhibitions. The band closed with 'Al Hassidi Terei', which was a beautiful way to end their set.
Next up was Alt-J. Now being a slight Alt-J fanatic (it was my sixth time seeing them), I was pretty excited for these guys. The crowd was growing around us as we stood strong in between the sound tent and the disabled viewing platform at the front of The Other Stage. They put on an amazing light show and played a great mix of tracks, much to the delight of the crowd.
When Sunday arrived it was time to go hard or go home, drinking whatever was left of the booze and gearing up for the last day of the festival. Remember, I had been at Glastonbury since the Tuesday before punters were allowed in, and by that point I was feeling pretty fatigued (not to mention suffering from a bout of deli belly). I really only wanted to see two artists: Biffy Clyro and my fourth favourite ginger, Ed Sheeran – both of which delivered amazing performances.
Biffy Clyro came out in true rockstar fashion: topless with white skinny jeans. They played a beautiful mix of new and old songs, the first being 'Living is a Problem Because Everything Dies', which was taken from my favourite album, Puzzle. If I'm honest, I'd forgotten all about this track, but what a great song to enter the Pyramid Stage to. Surrounded by fellow fans, we all sang along in a gruff 'Scottish' twang that only the English accent could ruin.
However, it was Ed Sheeran who was the highlight of the festival. Watching him play hit after hit and the whole crowd singing along with him, that's love. His set ended with the chart topping 'Shape of You' and as the crowd dispersed, we sat on the hill and gathered the troops. Next stop was the Silent Disco, the tent where pop lovers and metallers dance next to each other all night long in perfect harmony. That's Glastonbury folks.
Read the rest of our Glastonbury 2017 coverage here.