Book Review: Project Hail Mary by Andy Weir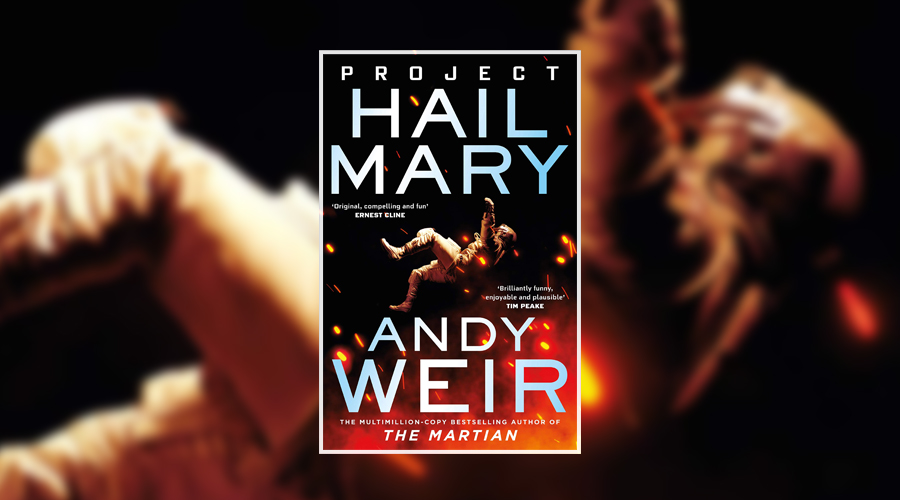 If there's one thing we learnt from reading Andy Weir's previous two books, The Martian and Artemis, it's that he knows how to write a thrilling blockbuster-worthy sci-fi novel that keeps you perched on the very edge of your seat. Project Hail Mary, Weir's third foray into interstellar adventures, continues the author's winning streak with another tale about an ill-fated mission in space. Ryland Grace is the sole survivor on a last-ditch attempt to save Earth. If he fails, the planet will perish and humanity will become extinct. No pressure then.
Moving between the past and present, we discover how Grace – a mild-mannered science teacher with no aspirations to become an astronaut, let alone Earth's saviour – found himself on a one-way interstellar suicide mission. The desperate, most likely doomed before it even begins, 'hail mary' assignment to prevent mankind's destruction might be the high stakes backdrop for this story but at its heart, this is a tale of self-discovery and friendship. It's difficult to discuss the plot without giving too much away – but let's just say that Grace isn't the only intelligent life form scouring space to find out what's killing his planet.
Grace's initial amnesia when he wakes up aboard the Hail May allows readers to learn with him. He's just as in the dark as we are; why did he, of all people, volunteer to travel into space and sacrifice himself in the process? What happened to his two deceased crewmates? How does he do the job of three people when he's only trained to do one? What can one lone man achieve, so far away from home, with all the possible difficulties that could, and inevitably do, go wrong? There are so many questions and Weir takes his time answering them, giving us ample opportunity to warm to Grace – who, true to form, has a wry yet can-do, Mark Watney approach to life – and root for his mission at the same time.
Of course, being an Andy Weir novel, Project Hail Mary is all about the science too, and the level of scientific and astronomical detail in this novel is as confusing as it is mind-blowing. Whether you relish every little experiment and discovery aboard the Hail Mary or, ahem, gloss over the more intricate science, this story is about as immersive as you can get without actually travelling into space yourself. The ill-fated adventure is all helped along by a central character who really does care about the world he's left behind, regardless of whether he'll ever make it back. Intentional or not, there's a nice, moral message here about saving the planet for future generations – something you don't have to be a scientist or astronaut to be able to understand or agree with.
It's hardly a surprise that Project Hail Mary's film rights have already been snapped up – this is epic, original and exciting sci-fi blockbuster material from beginning to end. Witty, suspenseful and full of the kind of smart twists that keep you turning page after page, Andy Weir's latest is another galactic success.
★★★★
Project Hail Mary is published by Del Rey on 4 May 2021