VISSIA – With Pleasure Review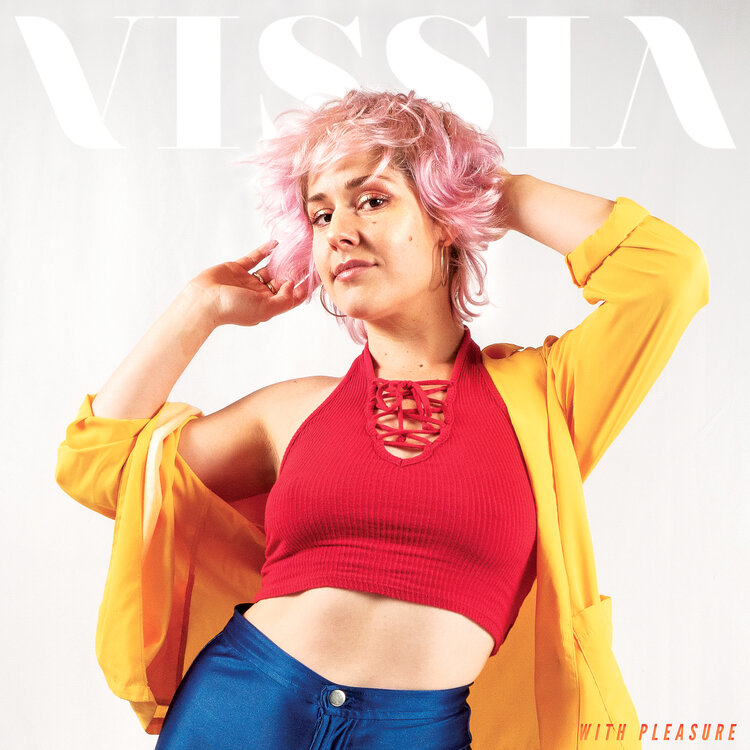 With spring well on its way and lockdowns easing, VISSIA's second full-length album, With Pleasure, is just the kind of hopeful, empowered album we need. From beautiful, slow ballads, to energetic, bouncy anthems, VISSIA breathes life into every tone and style covered in this 10 track journey, all strung together with her constant power and self-assurance. She gives us an alt-pop mix of bluesy, jazzy melodies, catchy hooks and confident vocals, ranging from funk-soul to 90s pop nostalgia.
The album starts off with a shower of confidence and positivity, with 'Doorway' providing an epic sound with atmospheric, electronic backing, dramatic drums, powerful vocals, and bluesy chord progressions. By track 2 – the witty, unapologetic feminist anthem 'My Wom' – we're hooked. Its sassy, unstoppable funk bass line drives the piece forward with personality and style, coupled with crisp, clear vocals and a tight, boppy melody.
With Pleasure lets VISSIA's natural, acoustic sounding female vocals push through during stripped back solo sections, showing that she doesn't need the competent, complex backing to sound good and make a complete finish. She is frequently backed by soulful, thoughtful harmonies, letting the listener revel in beautiful spine-tingling female vocals, giving many of the songs a nice relief from the strong, driving bass lines, drums and guitars throughout. These vocals, combined with intelligent, well-observed lyrics – covering all sorts of stories and emotions from different aspects of human life – make With Pleasure a real treat to listen to. You're not only tapping your foot along, but also smiling at the relatable, poetic slices of VISSIA's outlook on life and herself.
One song that sticks out as one with punchy, memorable lyrics is the wonderfully honest, spacey ballad 'About Moving On'. The beautiful melody and refreshing lyrics – 'All the shit people say about moving on' – couple together to make a heartfelt, vulnerable break-up song, without being bitter or trite. Indeed, all of VISSIA's songs in With Pleasure seem original and fresh, the final production letting VISSIA's natural song-writing talent shine through, the integrity and uniqueness of the songs intact. When writing the album, VISSIA said that her motivation was: 'do what feels good', and that definitely comes through, each song showing a different aspect of herself, taking pleasure and finding art in 'the light and the dark' of life. She even has a unique platonic love song in the form of 'The Cliffs', with a subtle, stylish music video to match, in which she rains down support and love on her best friend.
Above all, the aspect that will surely keep the listener coming back for more is VISSIA's never-relenting energy, as she moves from slower to faster tracks, the lighter songs remaining positive, yet never cheesy or overdone. Each track comes with a unique, unpredictable melody with well thought-through levels and journeys within them. Throughout the tracks, there's never a boring, read-to-skip moment, VISSIA holding the listener's attention, from electronic, hopeful tracks like 'Take It Apart', to more chilled pieces like 'High With U'. With Pleasure is definitely one to play as the soundtrack to your spring and summer this year, as we look forward to new beginnings and embrace all that life can throw at us.
★★★★