Fiction Preview: 20 books to look forward to reading in 2021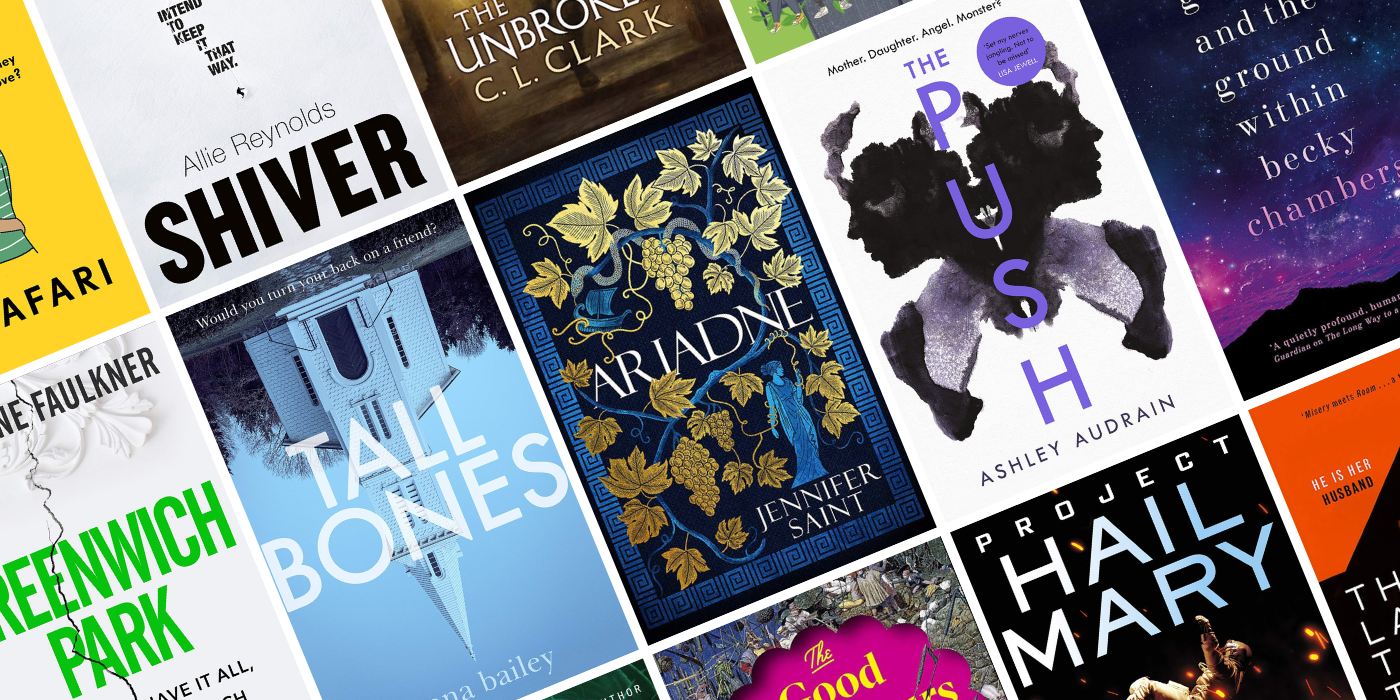 We're only three weeks into the New Year and January has already delivered some of 2021's most anticipated reads – from Ashley Audrain's psychological drama The Push, a taut debut that explores the dark side of motherhood, to Will Dean's superbly suspenseful The Last Thing To Burn. February will see new novels from American favourites Becky Chambers and Renée Watson, whilst Spring will bring more exciting debuts from the likes of C. L. Clark, Anna Bailey and Ciannon Smart.
As the months continue, we can look forward to an abundance of page-turning thrillers and compelling literary treats, along with addictive mysteries, heart-warming YA, immersive sci-fi and subversive fantasy. I've had an early preview of a wide selection of what's to come and trust me when I say that whatever your bookish tastes, this year's publishing calendar promises something for everyone.
It might be too soon to call the best books of 2021 just yet, but here are 20 from the first half of the year that are sure to be firm contenders.
The Push by Ashley Audrain
This compelling debut from Ashley Audrain explores the darker side of motherhood through the eyes of a woman who discovers that being a mother isn't as easy as she thought it would be. From the moment she holds baby Violet in her arms, Blythe knows that something isn't right. She finds her child difficult to connect with, let alone love, but the more Blythe gives voice to her fears, the more she begins to question her own sanity too. From the opening pages, The Push is a disturbing and complex tale about dysfunctional mother-daughter relationships, mental health and the concept of nature vs. nurture. It's not always an easy read but it's absolutely one you won't be able to put down. (7 Jan, Michael Joseph)
The Last Thing To Burn by Will Dean
Will Dean's first stand-alone novel is a tremendously tense book that hooks you in from the very first page and doesn't let up until the end. The suspense is overwhelming as we follow Vietnamese immigrant Thanh who's forced into a life of captivity and servitude in England. Trapped in a remote farmhouse with no way to escape her tormentor, Thanh must dig deep to find the physical and mental strength to keep going – not just for herself, but for all the other women that are in her position too. This is a story of survival in its most basic form, but more than that it's about the immense power of the human spirit – how it can be bashed and broken and still persevere. (7 Jan, Hodder & Stoughton)
The Smallest Man by Frances Quinn
The first thing you'll notice about Frances Quinn's debut is its beautiful cover. Yet as you begin reading, you'll realise the story held within its pages is equally captivating. Inspired by real life historical figure Jeffrey Hudson, a dwarf who was gifted to the new wife of Charles I as a 'human pet', The Smallest Man follows Nat Davy as he forms an unlikely friendship with the young and lonely Queen. It's an encounter that will take Nat on an unforgettable journey set against the backdrop of the English Civil War in the 1600s. With a unique hero at its heart, this is a novel of bravery, embracing what makes you different and the power of true friendship. (7 Jan, Simon & Schuster)
First Day Of My Life by Lisa Williamson
Best friends Frankie and Jojo are inseparable – so when Jojo goes missing on GCSE results day and news breaks that a baby has been stolen, Frankie knows that something has gone wrong. When she finally manages to get Jojo on the phone and hears a crying baby in the background, Frankie puts two and two together. Enlisting the help of her ex-boyfriend Ram to help find Jojo, Frankie realises that there are things about her best friend she never knew, things that will test their close bond. Written with warmth, honesty and empathy, First Day Of My Life is, in Williamson's own words, 'a love letter to best-friendship in all its messy, intense, heart-breaking glory'. (7 Jan, David Fickling Books)
Shiver by Allie Reynolds
Perhaps it's too early to start crowning the best thriller of the year but when it comes to Allie Reynolds' debut, it's difficult not to. Tense, thrilling and genuinely unputdownable, the story centres on a group of former competitive snowboarders as they're brought back together for a reunion that drags the past into the present. Stuck at the top of a closed mountain resort, with no way of getting down, the group are forced to confront what happened ten years ago when an enigmatic yet manipulative rising star of the snowboarding scene mysteriously disappeared. Shiver is a deft depiction of female rivalry, love-hate relationships and the extreme nature of competitive sport. Just wait 'til you get to that killer end too. (21 Jan, Headline)
Love Is A Revolution by Renée Watson
Showing love to both the people in your life and yourself is at the very core of Renée Watson's new novel, which also explores family, race and privilege from the perspective of a black girl in contemporary America. This is a story that subverts tired stereotypes – both in fiction and real life – surrounding body image, self-worth and the ways teenagers are pigeonholed as they grow up. It's a delight to follow Nala – the story's young, naive protagonist – as she navigates romance, activism and identity. She loves music, she makes mistakes, and she's still trying to figure out who she is in the world; in other words – she's a real teenager. A lovely, relatable read for fans of contemporary YA. (4 Feb, Bloomsbury YA)
Happy Families by Julie Ma
Winner of the 2020 Richard and Judy Search for a Bestseller competition, Happy Families is a funny and poignant intergenerational story about a Chinese immigrant family in rural small-town Wales. Amy Li is thirty-four and she's moved back in with her grandfather, Ah Goong, in the flat above the Chinese takeaway. She wont talk about why she gave up her career and returned home, just like her grandfather won't talk about why he hasn't spoken to Amy's father for thirty years. Amy's is a family in crisis and when Ah Goong collapses, she realises that the time for building bridges is running out. Heartening and down-to-earth, Ma's debut is one of February's must-read books. (18 Feb, Welbeck)
The Galaxy, and the Ground Within by Becky Chambers
The release of The Galaxy, and the Ground Within is a major event in February's publishing calendar and for good reason. It's the fourth and final book in Chambers' best-selling Wayfarers series, which began with the much loved The Long Way to a Small, Angry Planet, and has gained an army of loyal readers along the way. The finale sees three strangers – Pei, Roveg and Speaker – thrown together unexpectedly when a technological failure grounds them at the Five-Hop One-Stop, run by an enterprising alien and her child. With nothing to do and nowhere to go, the disparate aliens are forced to confront not only their differences and similarities, but where they've been and where they're going too. Once again Chambers has written a perceptive and thoughtful character driven story that ends the Wayfarers quartet on a triumphant high. (18 Feb, Hodder & Stoughton)
Trust Me by T. M. Logan
When Ellen agrees to hold a flustered young mother's baby on a train, she's just trying to help a stranger in need. She entertains the baby whilst the mother takes an urgent call. Minutes pass and the train pulls into the station but the mother doesn't return. Ellen spots her outside the window, only she's hurrying down the platform, away from the train. She mouths the word sorry before she disappears, leaving the baby behind. It's then that Ellen discovers a hastily scrawled note in the baby's bag: Please protect Mia. Don't trust the police. Don't trust anyone. Confused and scared, Ellen doesn't know who to turn to. The one thing she does know is that she can't let any harm come to the baby she's been entrusted with. True to form, Logan's latest is another tense and twisty thriller that constantly has you guessing. (18 March, Zaffre)
The Other Emily by Dean Koontz
When Emily Carlino vanished after her car broke down on a California highway, she was presumed to be one of serial killer Ronny Lee Jessup's victims. Writer David Thorne is desperate to know what happened to the love of his life so he can finally lay her body to rest. He regularly visits Jessup in prison but he never finds the closure he needs. Enter Maddison Sutton, a woman so like Emily that it takes David's breath away. Is it Emily? Or is Maddison merely a dead ringer playing a dangerous game? Whichever it is, David can't resist the opportunity to get closer to this beguiling double. Full of neck-creeping, unnerving suspense, The Other Emily will keep you up at night. (23 March, Thomas & Mercer)
The Unbroken by C. L. Clark
C. L. Clark's debut has been almost a decade in the making but it was absolutely worth all the years she channelled into writing this ferocious North Africa inspired military-political fantasy. Unbroken follows Touraine, a soldier stolen as a child and raised to kill for the empire, who finds her loyalties tested when she's sent back to her homeland to stop a rebellion, and Luca, the heir to the throne who needs someone on her side to sway the rebels toward peace whilst she works at getting her uncle off the throne. The first book in the Magic of the Lost series is an epic tale of rebellion, espionage, colonialism and political intrigue, with two kick-ass queer characters leading the charge. Expect big things from this novel, which is set to be one of this year's breakout fantasy debuts. (23 March, Orbit)
The Drowned City by K. J. Maitland
If your go-to genre is historical fiction, then the one book you should be adding to your April reading list is K. J. Maitland's dark thriller, The Drowned City. In 1606, a year to the day that men were executed for conspiring to blow up Parliament, an unnatural towering wave devastates the Bristol Channel. In London, Daniel Pursglove lies in Newgate Gaol waiting to die. Liberated from prison and sent on a clandestine mission by Charles FitzAlan, close adviser to King James I, Daniel journeys to the flooded city where he soon finds himself at the heart of a dark Jesuit conspiracy. Inspired by a dramatic account of the great flood that devastated the south-west in the 17th century, this is an enthralling story of spies, killers and treason. (1 April, Headline)
Tall Bones by Anna Bailey
When 17-year old Abigail goes missing, her best friend Emma sets out to uncover the truth about what happened after she left Abi alone at the Tall Bones party in the forest. Yet the more she digs, the more Emma reveals of the town's dark secrets. It's not just the people of Whispering Ridge harbouring deep-rooted resentments but Abi's own family too; her brothers, both of them dealing with their own struggles, and Abi's mother – who married a bible-bashing man on a whim and now watches, motionless, as her children unravel. And that's before we even get to the hate-spewing pastor inciting wrath amidst his congregation. Using her own troubled experiences of living in small-town America, Bailey has penned a compulsive literary crime-drama about love, hate, guilt, intolerance and the consequences of religious devotion. It's a book that will stay with you. (1 April, Doubleday)
Malice by Heather Walter
We've all read fairytales where the princess falls in love with the prince, breaking a wicked fairy's curse along the way. But what happens when the so-called evil sorceress and the cursed princess fall in love instead? Heather Walter's YA-crossover is a darkly magical retelling of Sleeping Beauty with a powerful love story at its heart. Known as The Dark Grace, Alyce is feared and blamed for the evil plaguing the Kingdom of Briar. The only one who doesn't abhor Alyce is Princess Aurora, the last heir to the throne who's cursed to die if she doesn't kiss her true love before her twenty-first birthday. As they grow closer, Alyce and Aurora come to realise that they might just be each other's salvation. An original, spellbinding and multifaceted debut that puts an empowering twist on an old tale. (13 April, Dey Rey)
Greenwich Park by Katherine Faulkner
Finally pregnant after years of tragedy, Helen has everything she always wanted. What she doesn't anticipate is meeting Rachel, a brash and extroverted single mother-to-be who attends the same antenatal class and instantly muscles in on Helen's life. It's not just Helen that Rachel wants to befriend, but Helen's family too – her husband Daniel, her brothers Charlie and Rory, and Rory's pregnant, effortlessly beautiful wife, Serena. Rachel wants to know everything about them, including all their secrets too… Cleverly plotted and filled with an uncomfortable atmosphere that's difficult to shake, Greenwich Park is a slow-burner of a thriller that will tie you up in knots as you try to untangle the intricate web of a plot. (15 April, Raven Books)
Witches Steeped In Gold by Ciannon Smart
The first book in Ciannon Smart's Caribbean-inspired YA fantasy duology follows witches and sworn enemies, Iraya and Jazmyne, as they form a deadly alliance to take down the woman who threatens both their worlds. As the heir of an overthrown and magically gifted dynasty, Iraya yearns for freedom and vengeance, whilst Jazmyne, daughter of the self-crowned doyenne, lives with the knowledge that she's a threat to her mother's rule – a threat that claimed the life of her sister in her mother's all-consuming pursuit of power. Together they stand a chance of winning, if they can trust each other in order to see it through. Witches Steeped In Gold features exquisite world building and characters who'll burrow their way into your heart and make a bed for themselves there. Bring on book 2! (20 April, Hot Key Books)
Ariadne by Jennifer Saint
Drawing on her lifelong fascination with Ancient Greek mythology, Jennifer Saint has crafted a beautiful epic that centres around Ariadne – the daughter of the fearsome King Minos – who falls in love with Theseus, the Prince of Athens. As with the classic Greek tragedies, this is not a straightforward love story, as Theseus has arrived in Crete as a sacrifice to the Minotaur – who also happens to be Ariadne's brother. The Princess of Crete faces a terrible choice: see her lover forfeited to the beast, or help Theseus kill the monster and in turn betray her family and country. In a world ruled by temperamental, petulant gods, Ariadne is a shining beacon of female strength and courage – making this a story that's impossible to forget. (29 April, Wildfire)
Project Hail Mary by Andy Weir
If there's one thing we learnt from reading Andy Weir's previous two books, The Martian and Artemis, it's that he knows how to write a thrilling blockbuster-worthy sci-fi novel that keeps you perched on the very edge of your seat. Project Hail Mary, Weir's third foray into interstellar adventures, continues the author's winning streak with another tale about an ill-fated mission in space. Ryland Grace is the sole survivor on a last-ditch attempt to save earth. If he fails, the planet will perish and humanity will become extinct. No pressure then. It's hardly a surprise that the book's film rights have already been snapped up, so don't miss out on the opportunity to read the book first. (4 May, Del Rey)
The Good Neighbours by Nina Allan
Cath works in a record shop to pay the bills but what she really wants is to be a freelance photographer. After a chat with her manager, who tells her that photography is detective work, Cath is inspired to move forward with her latest project: photographing murder houses. It's an endeavour that takes her back to the Isle of Bute, the Scottish island of her childhood, where a man called John Craigie murdered his family – including Cath's friend Shirley. Forging a friendship with the new occupant of Craigie house, Cath begins investigating the murder, uncovering sinister truths about John Craigie's secret obsession with a disturbed Victorian painter and local myths about fairy folk. As with all her novels, Nina Allan weaves a haunting, intricate tale that masterfully blurs genre lines. You'll want to savour every page. (10 June, riverrun)
The Mismatch by Sara Jafari
Soraya is a twenty-one year old girl from an over-protective Muslim family. Having recently graduated, she yearns to belong and make her mark on the world at the same time. She's never been kissed but she's sure if she can tick that off the list, everything else will fall into place. A chance encounter with Magnus Evans presents Soraya with an opportunity. He might be her opposite in every way, and he's absolutely the last boy her parents would ever approve of, but he might just be the perfect person to help Soraya on her journey of acceptance and understanding. Add in the intertwining story of Soraya's mother, who's also struggling to belong, and you have an entertaining, heartening coming-of-age tale about first love, clashing cultures and finding your place in the world. (24 June, Arrow)