Book Review: Little Thieves by Margaret Owen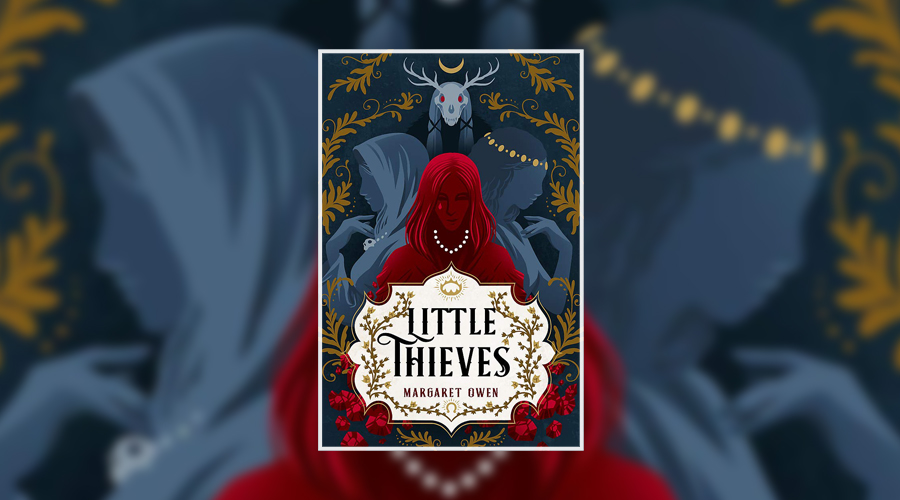 Abandoned by her mother as a small child and adopted as a daughter of Death and Fortune, Vanja Schmidt knows that no gift is freely given and every debt must be repaid. She grows up alongside Princess Gisele, watching, listening and learning. But a princess and a servant can never truly be friends, and Vanja learns the hard way that she won't ever gain the respect of the royals she so dutifully serves, nor be free of her otherworldly godmothers who expect her to pledge her allegiance and servitude to one or the other. Wanting mothers and a friend, rather than masters and rulers, Vanja decides to take her future back by stealing Gisele's charmed life.
Whilst the real Gisele becomes a penniless nobody, Vanja uses the princess's enchanted pearls to steal her appearance, winning a betrothal to a notorious but sinister Margrave whose marriage proposal has absolutely nothing to do with love. Whilst she pretends to swoon over her intended, in the shadows Vanja leads a double life as a thief, stealing from the nobility to fund her grand escape. With just one heist to go, Vanja unwittingly steals from the wrong target, gaining the wrath of a god who curses her to an untimely end; if she doesn't make up for all that she's stolen – riches, faces, lives – within two weeks, she'll be doomed to turn into jewels, stone by stone, until she resembles the treasure that has driven her to do such devious things.
There's a saying in the Blessed Empire: Little thieves steal gold, and great ones steal kingdoms, but only one goes to the gallows. I'm not sure I agree. I've little interest in kingdoms, but even less in dancing with the hangman. And I've gotten very good – great, you might even say – at stealing gold."
A sparky reimagining of Goose Girl, the German fairytale by the Brothers Grimm, Margaret Owen's Little Thieves is perhaps one of the most surprising novels I've read this year. Not only because it wasn't really on my radar, but also because it was so much more than I was expecting. Rooted in Germanic culture and fables, it's a story of thieves and princesses, of nobles and gods, and of learning to let your guard down with the people who deserve it, whilst keeping your enemies close enough to kill them before they kill you. The whole book has a gleefully irreverent tone that draws readers into Vanja's unjust world and her plight to escape unscathed. She's such a scrappy, sharp-witted, calculating and self-serving central character but you love her for all those qualities; moreover, her motivations, whilst not always right, are easy to understand and justify.
Little Thieves is rich with detail, charm and zippy dialogue, but it's the motley cast of characters, some of them hunting Vanja and some of them trying – with little success or thanks – to assist her, who make this such an entertaining and page-turning read. Aside from Vanja and Gisele, who understandably isn't in any hurry to forgive the former-maid, once-friend who stole her identity, the characters who truly shine here are Emeric Conrad, an overeager, by-the-books junior detective seeking the elusive jewel thief, who also has a few secrets up his own sleeve, and Ragne, a feral shape-shifting half-god entrusted as Vanja's guardian. These characters are beautifully written and fleshed out, with a loyalty that perhaps isn't always deserved, but helps to endear them to readers even more.
Margaret Owen packs so much into Little Thieves; there's magic, curses, duplicity, uneasy alliances, thorny truths and wicked lies, with the delightful tendrils of potential romance curling around the characters, making their missions and motives even more complicated. Throw into the mix a beastly villain who's easy to detest from the moment he appears on the page and Little Thieves really does have all the elements for a truly memorable fantasy fable. It's a book for anyone who loves classic fairytale retellings with heart-stealing characters and a thrilling cat-and-mouse adventure at its core.
★★★★★
Little Thieves is published by Hodder & Stoughton on 19 October 2021