Book Review: Dark Cities edited by Christopher Golden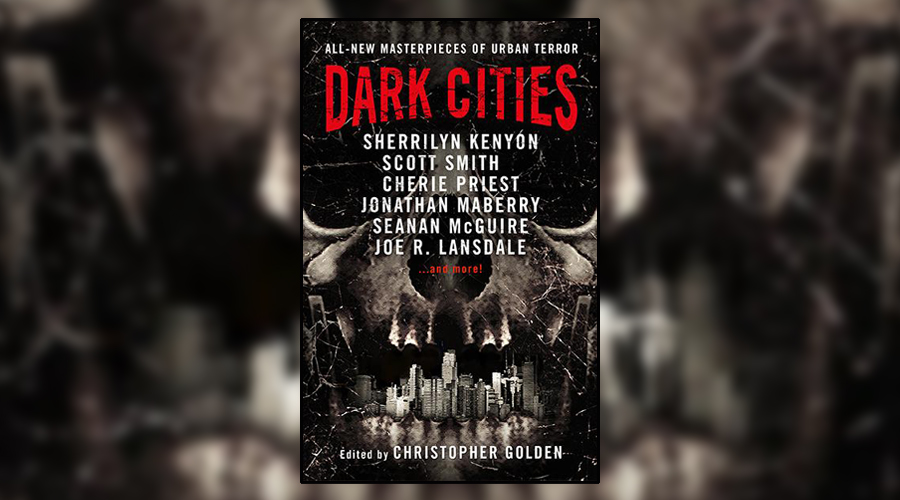 The short story anthologies published by Titan Books are without a doubt the best collections of dark, creepy and memorable tales you'll ever read. They've covered everything from nightmarish stories of the apocalypse (Wastelands 1 & 2) to Old West infused tales (Dead Man's Hand), bringing together deliciously disturbing and darn right weird fictions from some of the most influential authors in the publishing world.
Dark Cities is the latest anthology, an urban terror collection edited by New York Times bestselling author Christopher Golden (Snowblind, Shadow Saga). The theme of the book, and the twenty stories within it, focuses on the darkness found in cities – whether it's down gloomy alleyways, behind the doors of seemingly ordinary brownstone buildings, or in our own hearts.
As Golden explains in his introduction, whilst most modern horror stories take place in rural settings – within shadowy woods or isolated cabins – it's actually in cities that people generally feel more afraid. Sometimes the horror manifests itself in actual monsters on the streets but often the most frightening thing is the city itself, the way it swallows people's hope, souls and, in some cases, their entire lives. In reality it might be strictly metaphorical but in these stories, the city is an altogether more literal threat.
Scott Smith's The Dogs is a suitably terrifying anthology opener, throwing readers right in at the deep-end. Featuring murderous humans at the mercy of talking dogs, it's without doubt the most viscerally disturbing story in the collection (prompting me to clutch my mouth in disgust more than once). It's the type of story that's so alarming and unsettling you'll either stop reading right there or be compelled to keep going – evidently I was in the latter camp.
The short stories range in length, theme and level of terror but they all share one thing in common, and that's the superb quality of writing – something you'd expect from the likes of M.R. Carey, Sherrilyn Kenyon and Paul Tremblay. In Tim Lebbon's In Stone, one character muses over the unnatural nature of people living in urban environments. "The city eats people", she says, a comment that Stone uses literally to chilling effect. Other stories in the anthology take a similar approach to the metropolitan horrors, as is the case with Scott Sigler's Dear Diary.
Cherie Priest and Helen Marshall weave spectral encounters into their short stories, whilst M. R. Carey puts a new spin on his usual post-apocalyptic zombie theme with We'll Always Have Paris. The best stories in the collection, however, are the ones that take you by surprise, where hidden meaning lurks beneath the words and pages, waiting for you to piece it all together. Jonathan Maberry's Grit: A Monk Addison Story is one such tale, pulsing with a fierce energy and rawness that's deserving of a full-length novel.
Other highlights are Paul Tremblay's The Society of the Monsterhood and Simon R. Green's Happy Forever, both of which have an off-kilter atmosphere that will force you to walk a little faster through the city streets, one eye permanently behind you.
With perhaps the exception of Amber Benson's What I've Always Done, which is beautifully written but feels as if it ends before it's actually begun, all the stories in Dark Cities have the ability to keep you awake at night. The book is a masterclass in horror writing and the perfect anthology to devour in bite-size sittings (you'll be too freaked out to read it all in one go).
★★★★★
Dark Cities was published by Titan Books on 28 June 2017