11 fantasy, horror and sci-fi books to read as the nights draw in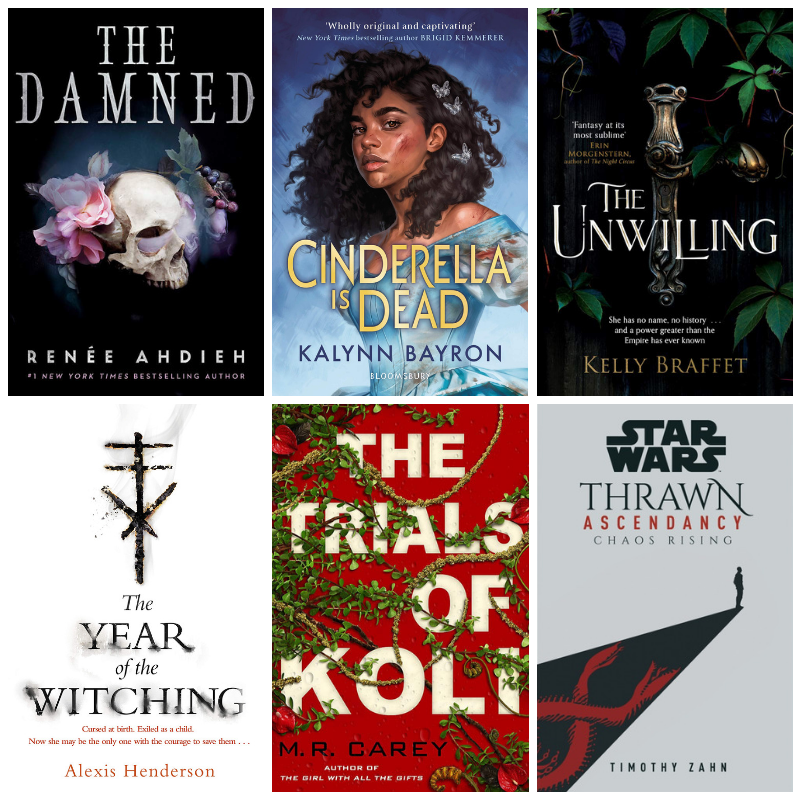 Autumn is a favourite season for many a bookworm. The days are shorter, the nights longer, and there's a chill in the air that makes cosying up with a good book and a steaming mug of hot chocolate all the more appealing. Setting aside the summer beach reads, this is the perfect time to indulge in something a little darker and fantastical; the kind of books that make you sink deeper into the sofa and pull the blanket up a little higher. We are of course talking fantasy, sci-fi and horror.
From enchanting YA fables to genre-bending tales, here are some of our 2020 favourites to lose yourself in.
Devolution by Max Brooks
This survival-horror from bestselling World War Z author Max Brooks is a scary and unnerving epistolary novel that explores the boundaries between truth and fiction. Told through journal entries, transcripts and articles, the story pieces together the events surrounding a bloody massacre and the implications that arise with the discovery of resident Kate Holland's first-hand-account; implications that bring to light the existence of a legendary, predatory creature known as Bigfoot. The less you know about this cryptozoology-inspired tale before reading it the better. Just know that it'll have your mind reeling and your nerves wracked. (16 June, Century)
A Declaration Of The Rights of Magicians by H. G. Parry
H. G. Parry's second novel takes place in an Age of Enlightenment, where revolution and fights for freedom are overthrowing the old ways. But amidst the magical, political movements, an unknown threat is inciting a violent conflict that will affect all of human civilisation. Unmasking the enemy and stopping the ensuing chaos will take the combined efforts of revolutionaries, magicians and abolitionists across this changing world. A Declaration of the Rights of Magicians is a fascinating and multifaceted story that blends fantasy and alternate history, bending genres to tell a tale of war, magic and justice. (25 June, Orbit)
The Damned by Renée Ahdieh
Following on from The Beautiful, the first book in her deliciously dark and romantic vampire series, Renée Ahdieh reunites readers with Sebastien Saint Germain and Celine, whose love for each other had damning consequences for them both. With the treaty between the Fallen and the Brotherhood broken, and a war between the immortals imminent, Bastien and Celine are about to realise just how forbidden and destructive their love really is. Even better than its predecessor, The Damned is a vibrant, mysterious and beautifully detailed story that'll capture your heart. (7 July, Hodder & Stoughton)
The Kinder Poison by Natalie Mae
Zahru is a lowly stable girl who can commune with animals. When she sneaks into the palace to experience a small taste of royal life, Zahru becomes entangled in an ancient tradition known as The Crossing – a death-defying race across the desert, in which the first royal heir to finish – and take the life of a human sacrifice at the end – will ascend to the throne and be granted supreme abilities. Caught up in a feud between the three heirs, Zahru is forced to become the sacrifice. Trapped in a literal race against time, she must figure out how to overcome the most powerful people in the world. Combining magic, high-stakes adventure, sibling rivalry and slow-burning romance, The Kinder Poison is a gripping YA fantasy perfect for fans of Kendare Blake and Holly Black. (16 July, Razorbill)
The Year of the Witching by Alexis Henderson
Immanuelle has grown up obeying the Church and the Holy Protocol. When a chance encounter lures her into the forbidden Darkwood that surrounds her home of Bethel, she's bequeathed the diary of her dead mother by the spirits of executed witches. Fascinated by what the diary reveals about both her mother and Bethel's history, Immanuelle is compelled to bring about a change – a change that begins with her. Alexis Henderson puts a feminist slant on a classic horror tale – the result is an intricately drawn, alternate-world fantasy-horror fusion that's perfect for Halloween. (23 July, Bantam Press)
Feathertide by Beth Cartwright
Born covered in feathers and hidden away in a decrepit house full of secrets, Marea has always known she's different. Determined to find out why, she leaves her sheltered life and goes in search of the father she's never met – a journey that leads her to the mysterious City of Murmurs. What she discovers there will stay with Marea forever. Beth Cartwright's debut is an enchanting and atmospheric coming-of-age story that evokes classic fairytales. If you enjoy magical realism and moving tales of self-discovery, you won't be able to put this down. (30 July, Del Rey)
Midnight Sun by Stephenie Meyer
When it was announced that Stephenie Meyer was finally releasing a new Twilight Saga book, there was a collective squeal of joy across the YA community. Even those of us who had left our Twihard days behind us had a resurgence of excitement. Midnight Sun offers a different perspective on the story that's become an iconic part of noughties pop culture – this time from the POV of vampire Edward Cullen. Delving into his history, as well as his infatuation with Bella, this is absolutely a book for the fans and revisiting Meyer's world feels a little like returning home after a long time away. It's comfort reading in its purest form. (4 August, Atom)
Cinderella Is Dead by Kalynn Bayron
Sophia knows the story of Cinderella off by heart. Every girl does. They must recite it daily, from when they're small until the night they're sent to the royal ball for 'choosing'. Any girl not chosen by a man at the ball will have her life forfeited. That's not an option for Sophia, who's in love with her best friend Erin, but neither does she want to be chosen. On the run after a disastrous ball, Sophia must learn to remake her world, a world that allows her to be who she is and love who she loves. Cinderella Is Dead smashes classic fairytale tropes, delivering a powerful retelling with a heroine that girls can wholeheartedly root for. (6 August, Bloomsbury YA)
The Unwilling by Kelly Braffet
There's nothing better than losing yourself in some epic fantasy on a cold, dark day. Kelly Braffet's latest novel is a richly detailed story about a girl with a special gift who was raised in privilege alongside the vast empire's heir, Gavin. Used as a pawn by the cruel Lord Elban, Judah has no hope of a true position but there's another person – a healer outside the castle walls – who also has plans to use Judah to get what he wants. Set against the backdrop of a complex, magical world, The Unwilling is a tale of love, treachery, fear, greed and ambition. At just over 550 pages, it's quite a tome but it's well worth a read if you like your fantasy dark and immersive. (20 August, Welbeck Publishing)
Star Wars: Thrawn: Ascendancy (Chaos Rising) by Timothy Zahn
The first book in this all-new Star Wars trilogy explores the origins and homeworld of Thrawn – one of the franchises most loved characters. Home to the enigmatic Chiss and the Nine Ruling Families, the Ascendancy is usually a beacon of calm and stability. When a daring attack on the capital shatters that peace, Thrawn – a bright young military recruit adopted into the powerful family of Mitth – is dispatched to root out the enemy. But Thrawn's mission isn't quite what it seems and the threat to both his home and the wider galaxy is only just beginning. Thrawn: Ascendancy is a worthy entry into the on-going Star Wars canon and is sure to delight long-time fans and newcomers alike. (1 September, Century)
The Trials of Koli by M. R. Carey
It's been less than six months since the publication of the first book in M. R. Carey's Rampart trilogy and we're already being treated to the sequel. Returning to the hostile, deadly world that was introduced in book 1, The Trials of Koli sees exile Koli setting out to redeem himself by finding lost London and the mysterious tech of the old times that was there. With the added benefit of a second perspective, which gives the story a wider scope and a more varied viewpoint, this second instalment is another unusual and unpredictable post-apocalyptic adventure. Whilst the third and final instalment isn't due to hit shelves until next year, it's certain to be worth the wait. (17 September, Orbit)