Best TV shows of 2020: The Queen's Gambit, The Outsider, I May Destroy You and more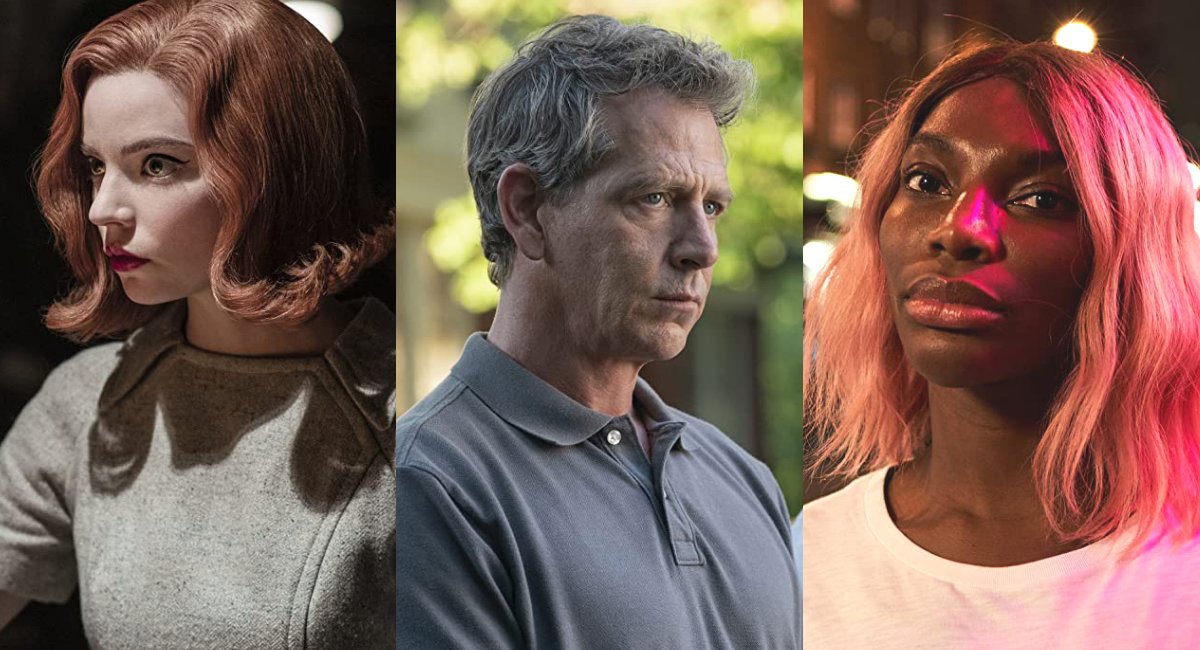 It's been a great, strange year for TV amid a pandemic. Despite the shut-down for many shows, we've still been able to while away the endless evenings, hours of banana bread making and lockdowns with the best that streaming and live TV has to offer. From reality TV, British dramas and Canadian comedies, to comic book and fantasy series, intense dramas and lighthearted teen shows, this year had it all.
We've compiled a few of our favourite watches from 2020. Take a look…
Zoey's Extraordinary Playlist
Musical comedy-dramas are growing in number, yet Zoey's Extraordinary Playlist manages to rise to the top as one of the best. When an earthquake during her MRI scan somehow leads to Zoey gaining the ability to hear people's inner thoughts as (existing) songs, she gets a glimpse into the uplifting, funny, personal and painful lives of those around her. While this might sound completely ridiculous – which it is – the series manages to ground the big musical numbers with real consequences to Zoey's insights and a profound emotional core. For example, while she can hear tech-bros praising themselves with DJ Kaled's All I Do Is Win and confessions of love with the Jonas Brother's Sucker, she also gets to hear her father, who is unable to speak due to a degenerative disease, comfort her with Cyndi Lauper's True Colors. If you need more convincing, Zoey is flanked by neighbour Mo (Alex Newell), boss Joan (Lauren Graham) and best friend Max (Sylar Astin) – who are just as entertaining as the show's title character. – Nick Gomez
Anne With An E
In a year that's both flown past and felt hideously long, it's easy to forget the TV shows that aired back in January. Yet one show that still sticks in the memory almost 12 months after it aired its final episode is Anne With An E – the Canadian TV adaptation of L. M. Montgomery's classic children's book, Anne of Green Gables. Wonderfully evocative, with good old-fashioned family values, typical struggles of the time (it's set in the late 1800s) and a spirited, strong-willed and nature-loving heroine at it's heart, AWAE is the kind of TV show that leaves your heart feeling warmer after each episode. It will be sadly missed. – Natalie Xenos
Quiz
ITV's Quiz is a programme that came along at exactly the right moment this year, helping to break up the early weeks of the UK's national lockdown with a brilliant and well-acted dramatisation of a TV cheating scandal that had gripped the nation 20 years earlier. Over the course of three nights, Quiz provided viewers with a perfect dose of escapism, combining sharp writing and pitch-perfect casting to create a wonderfully entertaining production documenting the 2001 Who Wants to be a Millionaire? cheating scandal – all brought together by the talents of a stellar main cast, including Good Omens star Michael Sheen as an uncanny Chris Tarrant and Matthew Macfadyen and Sian Clifford as Charles and Diana Ingram. With the question of whether or not the Ingrams actually cheated during their time on the quiz show underscoring every episode (the real-life Ingrams maintain their innocence to this day), Quiz quickly becomes a tense, twisty and altogether compelling limited series that brought a scandal back to life and ensured the story was every bit as captivating as it was the first time around. – Megan Davies
Staged
The best TV programme to come out of lockdown number one was Staged, a BBC sitcom which sees Michael Sheen and David Tennant – playing themselves – rehearsing over Zoom for a play they are planning to stage as soon as the pandemic permits. Or trying to, at least. In actuality, the episodes mostly focus on the two friends bantering about everything under the sun (although primarily who will get first-billing on the play's promotional materials), whilst swapping notes on how they are coping in this strange new reality. Tea-spittingly funny and often surprisingly emotional, the innovative show has a second series coming soon. – Chloe Walker
Normal People
For a story so unaffected and so frank in its narrative style, the adaptation of Normal People is as devastating as it is frustrating, a feat of authenticity and nuance in portraying adolescence that's so true-to-life that you feel every glance, every faltering 'I love you', and every note of Yazoo's 'Only You' as it plays over the final scene of episode three. Following two Irish students as they fall in and out of love, the writers, directors and actors focus on depicting the experience of sex, isolation, grieving, and longing with a weight and fragility that's not afforded to stories of adolescence very often, and all with a soundtrack that echoes every scene to devastating effect. To echo Yazoo again, 'it's like a story of love', and like all love stories, it'll leave you feeling fragile, and yet so grateful for the love you gave, and that it gave you. – Leah Tozer
Feel Good
Mae Martin's Feel Good will make you laugh, choke up, gasp and giggle. Co-created with Joe Hampson, Mae Martin stars as a character also called Mae, a persona who shares much with it's creator: being Canadian, a standup, a recovering addict. This show combines the sharp and weird wit of Martin with the intimate, flawed and frank story of Mae finding and negotiating a loving relationship with George, played by Charlotte Ritchie (Fresh Meat, Call the Midwife, Ghosts). There are only 6 episodes of this series, which makes it easy to devour, but it leaves a lasting impression of it's brilliance… – Nick Gomez
Gangs of London
Gangs of London was a show that put its characters through hell – and by extension, all of us watching at home too. Created by The Raid director Gareth Edwards, it was a brutal, bloody and breathlessly fast-paced action-crime drama that hit the ground running in episode one and didn't let up until the very end. Centred around the power struggles between rival gangs and criminal dynasties in London, it had us all teetering on the very edge of our seats. But it was the more human element of the series, the internal moral struggles, that was the most compelling part of the show. It constantly asked the question: What are these characters willing to do to remain at the top? The answer is absolutely anything – or they'll burn the city to the ground on their fall to the bottom. – Natalie Xenos
Ted Lasso
In a year as tumultuous as this one has turned out to be, Ted Lasso offers the world something a little more wholesome and comforting to get lost in for a few hours. Starring Jason Sudeikis as the unfailingly polite and ever-affable Ted Lasso himself, the Apple TV+ series takes a few episodes to find its feet as it establishes its premise, its characters and their motivations, but it's a series that very much benefits from the binge-watching model. It's not long before the series' charm makes itself known. From the very first episode, Ted Lasso himself is a beacon of optimism, but while his permanently good-natured approach to scheming bosses, surly footballers and abusive football fans initially feels one-note and frustrating, as the series continues, Ted Lasso soon proves itself to be a smart, sweet and feel-good show about a genuinely good person who wants to help this team thrive, both personally and professionally. Seeing Ted constantly choose to be nice and friendly, even while dealing with his own personal heartbreak and sadness, is a reminder that the world isn't always a terrible place. Ted Lasso is an enjoyable, hopeful series that'll have viewers laughing, crying and feeling just a little bit more hopeful too. – Megan Davies
The Queen's Gambit
The best Netflix Original of the last few months follows Beth Harmon (Anya Taylor-Joy), an orphaned chess prodigy, as she deals with addiction problems and a cloud of tragedy that just won't leave her alone. You perhaps wouldn't expect a series about chess to be achingly stylish, but every element of The Queen's Gambit – from Beth's enviable wardrobe to the lavish hotels where she stays whilst playing tournaments – is dripping with glamour. Anya Taylor-Joy's smart, impish performance gives the show both buoyancy and heart. – Chloe Walker
The American Barbecue Showdown
Not one person said: I wish there was an American version of The Great British Bake Off but instead of cakes they made barbecue food. Yet here we are. A triumph in endearing and good spirited competition, Netflix's The American Barbecue Showdown manages to wow with mouthwatering culinary cooks, a selection of silly and smart smokers, and interesting challenges that keep each round fresh. A relatively petite 8 episodes of around 40mins make this the perfect binge-watch – getting your own barbecue in is recommended or you'll be very jealous. – Nick Gomez
All Creatures Great and Small
Those of us of a certain age are too young to remember the original All Creatures Great and Small TV series, which is why the 2020 reboot was such an unexpected delight. Based on the books by James Herriot (the pen name of British vet Alf Wight), the series follows a veterinary surgeon who moves to Yorkshire to take on a job at the local practice and who has to win over not only his superior but the hardy locals too. This arrived on our screens at a time when people needed something slow-moving and family-oriented to cheer them up. It was six sweet episodes of beautifully bucolic scenery and rural village drama – the perfect comfort viewing. – Natalie Xenos
Never Have I Ever
Never will I ever stop shouting about Netflix's brilliant new series Never Have I Ever, the smart, endearing, honest and moving high school comedy-drama series created by Mindy Kaling. It's a show I previously picked as one of Culturefly's best TV shows to watch right now back in June but, six months on, Never Have I Ever more than holds its own as one of the best TV shows of 2020 too. With clever writing guiding a refreshing take on the teen coming-of-age drama and a charming cast of characters led by a star turn from series lead Maitreyi Ramakrishnan, who plays 15-year-old Devi Vishwakumar, Never Have I Ever remains one of the year's strongest TV shows.
The series deftly balances the awkward teenage growing pains of school, relationships and friendships with the poignant exploration of a grieving family and the life of a first-generation Indian American teenage girl living in Los Angeles, and still manages to make sure that every one of its 10 episodes is funny, sweet and entertaining, even through all the devastating, embarrassing and awkward moments. The already-confirmed second season can't get here soon enough. – Megan Davies
Schitt's Creek
The beloved Canadian export said goodbye this year, and it was just as hilarious and emotional a farewell as its many fans could have wished for. The riches-to-rags-to-riches arc of the Rose family leaves each of them, as well as the townsfolk they came to know and love, in a much better place than where we found them, and what a delight it was to have followed their journey. In a season full of perfectly-pitched grace notes, the final episode wedding of David and Patrick is the most special of all. Oh the tears! Oh Moira's outfit! We are so lucky to have had Schitt's Creek in our lives. – Chloe Walker
Gentefied
This comedy-drama series follows three Mexican-Amercian cousins, Erik, Ana and Chris, and their grandfather, Casimiro or "Pop", as they try to stop his taco shop from collapsing. Quick jokes and spanish asides abound from both the main characters and the diners, as the Americanised Chris tries to get his more tradition focused Pop and cousins to make changes to the menu and decor in order to attract a hipster clientele. Throughout the series we see the negotiation between those who moved to America and those who were raised state-side, looking at what being hispanic/latinx means across generations. – Nick Gomez
Life
On paper, BBC's miniseries Life is a thoroughly depressing show. It follows the residents of four flats in a converted Victorian house in Manchester, all of whom are suffering from their own struggles, be it physical health, mental health, matters of the heart, grief or addiction. Yet, by some miracle that can be attributed to brilliant writing, it's actually a wonderfully uplifting show for the very reason that it reflects real life. It's about the personal battles we all face on a daily basis; the sacrifices people make, the lies they tell and the truths they hold back to protect not only the people they love, but themselves too. The characters are relatable and their lives are messy, which allows us to become wholly invested in their outcomes. Bravo BBC, bravo. – Natalie Xenos
See Also

The Umbrella Academy
While the first season of Netflix's The Umbrella Academy made for compelling television, the show's second season, which landed in 2020, was the one that saw the superhero series really come into its own. Freed from the necessity of establishing the comic book adaptation's weird and wonderful new world, The Umbrella Academy season 2 was able to embrace all of the unique quirks and traits of its world and characters without being bogged down by context, making for a lighter and more confident series that wasn't afraid to double down on all of the fun and entertainment that the genre offers, while also never losing sight of the emotional connections and relationships that make up the heart of this show. Following the end of season one, season two began with the Hargreeves siblings in the same place but at different times throughout the 1960s, allowing each character a chance to develop and grow outside of the family dynamic.
By splitting up the siblings, each character was given a chance to shine in their own storylines – from Klaus' cult to Allison's involvement in the American Civil Rights Movement – and it helped establish The Umbrella Academy's cast as one of the best ensembles on screen right now. With the cast easily holding together a series of surreal and action-packed storylines with a wry sense of humour, endless charm and a brilliant soundtrack to boot, The Umbrella Academy's second season was giddy, joyful escapism from start to finish, undercut with just enough depth and emotion to keep the series grounded throughout it all too. – Megan Davies
She-Ra and the Princesses of Power
After 5 seasons, She-Ra and the Princess of Power has come to a triumphant, colourful, legendary end. The Noelle Stevensen series brought back an 80's character and evolved the tale for a new generation, giving agency (and trousers) to She-Ra and the numerous Princesses of Etheria. Adora, this series' She-Ra, faces off against Horde Prime as he wages war on the planet. Glimmer and the Princesses are scattered or captured and have to fight for the freedom of the land. And all the while, these grand fantasy battles are given depth by the complex dynamics between the characters. From Bow having to remind Adora to trust, to Catra wrestling with her feelings for Adora, and side characters like Entrapta and Scorpia finding their place among new friends; this is a delightful, energetic and magical show. – Nick Gomez
The Outsider
One of the best Stephen King adaptations to date, The Outsider is a crime-horror show that begins with the heinous murder of a boy in small-town Georgia. Little league coach and all-round upstanding member of the community Terry Maitland (Jason Bateman) is arrested for the crime, with all evidence – literally, ALL EVIDENCE including DNA, security footage and eyewitness statements – pointing to him. But how could Terry have committed the crime when there's other evidence that shows him 70 miles away at the time of the murder? What unfolds is an eerie, dark and tense series with supernatural elements that will send chills down your spine. With superb performances from Bateman, Ben Mendelsohn, Cynthia Erivo, Paddy Considine and Mare Winningham, this is one show that will have you guessing and questioning all the way through. – Natalie Xenos
I May Destroy You
I May Destroy You was created and written by Michaela Cole and has been lauded by reviewers and everyone who has seen it as one of the best pieces of television produced. Cole stars as Arabella, a Twitter influencer who has recently become a novelist and something of a star for the millennial generation due to her candour and wit. After a night out in London, she struggles to remember what happened on the night yet is plagued by disconcerting flashbacks and a strange sense of something being amiss. The series follows her casual relationship with an Italian drug dealer, her best friends, Terry and Kwame, and also gives us an insight into their lives. While there is humour in this show, it foremost deals with rape and sexual violence openly, exploring how reporting assault takes place, as well as who the victims are. – Nick Gomez
Dead To Me
Christina Applegate and Linda Cardellini are an absolute dream team of a central duo in this dark comedy-drama that just gets better and better with every episode. Season 1 set up the events that brought the two damaged, understandably neurotic women together and Season 2 builds on those solid foundations, as they find themselves implicated in yet another death – this time Judy's ex-fiancé Steve (James Marsden). The balance between emotionally charged drama and gallows humour is perfection but of course it's Applegate and Cardellini that should get the lion's share of the credit for making this series such a hit. They bounce off each other with such a natural chemistry, both of them able to switch between humour and the more serious scenes with an ease that marks them as two of the best actors on screen right now. If you haven't watched Dead To Me, do yourself a favour and binge-watch it now. – Natalie Xenos
Julie and the Phantoms
Do you like YA stories? Pop-rock music? A touch of magical realism? Julie and the Phantoms is for you! Aspiring musician Julie is mourning her musician mother when she discovers an old CD. On playing it, the three boy ghosts of a band materialise in the present, having died on the night of a show that seemed set to launch their careers some 25 years prior. Julie finds that when she plays with the band they suddenly become visible to everyone, not just her, and so the foursome form a new band to create music together. Apart from some great, very listenable songs, this show deals with death, loss and those who get left behind – and it has some real tear-jerker moments. Plus, there's an evil ghost performer who tries to capture the boys for his eternal band. High jinks ensue! – Nick Gomez
Honourable mentions: The Undoing, Mrs America, The Great, Away, The Mandalorian, Love Life, Save Me Too, Sex Education, The Stranger, Sweet Magnolias, Cardinal