Best movies of 2019: The Farewell, Toy Story 4, Booksmart and more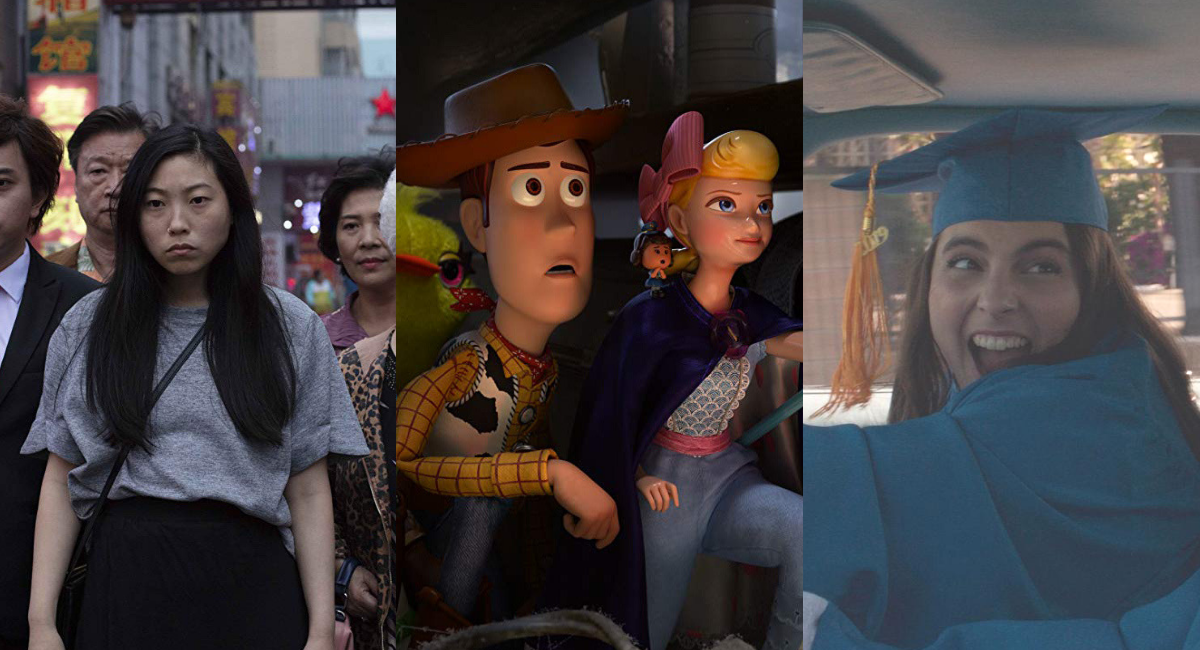 Okay, so it wasn't the best year for films. Multiplex screens were eaten up by a succession of superhero movies and Disney live-action adaptations. Originality and fresh ideas were scarce. The cinematic landscape seemed bleak.
Until you look a little closer. Sure, 2019's headline movie selection may have been disappointing, but there was still plenty around to enjoy. A selection of female-fronted comedies (Hustlers, Booksmart, Eighth Grade) had us laughing and cheering. World cinema (Monos, One Cut Of The Dead, Transit, La Belle Époque) took us on spectacular journeys. The return of some legendary auteurs (Once Upon A Time In Hollywood, Pain And Glory) reminded us why we loved their work in the first place.
Here's our compilation of the best of the year:
John Wick: Chapter 3 – Parabellum
Everyone loves Keanu Reeves, and everyone loves watching Keanu Reeves kill people in a variety of ridiculous, creative ways. With a book, with a horse, in a room filled with knives, John Wick's selection of murderous methods is seemingly inexhaustible. Reeves is iconic, the supporting cast (Ian McShane, Lawrence Fishburne, Anjelica Huston) are on top form, the cinematography and direction are exquisite. Three films in, the John Wick franchise shows no signs of running out of steam. – Chloe Walker
The Peanut Butter Falcon
With all the big budget Hollywood blockbusters, it can be easy to overlook smaller, quieter films like The Peanut Butter Falcon. Tyler Nilson and Michael Schwartz's comedy-drama follows Zak (Zack Gottsagen), a young man with Down's syndrome who runs away from his care home to fulfil his dream of becoming a professional wrestler. Along the way he meets Shia LaBeouf's down on his luck, wayward fisherman Tyler, who's fleeing his own troubles, and the two set off on a buddy-adventure from North Carolina to Florida. Poignant, tender and full of heart, it's an absolute charmer of a film about friendship, love, loss and redemption. – Natalie Xenos
Parasite
An international film doesn't need to be universal in order to merit its own existence or gain an audience outside of its own borders, but with Bong Joon-ho's Parasite, there isn't a person alive who won't come away at least moved by it, if not totally overwhelmed. An unflinching portrayal of class, the dark web of capitalism and the pursuit of wealth and happiness in general, it's packed with enough emotion to make it as devastating as it is funny and charming. Try and know as little as possible before you watch, preferably with someone's arm to grab next to you as the story unfolds. – Melanie Kress
Booksmart
Name a more iconic duo than Beanie Fierstein and Kaitlyn Deaver in 2019. I'll wait. As the pernicious duo at the heart of Olivia Wilde's endlessly quotable summer teen movie ("What the f*ck, Jared? I said door to door!"), the actors found new ways to mine laughs and pathos out of the teen genre. The set up is simple: on the last night of high school, two overachievers set out to the show the rest of their class they can be fun. Wilde presents all the teen movie clichés — pool party in a ridiculously big house, caste system — before blowing them up. Unlike the dated meme at the start of this paragraph, Booksmart is a cultural phenomenon we'll be talking about for a long time. – Henry Bevan
The Farewell
Lulu Wang's deeply personal debut movie – about a Chinese-American woman (Awkwafina) who objects when, per Chinese custom, her family refuse to tell her grandmother that she is dying of cancer – is a moving, insightful and often humorous look at the difficulty of living at the intersection of two cultures. Awkwafina may have shined in bigger movies (Crazy Rich Asians, Ocean's Eight) over the last few years, but she's never given such a layered, vivid performance. – Chloe Walker
Toy Story 4
It's difficult to beat the brilliance of the original Toy Story but the fourth instalment, which follows Woody, Buzz and the other toys as they embark on a roadtrip adventure, comes remarkably close. Yet there's a different tone to Toy Story 4 from the beginning. It's just as uplifting, funny and entertaining as its predecessors but it feels more mature, more final. A bigger focus on Bo Peep and Woody's relationship, as well as new toy additions in the form of Forky and Gabby Gabby breathe new life into Pixar's long-running animated series. The magic of these movies is still being discovered by children but this feels like a perfect place for the franchise to take a bow: on a high, with Woody passing his sheriff badge on to the next generation. – Natalie Xenos
Can You Ever Forgive Me?
Subtlety and atmosphere can go a long way in filmmaking. Can You Ever Forgive Me? is both subtle and atmospheric and plays each beat absolutely perfectly. It's not a barnstormer, nor is it an unabashed biopic, but a solid piece perfectly acted, from a director who is clearly tonally adept. The plot is straightforward: Lee Israel, one of the foremost celebrity biographers of her time, fraudulently adapts her art form to deceive people for nefarious means, all with the help of her friend, Jack. Simple, but simultaneously hilarious, bittersweet and moving. Melissa McCarthy is fantastic and Richard E. Grant rightfully received an Oscar nod for his portrayal of Jack. CYEFM is genuinely underrated and it absolutely shouldn't be. It won't be for everyone, but Marielle Heller constructed a beautiful and vibrant film with textured and complex characters that should live long in the memory. – Adam Evans
Boy Erased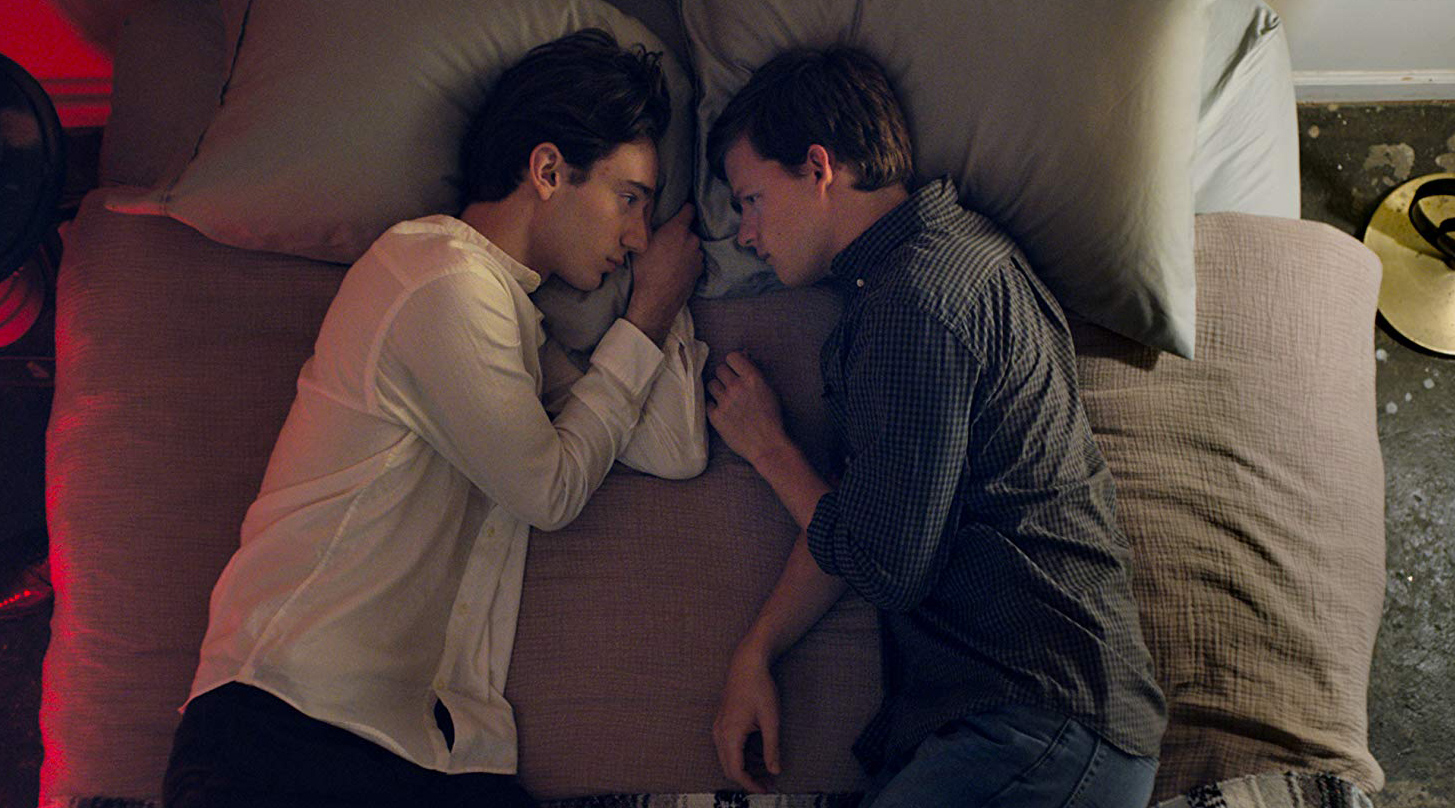 Conversion camps are still prevalent in the US and conversion therapy still takes place in the UK today. Boy Erased is based on the deeply personal account of Gerrard Conley and is inspired by his memoir of the same name. This film focuses on the various people at the conversion camp, both counsellors and enrolees, showing how the latter are assessed for queerness and some of the ways in which they are taught to repress these feelings and reactions. What makes this film is the excellent cast performances, from Lucas Hedges as the lead Jared, Conley's equivalent in this adaptation, to Nicole Kidman as his firm but loving mother and Russell Crowe in a powerful turn as Jared's Baptist preacher father. Highly emotional and important. – Nick Gomez
Portrait Of a Lady On Fire
A beautiful study of female relationships, focussing on four women on an island gradually learning new truths by trusting each other. Noémie Merlant plays Marianne who has come to paint Héloïse, played by Adèle Haenel. Their bond develops with stolen glances, longing looks that drip with meaning and discussions on the importance of smiling. They open up, sharing experiences and hopes to aid each other's development while maintaining an air of mystery. Céline Sciamma is the writer and director of this intense historical drama, finding moments to explore how art is created and appreciated while also reflecting on feminism and different forms of love. It warms and breaks the heart; Portrait of a Lady on Fire is a study of feminine celebration and devastation. – Jo Gudgeon
The Kindergarten Teacher
Maggie Gyllenhaal plays a kindergarten teacher who discovers one of her students might just be a poetic prodigy, and proceeds down a dangerous path in order to help him realise his potential. The Kindergarten Teacher treads some tricky ethical ground with an admirable fleetness of foot – there are no easy answers to be found here, just a moral morass where everyone is culpable. Maggie Gyllenhaal gives the bravest performance of her career. – Chloe Walker
Shadow
A new film from Yimou Zhang is always something to look forward to (ignoring of course the disaster that was The Great Wall). The renowned writer and director's latest is an epic story of life and political machinations within an ancient Chinese court. Fuelled by rage and retribution, the story begins slowly, building up the tension and leading to a heart-pounding second half with some of the most spectacular martial arts choreography and battle sequences to grace screens in a long time. A scene in which an invading army slide down a street on umbrellas made from daggers is truly breathtaking. Just those scenes alone are enough to put Shadow on this list. – Natalie Xenos
Hustlers
There is a universe in which Hustlers is a terrible film. Thank God we do not live there. Lorene Scafaria's portrayal on the true crime story is as tender as it is tantalising; sympathetic as it is revealing. From the casting, to the score and music supervision, this project was made by exactly the right people, and at the right time. The understanding of the characters and the era makes for one of the richest viewings experiences of this year, with slick and stylish visuals to boot. Oh, and the J-Lo Oscar Campaign, as we reach the end of the year, can officially start now. Do the right thing, Academy Voters. – Melanie Kress
Under the Silver Lake
Every year there is one movie where you always end up scratching your head and asking: WTF? Under the Silver Lake starring Andrew Garfield is that movie of 2019. More concerned with the signals and signs of the gumshoe noir story he's telling than the actual plot, director David Robert Mitchell has crafted an audacious, inventive and odd movie worth talking about. – Henry Bevan
Monos
A hallucinatory cinematic experience. A troop of young soldiers are guarding an American engineer on a remote Columbian mountain. They are pushed through training drills and unwind with reckless abandon, celebrating their power by aimlessly firing their guns while waiting for the enemy. This youthful exuberance brings tragedy, the hierarchy starts to eat itself and brutality descends. The scenes bleed into each other as the landscape shifts into a humid jungle. The characters explore sexuality and take drugs, the camera following tightly with every erratic move as loyalties collapse and revenge is taken. Winner of Best Film at the London Film Festival, Monos puts a harrowing story on screen without pushing any heroes or villains. – Jo Gudgeon
Eighth Grade
Bo Burnham's tale of a thirteen year-old girl suffering her way through her last year of middle school is so cringily, nail-bitingly real, you sometimes have to hide your face as if you were watching a horror movie. Eighth Grade – with its warm humour, deep heart and astounding breakout performance from Elsie Fisher – makes it more than worth reliving the horrors of your teenage years. I promise. – Chloe Walker
Avengers: Endgame
The Russo brothers had quite a challenge on their hands with Endgame. When Infinity War ended, spoiler incoming, half the universe – including many of our favourite superheroes – had disintegrated into dust. The MCU was blown wide open and everything was riding on the last movie in Marvel's Phase Three. Culminating the 22-film story, Endgame delivered not only an explosive final battle between the Avengers and Thanos but a genuinely emotional denouement that tugged at the heartstrings more than any other Marvel movie. This is a film for the fans, peppered with unforgettable scenes – Captain America with Thor's hammer, the reunion between Tony and Peter, the female superhero team-up on the battlefield – that will continue to resonate as we head into what we hope will be an equally entertaining Phase Four. – Natalie Xenos
The Favourite
Unashamed, strikingly hot period nonsense. With a little inspiration from Peter Greenaway's The Draughtsman's Contract, Yorgos Lanthimos' modern take on period drama injected a riotous amount of whimsy and scorching dialogue into a genre that can often get overly stuffy and conservative. The Favourite lustfully oozes sexuality, betrayal and humour as we become fully immersed in the grubby, surreal life of Queen Anne and her two closest aides. There's so much innovative flair on show, and Olivia Colman's Queen Anne is so well realised, that it's hard to see how this won't be considered a classic in years to come. And that, for me, is enough for it to be considered one of 2019's best. – Adam Evans
Rocketman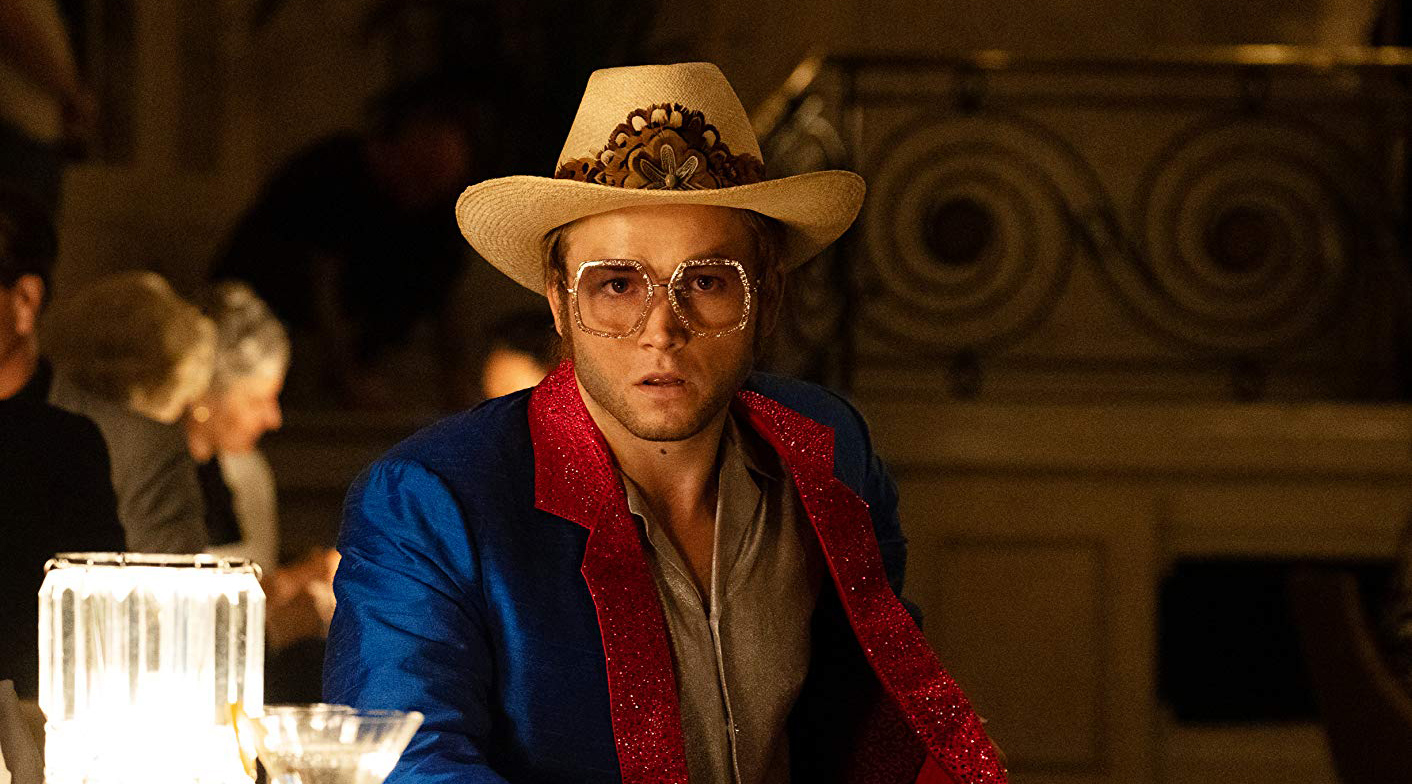 This isn't just a musical, it isn't just a biopic, it's an Elton John musical biopic. A well-known figure, Elton John, born Reginald Dwight, is a presence but someone with an unknown history to many of his younger fans. Personally, I didn't know much about his upbringing or even his rise to stardom. Rocketman stars Taron Egerton as Reggie/Elton, with Matthew Illesley and Kit Connor as his child and adolescent iterations respectively. Egerton is exceptional at embodying a talented kid who is flung into fame and who takes to a reinvention of himself with gusto and camp glee, before becoming beaten down by drugs, family betrayal and in doing so loses his sense of self. The music is excellent, such is Elton John and Bernie Taupin's combined talent, and the musical numbers are at times big and lavish and others small and heartfelt. Rocketman is surreal and sensational. – Nick Gomez
Once Upon A Time In Hollywood
Quentin Tarantino assembles an incredible cast for his ninth film, exploring joy and tragedy in 1969 Hollywood. Leonardo DiCaprio is washed up TV cowboy Rick Dalton and Brad Pitt is Cliff Booth, his stuntman slash handyman slash confidant. Margot Robbie weaves in and out of the story as Sharon Tate, living next door to Rick and enjoying her own rise to stardom. The mix of real and fictional characters creates a sense of mystery, while the intense attention to detail makes it look and sound authentic. The story moves smoothly from humour and violence, sometimes on a Bruce Lee film set and sometimes on the Manson family ranch. Once Upon a Time in Hollywood has plenty of interesting relationships but right at its heart is a toxic bromance, two men trying to make themselves into one star. – Jo Gudgeon
One Cut Of The Dead
The less you know about Shin'ichirô Ueda's fantastic horror-comedy before you see it the better. This is a film where you want to go in blind. Just know that if you choose to watch it – and you really should – you are in for one hell of a ride. – Chloe Walker
Blinded By The Light
We live in dark and uncertain times, which is why we need movies like Blinded By The Light to bring a little hope and levity into our lives. Based on journalist Sarfraz Manzoor's memoir, Greetings from Bury Park: Race, Religion and Rock N' Roll, the film follows British-Pakistani teenager Javed as he's introduced to the music of Bruce Springsteen. Luton in the 80's is a bleak and uninviting environment – particularly for a Muslim boy pulled between two cultures – but Bend It Like Beckham director Gurinder Chadha brings light and life to this austere backdrop. With a witty script, a rousing soundtrack and emotional performances from Kulvinder Ghir and Viveik Kalra as a father and son at odds, this coming of age story delivers laughs and tears in equal measure. – Natalie Xenos
Hobourable Mentions: Honeyland, Midsommar, Marriage Story, For Sama, Us, The Irishman, Captain Marvel, Joker, Diego Maradona, Ash Is The Purest White