Walker Stalker Con London 2018 Review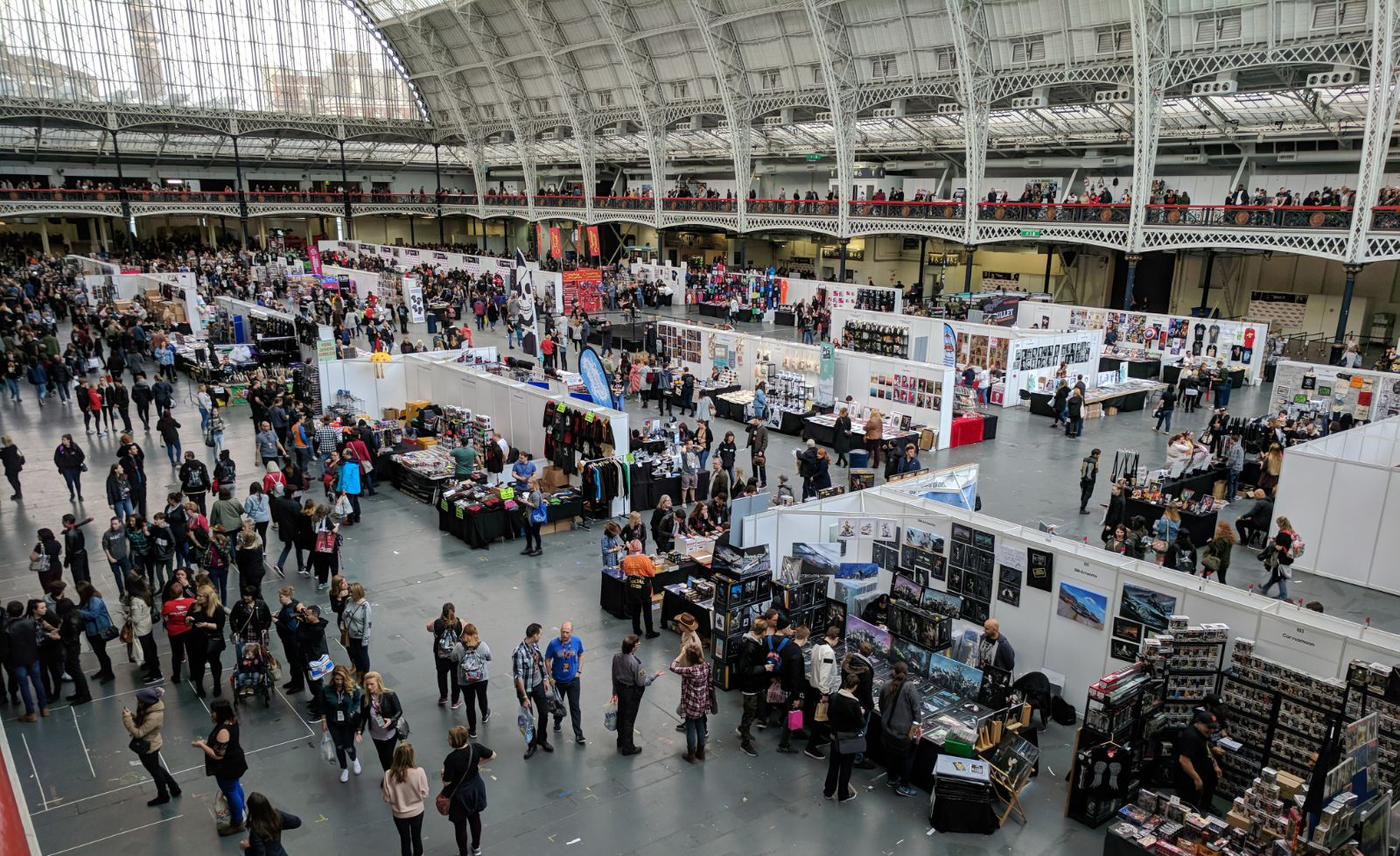 A giddy excitement fills the air, queues of teeming bodies snake as far as the eye can see, and the undead roam the floor looking for their next victims. It could only be Walker Stalker Con. Now on to its third year at London's Olympia, the event promised to be even bigger and better than before, with photo-ops, all-star guest panels, vendors, live entertainment and an energetic, family-friendly atmosphere for all to enjoy. Did it deliver? Well, depending on who you talk to, this year's WSC was either a shambles or a blast. Thankfully, our experience was the latter.
As with previous years, attendees are encouraged to collect their badges the day before the con officially opens, and so like good little The Walking Dead fans, we rocked up to Will Call shortly after it opened at midday. Queues were already gathering and we dutifully joined the back. All in all, it took around half an hour to weave our way to the box office (quicker than expected), where staff were frantic yet friendly in dealing with the heaving masses. Snazzy badges in hand, we were ready for everything WSC could throw at us.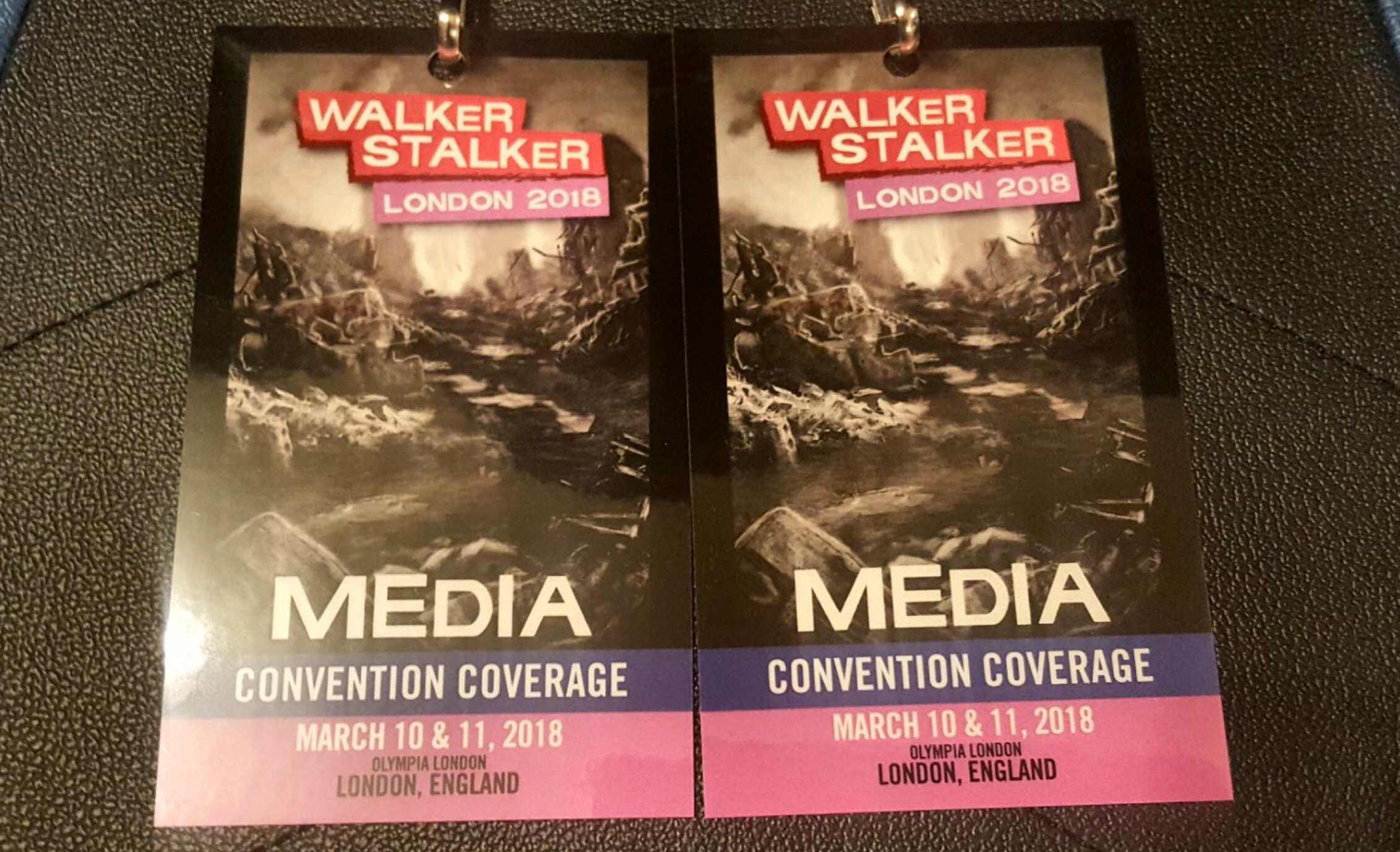 We attended the Sunday, which in retrospect was a wise move, given how hectic opening day always is. Saturday at the con was marred by social media horror stories, where attendees complained of chaos and confusion as they queued to enter the building. We were nervous of similar bedlam on the Sunday but were pleasantly surprised by the ease of entry. Saturday's issues had been addressed and order seemed to have been restored.
Wasting no time, we made the most of the VIP early access and relative calm, heading straight for Abraham himself, Michael Cudlitz, who was warm and charming as ever. We chatted for as long as was possible before we reluctantly moved along to find our next faves from TWD. Queues for the likes of Norman Reedus and Jeffrey Dean Morgan were already insane (they always are), and if you were anything but VIP, Gold or Platinum, there was no chance you were getting anywhere near the front (sorry GA).
Wise move number two, we skipped the big guns – and even bigger autograph lines – and sought out characters no longer on the show, where queues weren't quite so manic and the actors had more time to chat. We spent a good ten minutes talking to Michael Traynor (Nicholas), who was enjoying interacting with fans, and discussed a hypothetical Spencer/Rosita future with Austin Nichols, who was sad his character hadn't got more of a chance to explore a potential romance between the two.
The absence of Andrew Lincoln (who cancelled his appearance the night before), Lennie James and Lauren Cohan was felt by those who'd been desperate to see them, but having fan-favourites Melissa McBride, Cooper Andrews, Sonequa Martin-Green and Dani Gurira more than made up for the lack of Rick, Morgan and Maggie.
Away from The Walking Dead madness, stars from Sons of Anarchy and The 100 were in attendance, with Eliza Taylor (Clarke, The 100) a particular highlight. The Sons of Anarchy panel offered up the cast's views on motorbikes (Ron Pearlman was the president of the MC and never got out of first gear on his bike) and Trump (unsurprisingly, they hate him). Yet it was the panel with TWD's Chandler Riggs (Carl) that really got the crowd going. Seth Gilliam gave an affectionate eulogy to Coral, saying: "I think Father Gabriel is going to miss old Carl, the same way that I, Seth, am going to miss having Chandler around, and growing into such a wonderful young man. You really are." That wasn't us crying in the second row, honest.
If there's one thing we can all agree on it's the dedication of TWD fans. As with all cons, it's the cosplayers who help to keep the mood light when energy levels are lagging and panels are running late, and those who dressed up this year didn't disappoint (one cosplayer even came as an actual piece of coral in honour of our dearly departed one-eyed Grimes). The other thing people agreed on was the fact that Walker Stalker has outgrown the size of Olympia; a venue upgrade would definitely help to spread things out a bit and stop the floor feeling so cramped and overcrowded.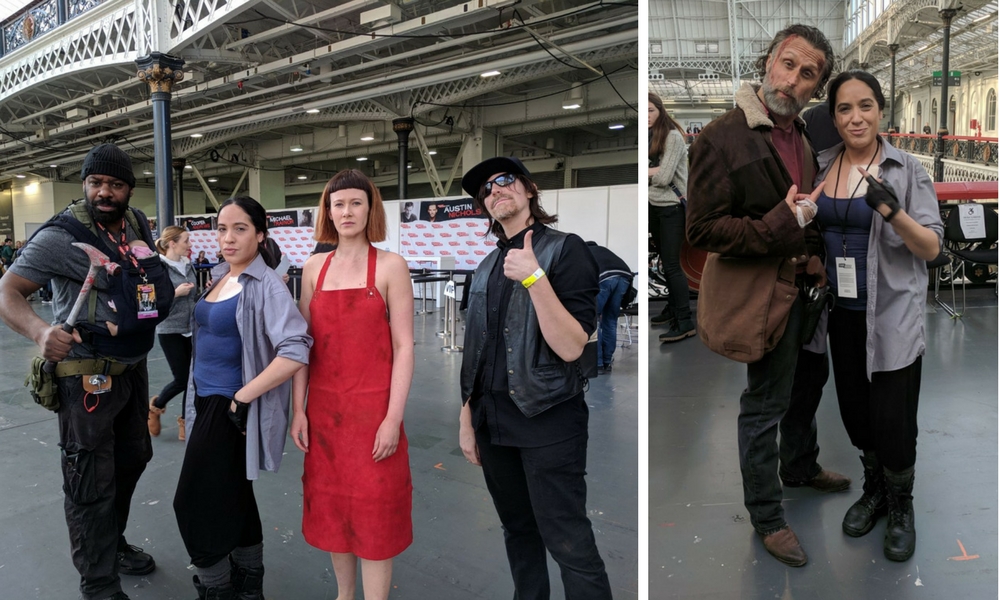 Follow the cosplayers on Instagram: Tyreese – @donrhule, Rosita – @Mamacitarositax, Jadis – @eliza_jones86, Daryl Dixon – @daryldixonuk, Rick – @cecilgrimescosplay
With aching feet, empty wallets and a phone full of photos, we left Walker Stalker London for yet another year. Our experience was a positive one, made better by actors like Cudlitz, Traynor and Nichols, amongst others, who really took the time to make fans feel like their money was well spent. The convention is expensive, as evidenced by the backlash when tickets went on sale in October 2017, and then again when photo ops became available closer to the event. But what makes WSC worth attending is the inclusive feeling of thousands of fans gathering together to celebrate their love for The Walking Dead. The opportunity to meet your favourite TWD star is a bucket-list bonus.
Check out our Instagram for more pictures from Walker Stalker 2018. 
SaveSave