Theatre Review: Grimm Tales for Fragile Times and Broken People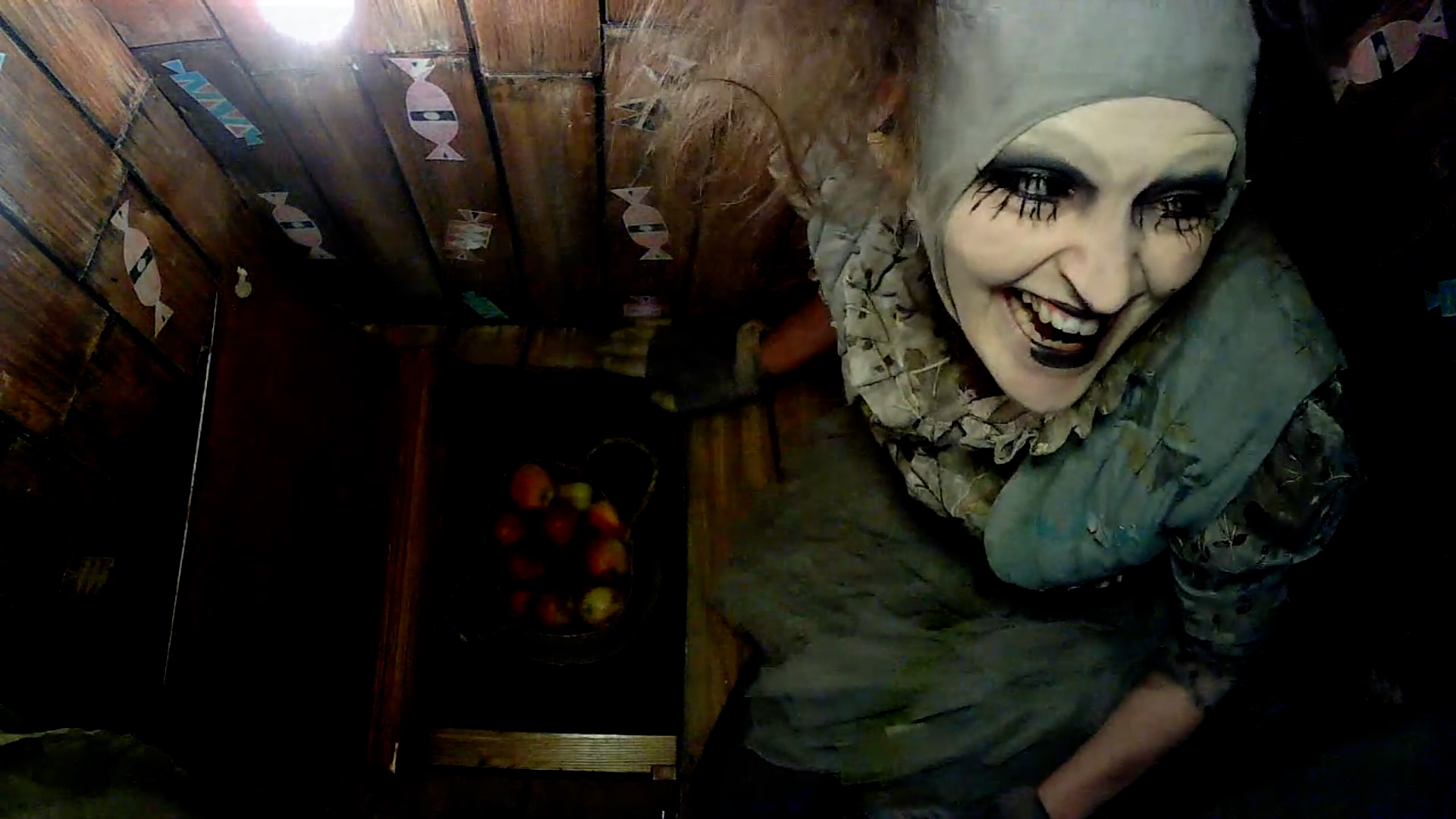 Streamed live on Zoom, to an at-home audience encouraged to turn their lights off and light a candle, Creation Theatre's new online Repertory Company brings us Grimm Tales for Fragile Times and Broken People – a dark, gruesome re-telling of five Brothers Grimm tales, from five actors in separate locations.
Grimm Tales beckons to the audience to indulge in 'unashamedly […] dark escapism', as coined by Lucy Askew, Chief Executive and Creative Producer. Oddly, in these uncertain and strange times, this exaggerated, macabre fairy tale world was a satisfying relief from real-life politics and pandemic anxieties. Purely just taking part in a live theatre experience, seeing other people in their boxes, watching from home, was a joy and a comfort, making me feel involved in the piece, and was a break from the monotony of the usual lockdown evening TV binge. The live stream, along with detailed, intimate individual mini sets – including an impressively crafted illustration-like magical forest, which one storyteller built up throughout, and an effective human-sized wooden box – evoked the experience of being in a small, immersive theatre space, creating this atmosphere well.
Starting off the production, with a camera swoop through a doll's house-esque miniature model of a train station, with an eerie music-box, atmospheric soundtrack, Grimm Tales intrigued me and brought me into their world effectively. As each storyteller, with fittingly grotesque make-up and costumes, started telling their tale, the cameras switched between each one, the stories sometimes becoming a little confusing, as each chapter from one tale was woven into the others. However, once into the rhythm, the tales flowed and managed to engage my attention. Askew stated her desire to 'place storytelling at the very heart of this show', which definitely came across, the actors engaging with the camera directly, constantly breaking the fourth wall, sometimes coming right up to the camera lens, bringing the audience further into their world. As the stories evolved, various experimental camera angles were used, some working more effectively than others, and the music continued in the background, unfortunately never changing much in tone, making the piece quite similar throughout.
Devised by the actors, the script was mixed in its effectiveness to fully engage. However, overall, it did keep me interested and reminded me of the gruesome themes in well-known fairy tales, Hansel and Gretel and Rumpelstiltskin, whilst introducing me to lesser known stories, The Juniper Tree, The Moon and Godfather Death. The performances and styles of each storyteller varied, with Natasha Rickman giving a standout performance, presenting Rumpelstiltskin, amusingly including dark comedy and modern references amongst the traditional fairy tale language, and using unsettling voodoo-like dolls to assist her. Another notable performance and use of their space was Annabelle Terry, who depicted Hansel and Gretel, effectively catering to the adult audience, successfully giving me spine-tingling visceral and amused reactions to the gruesome details of the tale.
Although the quality of the stream sometimes went up and down, and not every tale was equally gripping or easy to follow, the company did a good job of keeping the momentum and storytelling going, from their separate locations, whilst employing the energy of live performance. Creation Theatre's intention to link the themes to current affairs and issues was not overly clear in the stories themselves, and only nodded to in the opening and ending credits. However, it was refreshing to see something different to mainstream realism, and the live experience made for an enjoyable evening.
★★★
Grimm Tales for Fragile Times and Broken People is streaming online from 24 February – 13 March 2021