The Walking Dead Season 8, Episode 10 Review: 'The Lost and the Plunderers'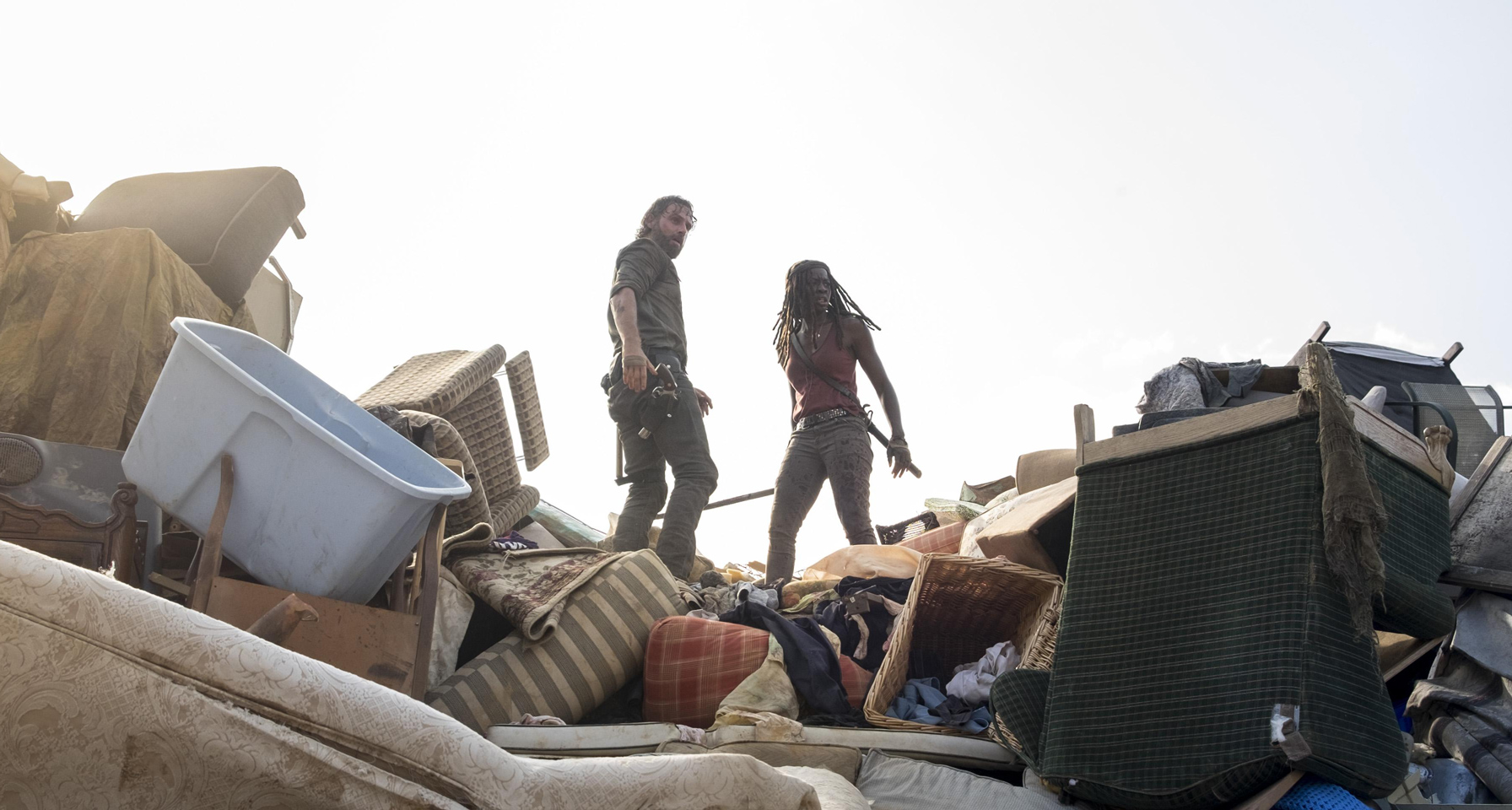 So here we are in uncharted waters – the world of The Walking Dead without Carl (Chandler Riggs). That's not to say that we get to forget him immediately, as we will no doubt feel the fallout of his death for many episodes to come, especially if Rick (Andrew Lincoln) and his unstable emotional state is anything to go by. Beyond the final words of his son, full of hope for a bright and peaceful future, Rick is actually pretty damn pissed. It feels like an unnecessary death and he needs to blame someone, and unsurprisingly the finger points towards Negan (Jeffrey Dean Morgan). Michonne (Danai Gurira) takes a bit of a different approach to her anger, generally walking around and stabbing, cutting and destroying walkers in every which way possible. It seems like a healthier outlet than what Rick may have planned but only time will tell.
If losing Carl proves anything it's that The Walking Dead works best when it has genuine loss. The world needs to feel like something bad can happen at any time and that everyone is in danger and most of the time we only feel like the newer characters are expendable. That removes the necessary tension from a lot of scenes because you simply don't find yourself invested in the action sequences and whatever peril they will likely find a way out of. Rick losing his son is probably the biggest thing they could have done to prove they're serious about change, and 'The Lost and the Plunderers' takes some convincing first steps towards giving The Walking Dead new life.
The slightly different approach to storytelling this week made for a fresh feel, almost as if they were attempting to re-launch the show in a way; names of characters flashing up, good focus on each person and what they're like, and generally one of the more solid episodes in recent seasons. A real plus point was seeing Jadis (Pollyanna McIntosh) get some strong scenes with a number of characters. Seeing her left behind by Rick to fend for herself nearly made me feel sorry for her, while Simon (Steven Ogg) made her suffer by killing many of the Scavengers. And then in one of the most memorable scenes in the show's history we saw her lead her former followers and now walkers towards a meat grinder. You can imagine how that went! This was definitely McIntosh's best episode by far and I'm suddenly interested in all things Jadis going forward.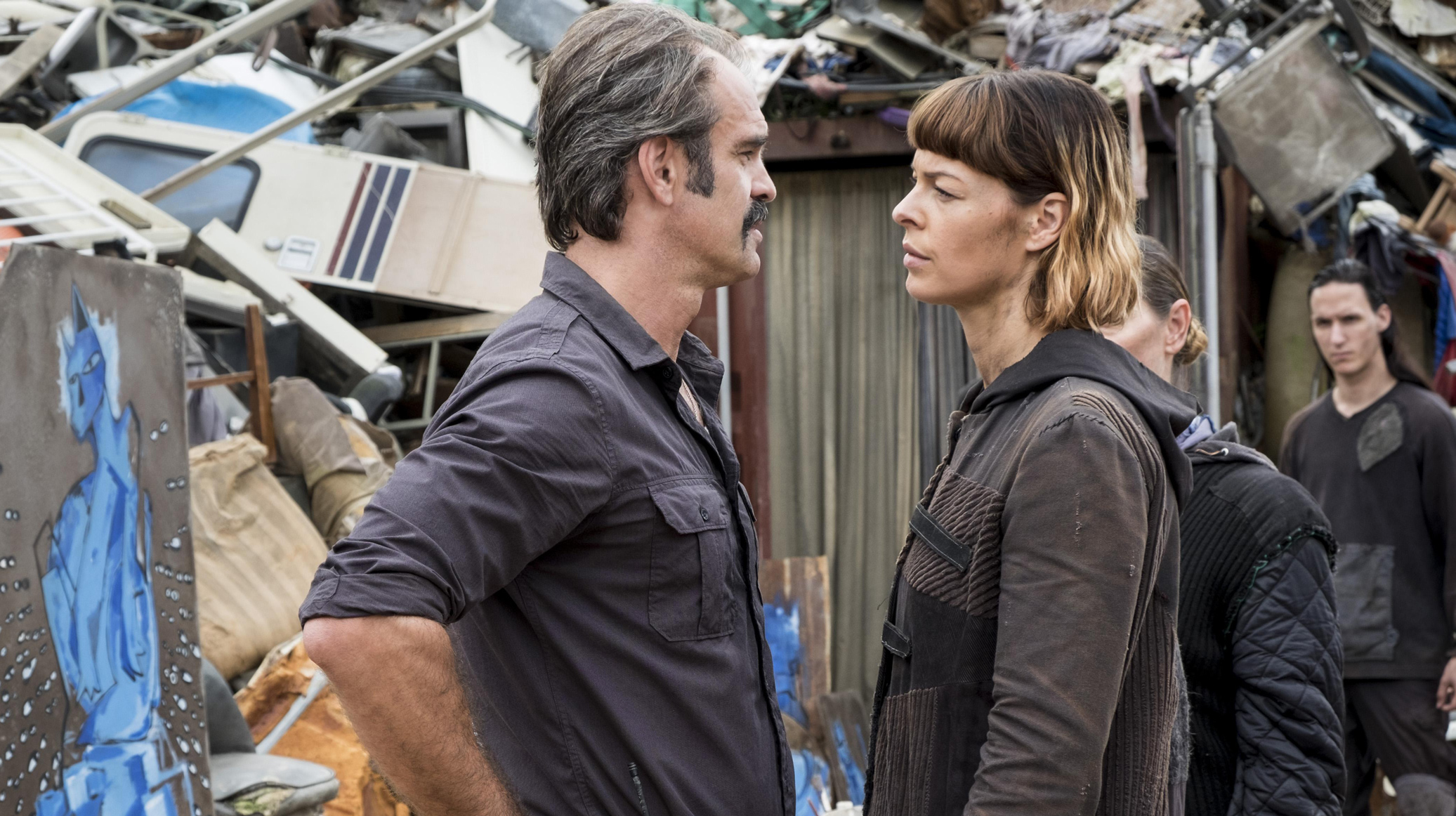 The violence was absolutely on point this week and highlighted how the special effects are some of the best in the industry. It reflected Michonne's anger and despair, as well as the tragedy that Jadis had experienced, and felt meaningful rather than gratuitous. It's a reminder that this is a nasty and dangerous world that they're all living in and The Walking Dead managed to claw back some of that horror movie vibe that it has at its best. I know not every episode can be like this and we'll no doubt be back to the more mundane talking and shooting sooner rather than later, but I enjoy when they think outside the box and try to deliver something different and exciting. It's not as if they're not capable of it and that's why I still watch the show to this day.
Perhaps the highlight of the episode goes to Negan and Rick's exchange. Thankfully not face-to-face, as I'm pretty sure Rick would've gone crazy on his nemesis, but instead we had a strangely sombre moment where Rick wanted to read Carl's letter to Negan. This again focused on how much his son hoped for a better future from everyone despite how bad things were between them all. Jeffrey Dean Morgan showed such a subtle emotion here when hearing about Carl that he made Negan feel human again and made you feel for a second that perhaps Rick was the one in the wrong. It's hard to tell whether he's blaming Rick to make him feel bad and try to be nasty, or if he genuinely wishes Carl could have stayed around. However, I don't think the talking will last for long between the two alpha males, as Rick's patience is wearing very thin. With Simon stepping up, Jadis losing everything and Rick and Negan on a collision course, it's a very interesting time to be a Walking Dead fan. I'm almost looking forward to the next episode.
★★★★