The Guernsey Literary and Potato Peel Pie Society DVD Review
The Guernsey Literary and Potato Peel Pie Society. Crikey, that's quite a mouthful!
London, 1946. In search of inspiration for her first newspaper column, writer Juliet Ashton (Lily James) heads to Guernsey. Dawsey Adams (Michiel Huisman), a resident, had been corresponding with her about a book club held on the island during the Nazi occupation, and she is eager to learn more. Upon arrival however, she finds that the Guernsey Literary & Potato Peel Pie Society are not keen on sharing their secrets with the wider world. But that doesn't stop Juliet from delving…
Based on the best-selling book of the same name, The Guernsey Literary and Potato Peel Pie Society is, more than anything, a tourism advert for the titular island (even though the majority of the film was filmed in North Devon). Shot lovingly by cinematographer Zac Nicholson, it's a beautiful backdrop to all that transpires. From the pretty cobbled streets to the breath-taking beaches, it's certainly going to encourage visitors. And good for them. It's nice that something positive will come from this film.
Otherwise, Mike Newell's movie is more of the same thing the British cinema industry has been spewing out with increasing regularity. Quaint, cuddly and dull, it's another example of our endless obsession with cinematically reliving World War 2. Between this, Their Finest, Churchill, Darkest Hour, Dunkirk, Suite Française, Dad's Army, The Imitation Game and The Railway Man (all released in the last five years), sometimes it seems this country produces as many films set during the 1940s as it does in the present day. There's something troubling about that.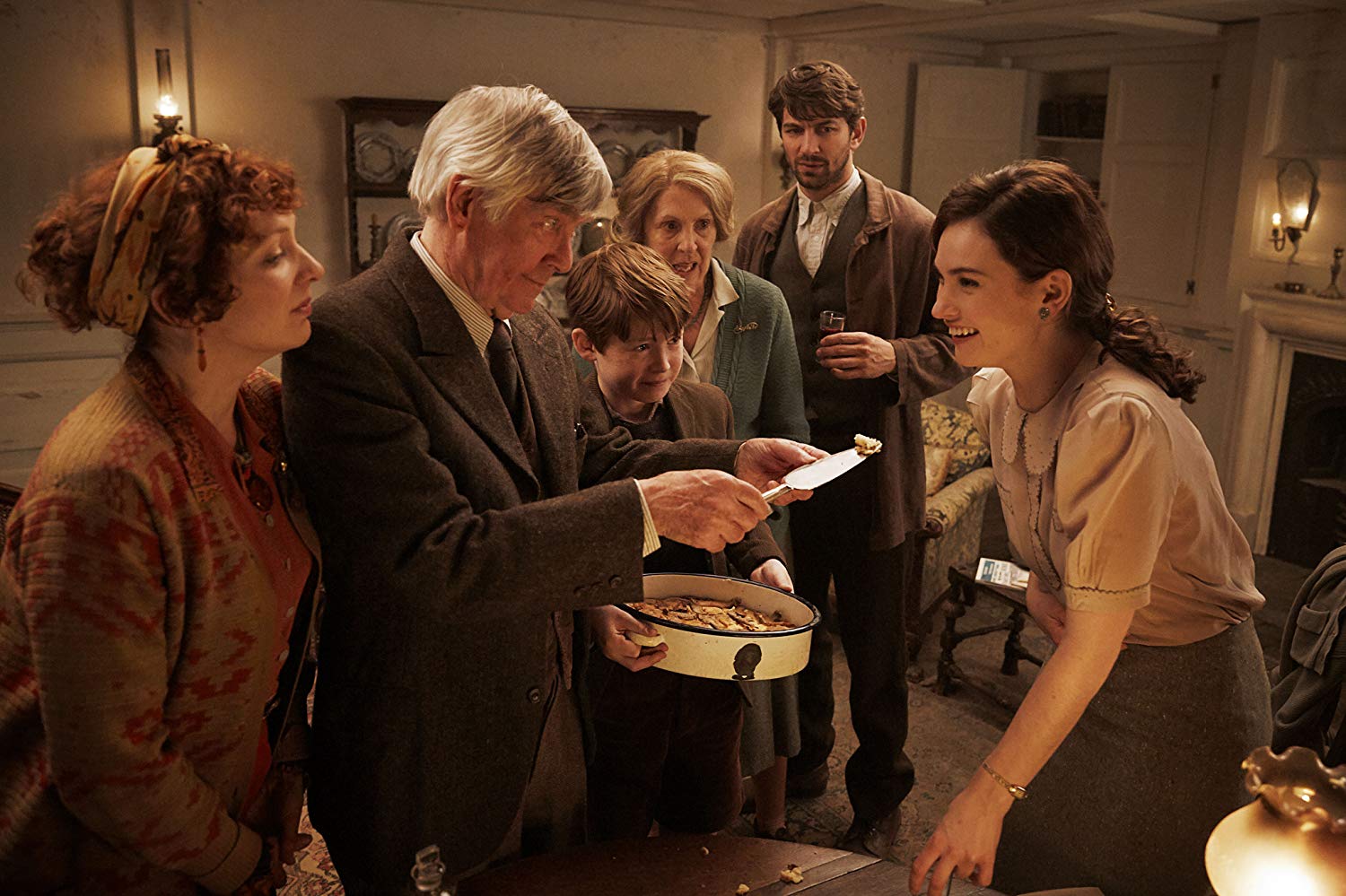 Nothing much distinguishes The Guernsey Literary & Potato Peel Pie Society from the rest of its ilk. The honeyed lighting and the tinkling piano, the passionless romance and the strain to be as inoffensive as humanly possible – it's all here. Although the specific story of Guernsey's occupation is going to be new to many audiences, everything else is depressingly familiar.
The performances are just about enough to keep you awake. Lily James doesn't have a lot to do other than be charming, and she manages that ably. It would be nice to see her take on a more challenging role. Michiel Huisman is suitably dashing as her love interest, and Katherine Parkinson endearing as her new companion. Meanwhile, Penelope Wilton adds some essential emotional weight to the whole affair.
More than anyone though, it's Matthew Goode who serves as the rare bright spot. Playing Sidney Stark, Juliet's literary agent and dear friend, his presence is so warm and natural that it's a delight every time he comes on screen. Imagining how much more interesting a tale could be told from Sidney's perspective, as a closeted gay man living in wartime London, kept me going during the film's most boring patches.
The Guernsey Literary and Potato Peel Pie Society is exactly what you'd expect from a movie with such a laborious name: cosy, safe, and very, very twee. It's sure to be popping up on the BBC on a Sunday teatime soon. I wouldn't bother to set your DVR.
★★
The Guernsey Literary and Potato Peel Pie Society is available on Blu-ray and DVD from 27 August 2018