Professor T review: Another excellent addition to the Walter Presents collection
Character driven dramas are often the hardest to sell to an audience. Sure, the plots need to be interesting enough as well, but when you're relying on one main character to drive a show forward it puts a lot of faith in that individual and especially the actor or actress. Take Hugh Laurie for example and his recent performances as Dr. Gregory House for 8 seasons and now Dr. Eldon Chance. Beyond both being doctors there's really nothing similar about the two at all and Laurie manages to portray both with such an overwhelming believability that you forget you're watching the same actor so easily.
Professor T is very much in the same vein as shows like House, Chance and apparently even Hannibal. No, as far as I've seen there hasn't been any cannibalism or similar, but this Belgian drama series has that same sense of eccentricity and the bizarre that captivates an audience. Professor T comes to UK shores after a couple of years courtesy of Channel 4's Walter Presents, cultivated by Italian TV producer Walter Iuzzolino who selects underappreciated foreign language drama and comedy for ALL 4. So far we've had such gems as Deutschland 83 and Valkyrien, and the collection as a whole has been very successful.
Back to Professor T and it's a bold show that looks to balance drama, comedy and emotion. Koen De Bouw brings Jasper Teerlinck to life with such an addictive quality that it's hard to see past the Professor as he dominates the show. This is no bad thing as it needs a strong lead performance to anchor some of the slightly stranger ideas the writers have and De Bouw does a great job of keeping things on track. On paper Professor T has a lot of moments that just shouldn't work, yet with a joyous soundtrack used to perfection it translates really well to a UK audience. Humour is one of the most difficult things to translate from one country to the next but here it's almost like Professor T is one of our own.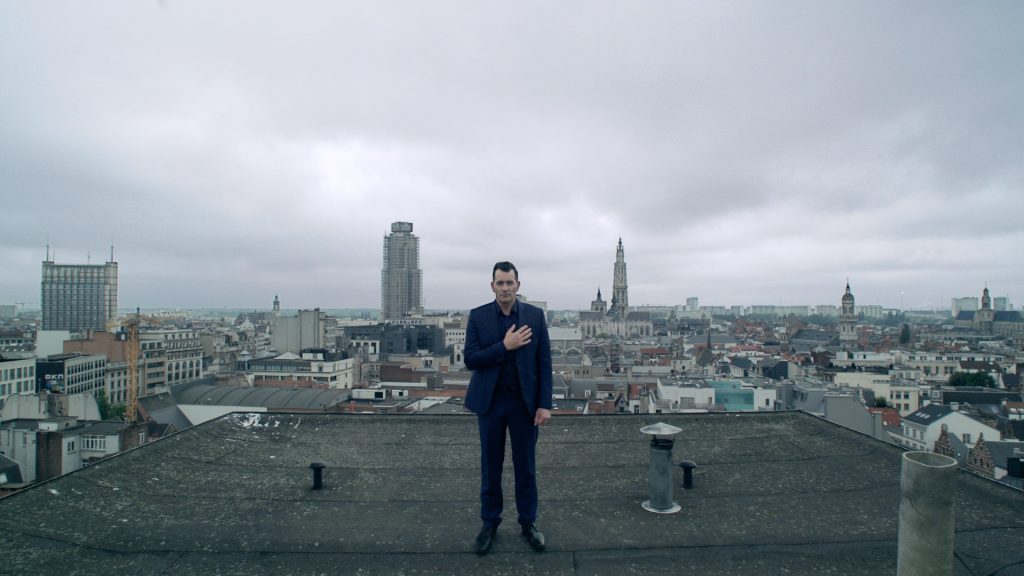 The titular character acts as an advisor to the police in between giving lectures on similar subjects. It does often feel like an amalgamation of various other TV shows (dare we call it House To Get Away With Murder? No?) but actually Professor T manages to be its own unique creation, never quite falling into that trap of copying other similar offerings. Jasper is more serious that Gregory House, less cutthroat than Annalise Keating and certainly nowhere near as unstable as Will Graham or Hannibal. He's his own beast, not relying on sarcasm or sass but rather leaning towards being very matter of fact and it's hard to tell whether he's constantly on the wind up or just oblivious to how others may take him. Either way he's extremely entertaining to watch.
T's fear of germs combined with his utterly strange delusional moments create such a memorable character that you don't really care about his tendency to treat others like dirt. He has no respect for authority, he pushes people way beyond their comfort zones and all that seems to matter to him is the end result. It's generally an effective technique and quieter, more intimate moments show he does have a heart after all, but for those meeting him for the first time he's quite the acquired taste. Luckily his colleagues (of sorts) Inspectors Annelies Donckers (Ella Leyers) and Daan de Winter (Bart Hollanders) are more than up to the challenge, certainly more so than their far more sceptical bosses. Donckers especially is headstrong and determined and after having studied under Professor T she knows there's no one better to help her out.
Professor T isn't really a crime drama series. Yes there are mysteries that need solving, such as students being abducted and threatened, but that's not really the point. An audience won't be gripped by how clever the storylines are or the twists and turns like Sherlock for example. Professor T is exactly what it says on the tin and it's Koen De Bouw that will keep you coming back for more. The developing working relationship with Donckers and de Winter also humanises him slightly, but not too much. Even if he's helping people he's still upsetting others along the way. We just have to hope that sharp tongue of his doesn't end up making him one of the victims. This is another excellent addition to the Walter Presents collection and definitely one to watch.
★★★★
Professor T launches on More4 on 18 August at 9pm