It's safe to say that Walter Presents has a very solid track record of delivering the best in European programming that UK audiences may have missed over the years. With such a high level set it certainly raises expectations with every new addition to the catalogue and thankfully Maltese: The Mafia Detective doesn't disappoint. Yet another crime drama could easily be a let down but Maltese delivers a classic and vintage feel with its 1970s setting and strong casting alongside an intriguing and emotionally involved storyline that makes it stand out from the others.
Maltese is in safe hands with writers Leonardo Fasoli and Maddalena Ravagli, who were both involved in another successful European show Gormorrah. They certainly know how to balance important character development with an intriguing plot and that's exactly what we get here. The show revolves around Dario Maltese (played expertly by Kim Rossi Stuart) as his life is turned upside down by tragedy and we follow his tale of personal vengeance tangled up in a Mafia heavy criminal underworld in Sicily. This is a man all grown up returning to his home but it's no longer the place he once knew. There are reasons he left originally but he's now more determined than ever to clean the place up and make sure no one else suffers.
The show has a real classic Italian vibe to it with the fashion and moustaches and the gorgeous scenery. It's easy to get lost in the beauty but we're immediately reminded that there's danger round every corner. Despite looking happy and vibrant on the surface this is a place in real trouble and one that could be lost to the criminals forever if someone doesn't step up and do something about this. Maltese may have his own reasons for shifting his job back home and pursuing these leads but he also recognises the bigger picture. He's simply a cog in a much larger system and a small part of a huge puzzle. He comes across as a likeable and determined man and you can see he commands respect from those he works with. It feels like if anyone could crack these cases it's Maltese.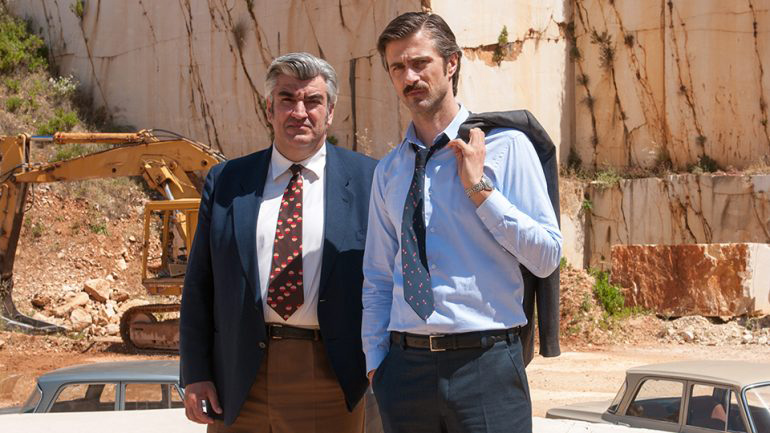 I won't spoil the plot too much as no one wants a story like this unravelled before they've even watched it! Safe to say Maltese and his investigations aren't quite as straightforward as you'd hope. He's a flawed but believable hero and someone you get behind. He's not too bad on the eye either so you can see why women are happy to talk to him. Another highlight is Rike Schmid as photographer Elisa Ripstein, who has a challenging but playful relationship with Maltese. She clearly intrigues him and it'll be interesting to see how they develop as the show goes on, especially when she's headstrong and determined and not always willing to listen to what he says.
It's easy to see why this was chosen by Walter as the latest addition to the collection. Right from the get go you get drawn into Italy and the journey that Maltese takes. There's a completely different vibe here to other dark European crime dramas we've seen over the years. Here so much of the story is in the light bright sunshine and the open beautiful scenery. The fast cars, gorgeous women and happy music don't give off any feelings of tension or danger but that's what makes it all the more surprising. People are shot in broad daylight and nothing feels safe wherever anyone is. It's hard to describe without watching it but there's simply something more sinister about not even feeling safe in the daytime.
The real question is whether Maltese is worth your time and for me it's an absolute yes. With all episodes available on All 4 after the first episode has aired on TV, this is something you should definitely be watching while all your other shows are on a break. It's an intriguing and different attempt at crime drama that doesn't feel like it's trying a copycat European show format like many others do. And that's exactly what we need at the moment – something a little different and enjoyable. Who knew it'd come from Italy.
★★★★
Maltese: The Mafia Detective premieres on Channel 4 on 4 February at 10pm