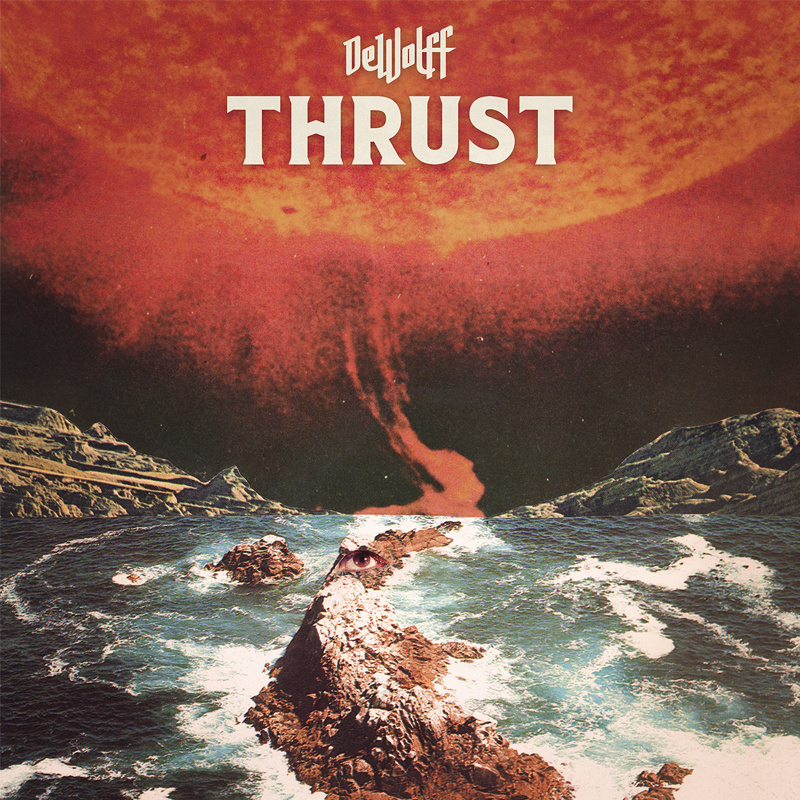 Do you remember the glory days? 1973? When Zeppelins stalked the Earth? When stack-heeled guitar heroes coaxed lightning from their pickups? When the Floyd mapped distant lunar reaches, and Ziggy took on the Spiders from Mars, and Purple hewed mighty riffs out of Mt Rushmore? When music thundered?
I don't. But listening to DeWolff, I don't need to. The thunder is back. And it's not vintage; not retro; not dad rock or a greatest hits package or a tribute band. It's alive and it's electric and it's brain-crunchingly powerful.
Thrust is the band's sixth outing, and it marks the completion of their move away from the more psych-leaning elements of their early releases and into full-bore rock 'n' roll punch. If that title sounds like a misogynistic throwback, rest assured that it's not – it's Mac from 'Chicken Run' with the elastic. 'Thrrrrrrrrust!' This music simply flings you around.
Proceedings commence with the helicopter chop of 'Big Talk', which rumbles along like a herd of tanks, filled with apocalyptic bass synth and Harley Davidson guitar snorts (noticing a theme?). In the grand tradition of the blues-rock power-trio, DeWolff make all that unholy racket with only three instruments – but unlike Cream or Blue Cheer, those instruments are guitar, drums and Hammond organ. The effect is quite staggeringly enormous, and it reminds you why the Hammond was such a key part of rock music for so long – nothing else gives you that same Ent-in-a-bear-trap growl.
'California Burning' is an incendiary second strike, belonging to the same family as Budgie's 'Breadfan' (later covered by Metallica), and is blessed with the album's most inspired guitar solo. Pablo van de Poel's use of the whammy bar is surprisingly sensitive, and it gives the lead break real emotion. That's the sign of good heavy music – when it's not just senseless noise, but a series of intelligent, stirring melodies driven to extreme heights.
That musicality and variety is carried on through the whole album. 'Tombstone Child', for example, can trace its DNA to Sabbath, AC/DC, the Allman Brothers and the Eagles. It opens with a doomy Hammond trudge before bursting out into a duck-walking syncopated riff and a full gospel choir-backed, hollering chorus. You could easily imagine Steve Marriott screaming over the top of it, but, crucially, you don't have to. DeWolff own their music with such assurance, such total belief, that you're never left in the position of needing to overlay the glories of the past to make it great. It is great on its own terms.
The centrepiece of the album is lead single 'Deceit and Woo', which takes an angry swipe at His Trumpness. Clocking in at just over six minutes, it functions as a microcosm of the band's wide-ranging sound, featuring everything from Ritchie Blackmore-esque blues noodling and Peter Frampton melodicism to wild-eyed MC5 wig-outs and Aerosmith-style peacock strutting. It's as perfect a piece of rock music as you're likely to hear. I urge you to seek out the live performance video on YouTube to get the full sense of these guys work.
This album took me by surprise. I grew up an absolute devotee of AC/DC et al, and yearned to relive that music in its prime, when it was young and hungry. This is that album. 'Thrust' is as 1973 as flared trousers and sideburns, and yet as fresh and free as any of the bright young things tickling the Top 10 today. It's good, plain and simple.
Forget what's gone before; forget what you think heavy rock is. Listen to DeWolff and encounter something real, something primal, something wonderful: the original and eternal spirit of rock 'n' roll.
★★★★★
Thrust is out on 4 May via Mascot Records / Mascot Label Group