Damien Lewis on the inspiration behind SAS Band of Brothers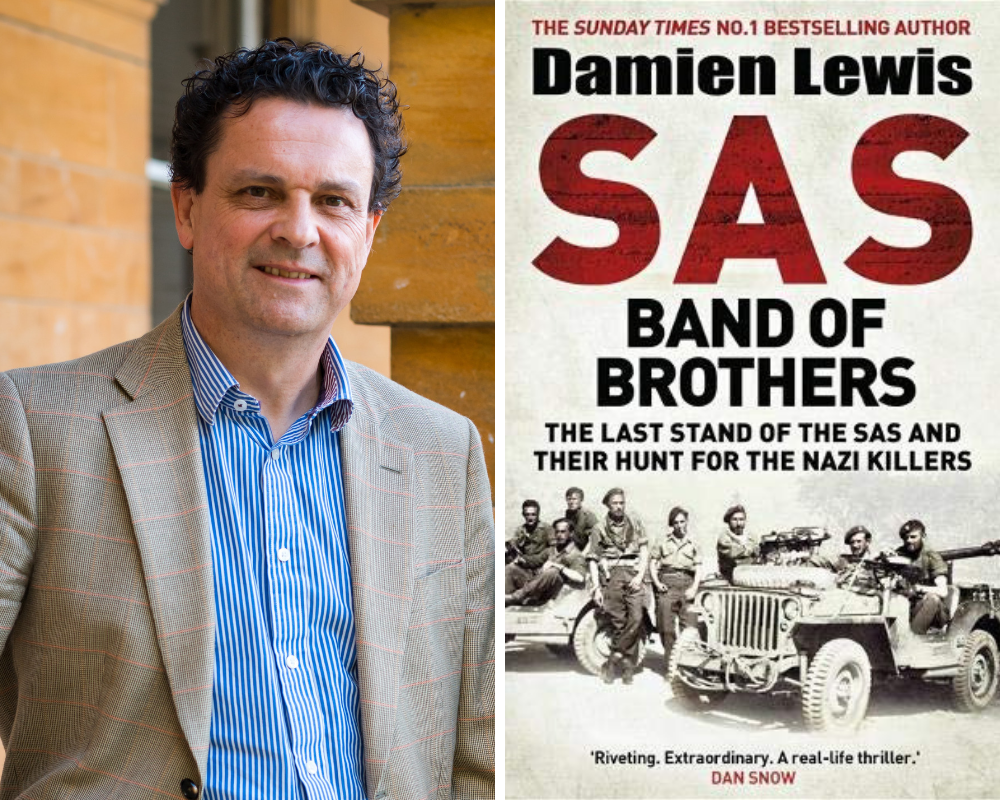 Sometimes, a book subject comes to you serendipitously, out of the blue. The wartime story embodied in SAS Band of Brothers is one of those.
About two years ago I was sent a message on social media by James Irvine, former British military, asking me if I was aware of a WWII mission codenamed Operation Gain. It had involved SAS patrols parachuting deep into occupied France in the immediate aftermath of D-Day, to sabotage road and rail links which were speeding Nazi Germany's armoured divisions to the Normandy beaches, in an effort to drive the Allies back into the sea.
James Irvine's grandfather, Trooper Leslie Packman, had served on Operation Gain. Dropped into hostile territory a few dozen kilometres south of Paris, the SAS raiders had made a swathe of territory some 80 kilometres square a no-go-zone for the enemy, so relentless were their operations. Equipped with jeeps mounted with machine-guns, they were able to mount fast, hit-and-run attacks, melting away into the night, having shot up speeding trains.
But as the enemy became more and more enraged and frustrated at not being able to stop the SAS raiders, so their tactics had become ever more desperate. They began rounding up French villagers – those suspected of aiding the SAS – and shooting dead those who would not talk. Eventually, Trooper Packman was one of several SAS men captured. But rather than being extended the protections of bona fide prisoners of war (POWs), as they should have been – they were soldiers serving in the military of Britain – they were handed over to the SS and Gestapo, to be tortured and shot out of hand. James Irvine's grandfather had died in that way, and he felt the wider successes and suffering of these courageous men, who had given the ultimate sacrifice in freedom's cause, had been largely forgotten.
My curiosity was piqued. As I began to dig deeper into the story, I realised that it was even more extraordinary than James had communicated. One of the Op Gain patrols, a 12-man unit commanded by Captain Patrick Garstin MC, had parachuted directly into the hands of the Gestapo and SS, as a result of trickery and betrayal. This was on their second behind-the-lines mission, the first having been a spectacular success. All of Garstin's patrol were killed, wounded or captured – the captives being taken to the Gestapo's notorious 84 Avenue Foch headquarters, in Paris. Torture and interrogation followed, but finally Hitler himself ordered the surviving prisoners to be dressed as civilians and to be shot to death in a remote patch of woodland.
Miraculously, two men – Free French SAS operator Serge Vaculik, and British veteran Thomas 'Ginger' Jones – escaped from the firing squad. They would survive the war, and go on to ensure that their would-be killers would be tracked down by the SAS's own Nazi-hunting unit, and brought to justice, in 1947. This was a story that simply had to be told.
SAS Band of Brothers was published by Quercus on 29 October 2020