Move over, mortals: this Sabrina Spellman isn't the witch you remember. That Netflix's Chilling Adventures of Sabrina is a darker, less family-friendly version of the witch made popular by the '90s sitcom hardly needs to be said anymore, now that the title, the trailers and the episodes themselves have done the talking. But while the Melissa Joan Hart-starring Sabrina the Teenage Witch may have delighted viewers with its magic, this 2018 take chills with its dark roots and spooky sensibilities.
In a nutshell, Chilling Adventures of Sabrina is about witchcraft, pure and simple. It builds on the supernatural horror precedents set by films and series like The Craft and Buffy the Vampire Slayer and gives itself over to the same storytelling principles wholeheartedly. The Spellmans' coven, the Church of Night, is akin to a cult, filled with witches and warlocks who praise Satan and vow to always follow the Path of Night in all things – even it calls for human sacrifice or giving yourself over, body and soul, to the Dark Lord and his bidding whenever he demands it. The Spellmans' home is a mortuary, their town has a bloody history all of its own, and Hell and the Devil can be found at the bottom of a mine shaft, if you're unlucky enough to find it.
And, at the centre of it all, of course, is Sabrina herself: half-witch, half-mortal, and struggling to balance both halves of her life and keep everyone she loves safe as she unwittingly enters into a battle of wills with the Dark Lord himself. When we first meet Sabrina (played by Mad Men's Kiernan Shipka), she's a strong, independent 15-year-old with a loving boyfriend and a supportive friendship circle who's counting down the days to her 16th birthday and her dark baptism, when she'll sign her name in the Book of the Beast and renounce her mortal life to embrace the coven and its unholy teachings. It's obvious, then, that Sabrina will have a few choices to make over the course of the 10 hour-long(ish) episodes: whether she chooses power over freedom; fulfilling her duty to her family or striking out on her own; and, of course, embracing her witchy heritage or her mortal side.
There is a lot of this season that feels almost like prologue; the series' two-season order from Netflix may have gifted the showrunners and writers with the time to really dig deep and completely establish Sabrina's Greendale, her family, her coven, her mortal life and everything that goes with it, but by the season's end there's the sense that it was all building to that final moment – and that the promise of what's to come in season two is the story of Sabrina that they wanted to tell all along.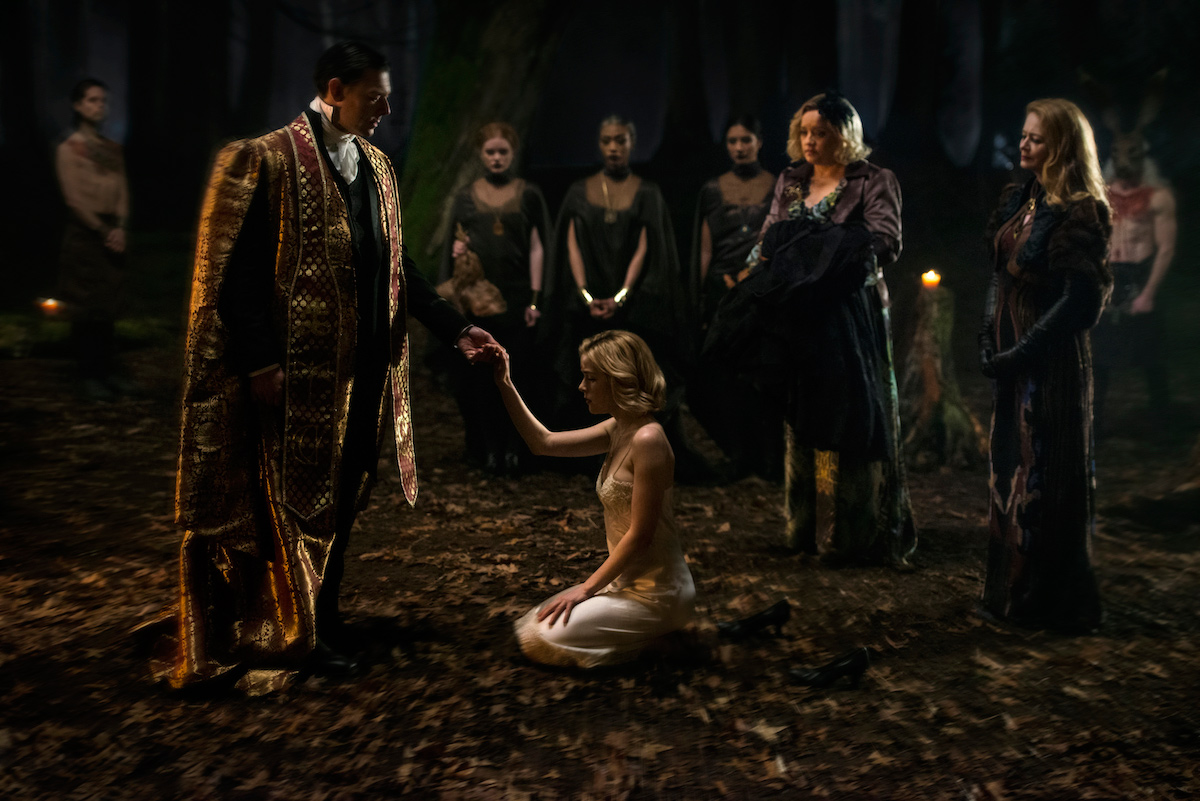 But, even if this is the case, few stories get a prologue as deliciously vivid and detailed as this one, and it doesn't detract from the fact that Chilling Adventures of Sabrina has, on the whole, got off to a spellbinding start. The entire series takes great joy in embracing its 'chilling' aesthetic, even if it makes for a bit of a messy, disjointed journey. The show pays homage to as many different types of horror movies as it can think of, from hauntings to home invasions, to episodes that give nods to The Exorcist and Nightmare on Elm Street. Not every episode hits its mark – and at times it feels like the show can't decide between whether its focus is its season arc or its Supernatural-inspired monster-of-the-week episodes – but by the end of the run you're completely sold on this eerie, timeless world and everything it throws at you.
Kiernan Shipka, too, is brilliant as Sabrina and it doesn't take long for the actress to prove she's more than capable of leading this series through all its twists and turns. Shipka wins you over by episode two, by which point she's taken on everything from comedy to drama, romance and horror with ease, but it's the show's fourth episode, 'Witch Academy', that sees Shipka deliver some of her best scenes. As the series unfolds, Sabrina takes down demons and monsters as easily as she takes on bullies and challenges the archaic traditions of her coven, and through it all Shipka proves to the audience that no one else could have embraced all facets of this role so completely.
As with most freshman series, Chilling Adventures of Sabrina isn't perfect and, like Sabrina herself, the show struggles to find the right balance between the witch and mortal worlds. But, bolstered by its retro aesthetic, a charming cast of characters – of which Chance Perdomo as Sabrina's cousin Ambrose and Tati Gabrielle as Sabrina's rival Prudence deserve particular praise – and a truly fantastic soundtrack, the series does eventually find what works and mostly sticks to it.
Teen high school dramas are a dime a dozen but give audiences a drama that focuses on a complex character who's tempted by the gloriously dark power available to her and that premise is entirely more compelling. True to its name, it's the darker, occult-style elements that set this show apart – and it's only when it gives itself over to the gory, campy intensity of those flashes of darkness that Chilling Adventures of Sabrina is at its best.
★★★★