18 best TV characters of 2019: Klaus Hargreeves, Nadia Vulvokov, Jim Hopper and more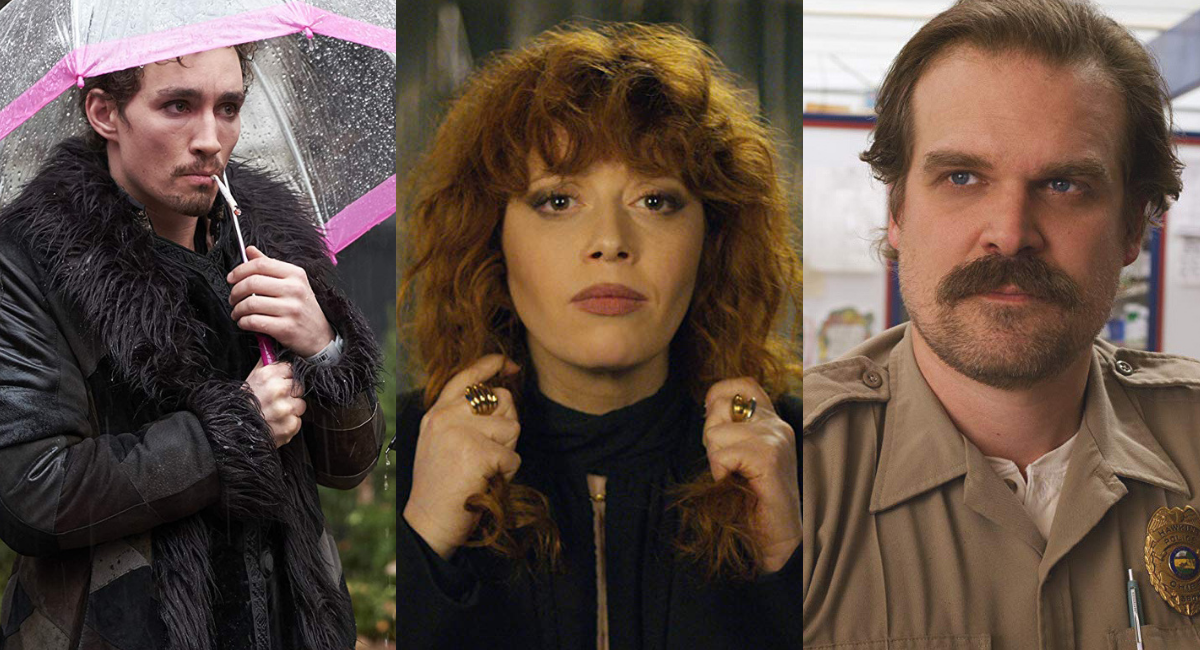 2019 has been a year dominated by bleak politics. Thankfully the TV landscape fared much better, with some truly brilliant shows helping to keep our minds from going into meltdown.
A TV show is only as good as its characters and this year outdid itself with a host of memorable characters – from antiheroes and outcasts to witches and magicians.
These are the characters that entertained us whenever they were on screen, who offered us an escape from the real world, who stole our hearts with their personalities, becoming more like friends than fictional people. They are, in our humble opinion, the best characters of 2019.
Aziraphale – Good Omens
With his delightfully sweet nature and kind smile, Aziraphale is the friend we'd all like on our side with Armageddon looming. Michael Sheen is utterly charming as the Earth-dwelling, antiquarian bookshop owning angel who dresses impeccably and can't say a bad word about anyone without following it up with an apology or polite backpedal. His comic timing is impeccable, bouncing off David Tennant's demon Crowley with an ease and gentleness that's a pleasure to watch. Aziraphale might be the nicest, sincerest character to grace screens all year. – Natalie Xenos
Sutton Brady – The Bold Type
There is a lot to love about each of the central trio in The Bold Type, but there is something about aspiring fashion designer/editor Sutton Brady that makes me root for her. She's had a hard life, without parents she can rely one, especially her mother who she now has to support – or rather, she chooses to support because she can't not. I imagine when someone talks about a candidate for a job who has the intangible "it", that is what Sutton has. A strength of determination but a moral compass to balance it. She won't take someone down to get ahead, but she will work damn hard for herself and her goals. And she's a brilliant, supportive friend too. – Nick Gomez
Rebecca Bunch – Crazy Ex-Girlfriend
2019 marked the end of Crazy Ex-Girlfriend, and the end of a long journey shared with Rebecca Bunch (Rachel Bloom). And it was quite a journey. Watching her progress from season 1 to season 4 – as she turned from an unhinged woman who only made bad choices into someone infinitely happier and healthier – has been an enormous privilege. Rachel Bloom deserved so much more credit for her immense performance. – Chloe Walker
Robin Buckley – Stranger Things
In general, the women of Netflix's Stranger Things are the unsung heroes, but the introduction of Robin Buckley is nothing short of genius. She fits in straight away, with that now-iconic Scoops Ahoy! uniform, decoding Russian codes and sassing Steve while she does it. There's also what she represents for queer representation, in that we fall in love with her as a full person before it's revealed that she's gay. There's no telling what a character like this could have done for little girls in the 1980's, but let's hope the girls in the 2020's get her for as long as possible. – Melanie Kress
Prudence – Chilling Adventures of Sabrina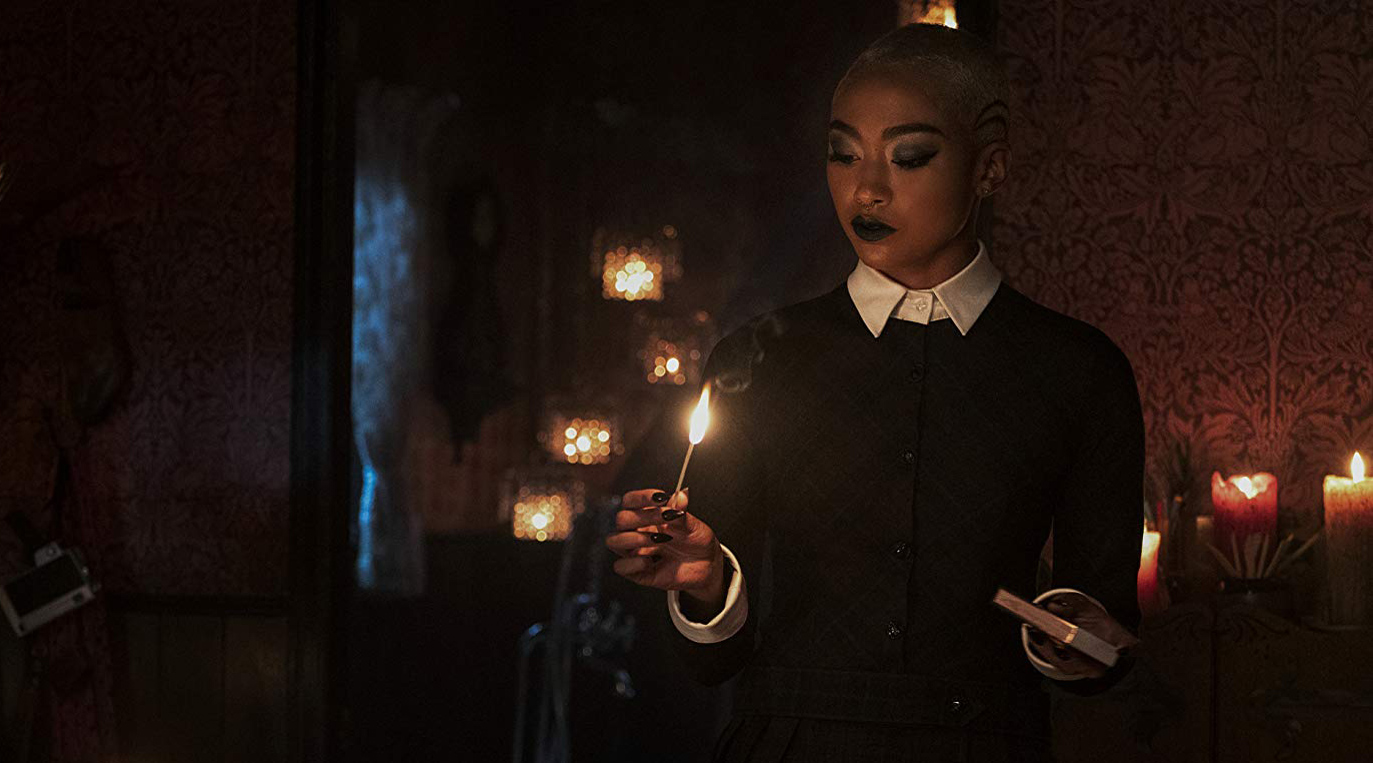 Chilling Adventures of Sabrina may be centred on one particular teenaged witch, but there's no denying that Tati Gabrielle's Prudence was the breakout character of the Netflix series when Part Two was released in April this year. Growing beyond the archetypal high school villain role (albeit, with a dark, magical twist) that she occupied in Part One, Prudence emerged as a complex, compassionate character who could still be absolutely terrifying when she needed to be, and had her own emotional arc to motivate her. Like the series in general, Prudence benefitted from the Netflix drama settling into its established world, allowing her to fully embrace her heritage and her own desires without having to constantly be tied to Sabrina's own introduction to that world. In Chilling Adventures of Sabrina: Part Two, Prudence grew from a character you wanted to see more of to an electric screen presence capable of holding down storylines in her own right. With Prudence and Ambrose Spellman ending Part Two by setting out alone to hunt down Father Blackwood, it looks like Part Three will continue to do justice to Prudence's compelling character too. – Megan Davies
Klaus Hargreeves – The Umbrella Academy
As charismatic and flamboyant as he is heart-broken and haunted, Klaus Hargreeves/Number Four is without a doubt the best of The Umbrella Academy. I could have easily included any and all of the adopted sibling superheroes in this list but Klaus – with his ability to speak to the dead – is such a multi-layered and complex character. Selfish but sympathetic, impulsive but intelligent, there's more going on under the surface than any of his siblings realise. Robert Sheehan's performance is on point too, revelling in the character's quirkiness, fluidity and inner turmoil. – Natalie Xenos
Barry Block – Barry
Barry (Bill Hader) is a marine turned hitman turned… actor. Season 2 of Barry sees our hero continue to wrestle with himself over whether to pursue his newfound love of acting or his expertise in murder, and the struggle is tragic, funny, thoughtful, strange, and sometimes agonising to watch. Hader – who also created the series – keeps us on Barry's side, as we root for him to make the healthy choice, despite everything we've seen him do. He may be a murderer, but he's our murderer. – Chloe Walker
Quentin Coldwater – The Magicians
The Magicians is in a really tough spot following their controversial finale, but the arguable protagonist, and heart of the show, Quentin Coldwater, is an eternal figure. It would feel criminal, this year of all years, to not honour the work Jason Ralph put in to bring that character to life. Through to his (spoiler) end, he was compassionate and sensitive in a way sorely lacking from other male protagonists, with even the writers and showrunners themselves not previously grasping how it would leave fans so devastated at his loss. Whatever happens in the upcoming season, and however they address his loss, his impact on the lives of the characters and viewers cannot be erased. – Melanie Kress
Scorpia – She-Ra and the Princesses of Power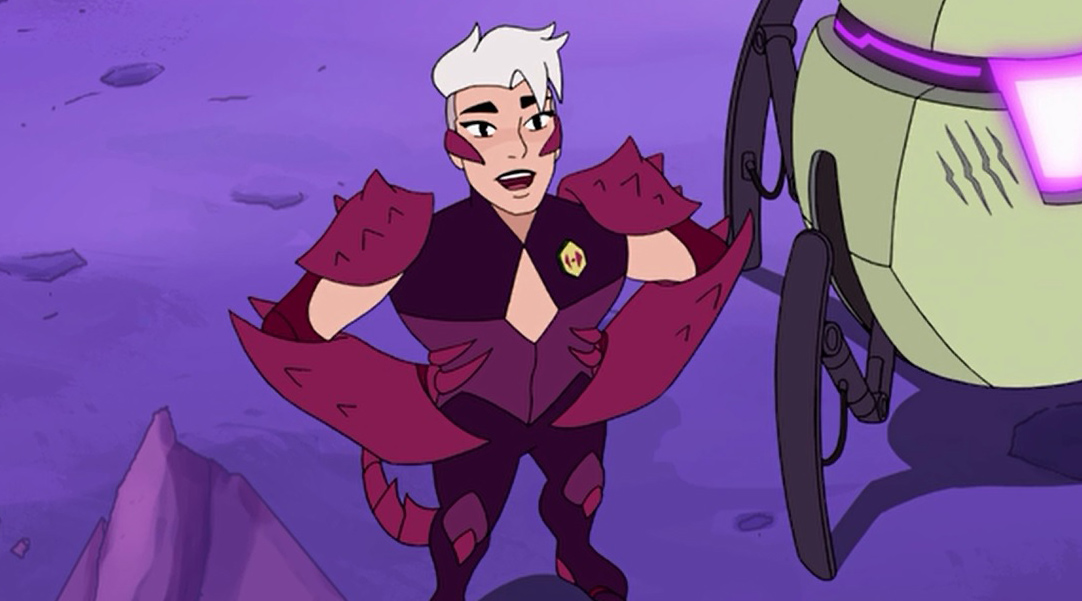 Dare I suggest that Scorpia is the Internet's girlfriend? A Horde soldier (that's the bad team), Scorpia is a defunct Princess of Etheria but she won't complain about her lot in life. Scorpia is endlessly enthusiastic, supportive and uplifting. She is also loyal to a fault. Over the first few seasons of She-Ra, we've seen Scorpia evolve, going from aspiring BFF to Catra, to solo adventurer. She's had some incredibly hard times and in the latest season we get to dive into her family history and see how life has beaten her down. Her subsequent growth and development is something that is easy to celebrate. #WeLoveScorpia – Nick Gomez
Eric Effiong – Sex Education
Ncuti Gatwa's Eric isn't the focal point of Sex Education but he steals every scene he's in, often overshadowing Asa Butterfield's central character Otis. Eric is an openly gay teenager, which creates conflict with his religious Ghanaian family – particularly his father, who clearly wants the best for his son but just can't understand him. Gatwa gives a tender and at times devastating performance as Eric is subjected to both verbal and physical abuse from both his peers and complete strangers. When Eric is given the spotlight, Gatwa pours every ounce of emotion into his scenes and it hits your heart like a sledgehammer. Writers, we need more characters like Eric please. – Natalie Xenos
Kendall Roy – Succession
After the dramatic events of last year's finale, the second season of Succession finds Kendall Roy (Jeremy Strong) in a much-diminished place in the family hierarchy. Mocked ruthlessly by his siblings, embarrassed, and wracked with guilt, it's difficult to see the former heir to the throne – and the most vulnerable Roy – in such a weak position (and don't get me started on that rap!). The fact that we watch Kendall like this for a whole season, however, makes the final minutes of the season 2 finale almost unbearably sweet… – Chloe Walker
Hormone Monstress – Big Mouth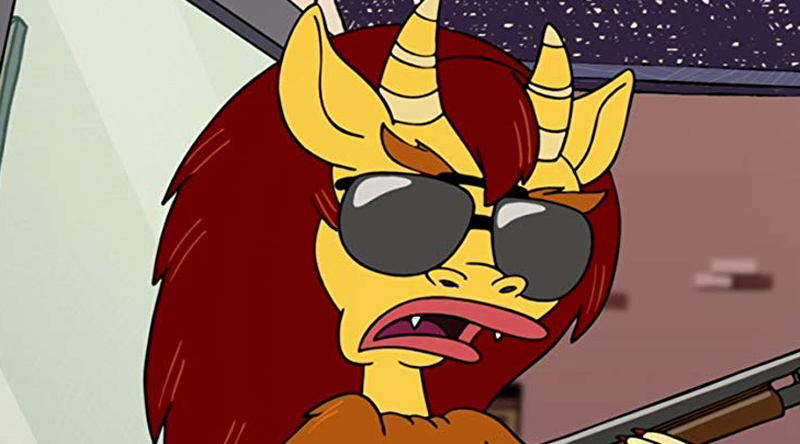 I've always been partial to a female character more than a male one, so it's no surprise that while I found the Hormone Monster of Big Mouth funny, I thought the Hormone Monstress was hilarious and biting in a whole new and more glorious way. It cannot be understated how much energy, salaciousness and drama she brings to the show and a large part of that is down to her being voiced by Maya Rudolph. Rudolph delivers every single line with her unique style. Her take on "bubble bath" is enough to rival Moira Rose's "baby". – Nick Gomez
Nadia Vulvokov – Russian Doll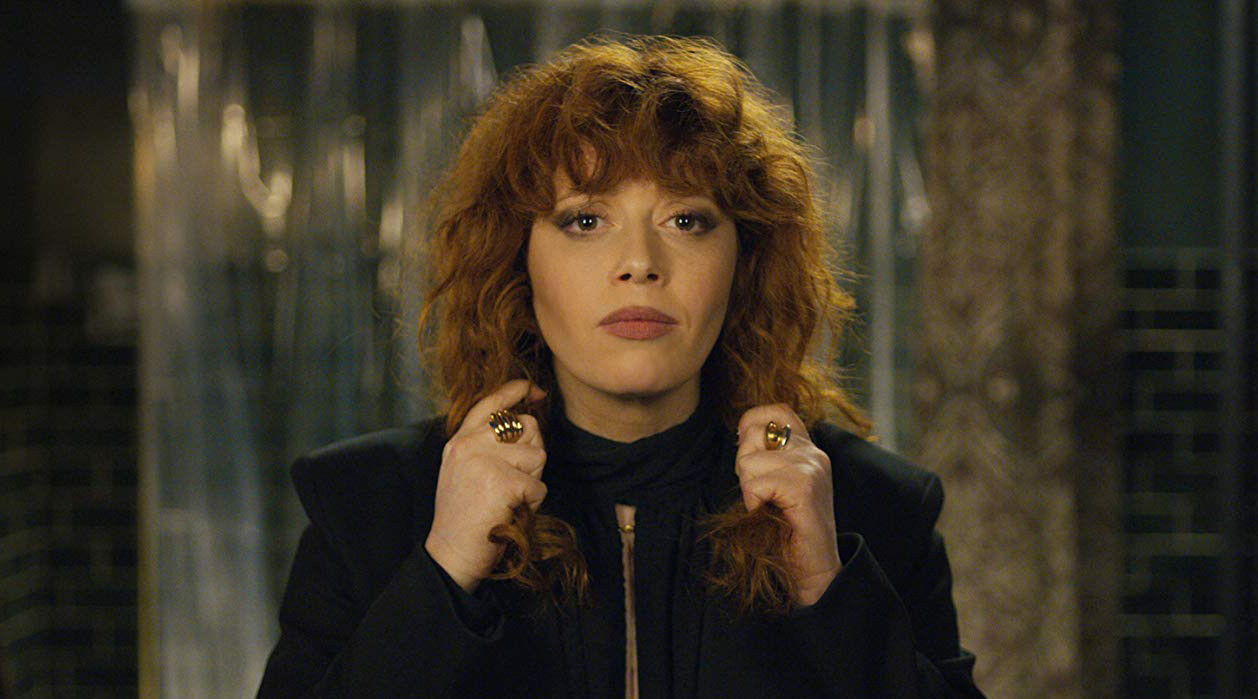 Fittingly for a character from one of the most unique and groundbreaking shows released this year, Russian Doll's Nadia is a character unlike any other. Unconventional, sarcastic and brash, Nadia doesn't make for the typical leading lady but Natasha Lyonne proved that she's an absolute powerhouse through the eight-episode series, transforming Nadia from an initially unlikeable and frustrating character into someone the audience is really rooting for as she puzzles over her never-ending death loop and fights to break out of it – with both hilarious and heartbreaking results. As Nadia reevaluates her relationships and her behaviour and re-examines her past, the character quickly became one of the most complex, relatable and dynamic presences on TV. As a star vehicle for Natasha Lyonne, Russian Doll doesn't put a foot wrong, and the strength of the series also ensures that anti-hero Nadia Vulvokov is undoubtedly one of the best TV characters we've seen on screen this year – and, not to mention, infinitely quotable too. What a concept! – Megan Davies
Moira Rose – Schitt's Creek
Everything about Moira Rose (Catherine O'Hara) is iconic. From her fabulous monochrome outfits to her ludicrous overenunciation (listen to the way she says 'baby' and try not to laugh), she is one of the most delightful characters to grace our screens in the last decade, never mind the last year. And how brilliant it was, in season 5 of Schitt's Creek, to see her direct a showstopping am-dram production of Cabaret. Watching the former big fish flourish in such a small pond has been one of the greatest joys of the exuberantly joyful show. – Chloe Walker
Omar Shanaa – Elite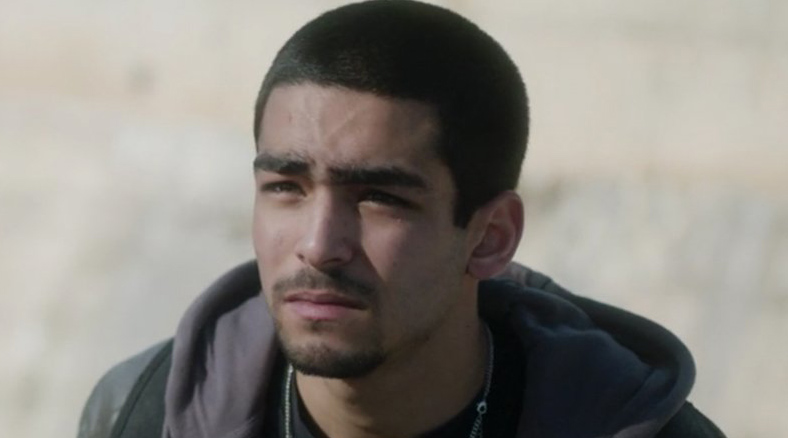 Omar is everyone's bro, without being bro-ish. In Elite he sits slightly outside of the hallowed hallways of the elite school that most of the characters attend, as he's already out working in the world – or at least his family's shop. His romance with Ander is bittersweet, full of longing looks and secret outings. In season two, we see how the strain of starting to come out pulls Omar apart, and yet he still wants to be the best version of himself rather than self-destructing like the younger teen characters. Special points also go to Omar for not only knowing The Rocky Horror Picture Show but dressing up wonderfully as Frank N Furter for Halloween – a reference no one else gets!?! – Nick Gomez
Jim Hopper – Stranger Things
Stranger Things is an embarrassment of riches when it comes to charming characters, but there's none quite as charming as Jim Hopper (David Harbour). Grumpy, sarcastic and frequently drunk, but with a ferocious love for his friends and his surrogate daughter Eleven (Millie Bobbie Brown), Hopper is everyone's favourite lovable, schlubby uncle. Season 3 left him in a particularly perilous position, but if various rumours are to be believed, he will be fighting fit in season 4… – Chloe Walker
James and Alyssa – The End of the F***ing World
You can't have James without Alyssa and vice versa. They're such brilliant characters because they work so brilliantly together. The enjoyment of watching this solitary twosome is seeing how they've changed and grown from series one. At the start of series two they're essentially estranged. James has matured but he's completely alone for the first time in his life and Alyssa – still blunt and sullen – is struggling with unaccustomed feelings of guilt after the events of series one. They've both been through so much but when they find their way back to each other – in typical bizarre TEOTFW fashion – everything feels right in the world again. – Natalie Xenos
Honourable Mentions: Midge Maisel (The Marvelous Mrs. Maisel), Leslie Durrell (The Durrells), Arya Stark (Game of Thrones), Tommy Shelby (Peaky Blinders), Shaun Emery (The Capture), Chip 'The Colonel' Martin (Looking For Alaska)