Book Review: Dracul by JD Barker and Dacre Stoker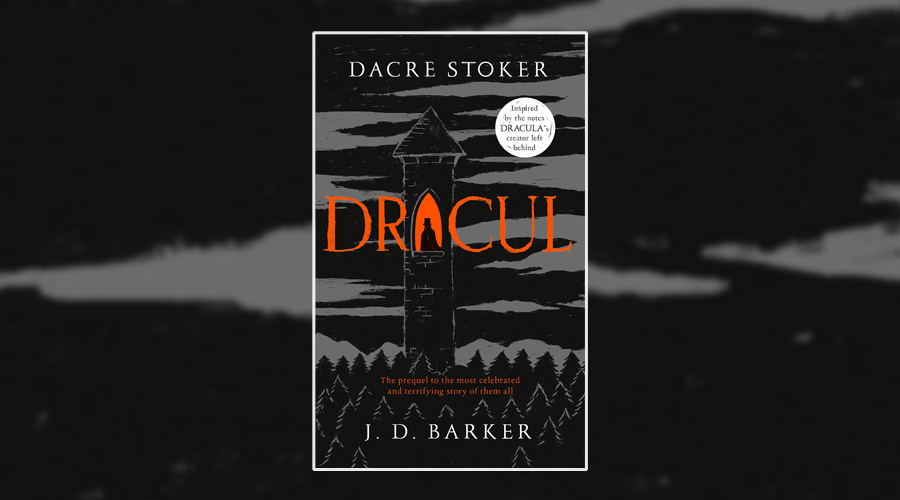 Speaking from our 2018 perspective, it's safe to say that vampires have had their moment in the literary sun. From the brooding Salvatore brothers of LJ Smith's The Vampire Diaries to the sparkling monstrosities of Stephenie Meyer's Twilight novels via Anne Rice's The Vampire Chronicles, Charlaine Harris' The Southern Vampire Mysteries and everything in between – you name it, vampires have touched it. Hell, even the history books aren't safe.
But before all of that there was the most compelling, most evil vampire of them all – Count Dracula – and before even him, there was Bram Stoker, his life, his journals and his texts, all of which have inspired JD Barker and Dacre Stoker (Bram's great grand-nephew) to write this prequel to the classic 19th century novel, complete with all the hallmarks of gothic horror and suspense that you'd hope for in novel bearing the Stoker name.
Whether you've read it or not, everyone knows the story of Dracula. In Dracul, Stoker and Barker dig deeper into that story, revealing Dracula's true origins, as well as his connection to Bram himself, and what prompted Bram to publish the novel in the first place. Beginning in 1868 – nearly 30 years before Dracula was first published – Dracul opens with a 21-year-old Bram Stoker spending the night in the tower of an abandoned abbey, desperately fighting to keep a monster at bay through the night. Through journal entries, letters, newspaper clippings and more, we slowly learn how Bram ended up in this tower on this night as he races to record all he's witnessed before he runs out of time.
"The silver cross in his hand grows hot, burning his flesh, the edges becoming sharp as blades. He drops it. His palm bubbling with blisters, the creases filling with rich blood seeping from a dozen cuts. When a single drop of blood drips to the stone floor, the room goes silent."
As a novel of three parts, it can be safely said that at least a third of this novel unnecessarily labours a point. Part I takes us back to Bram's sickly childhood, where he spent the majority of his time ill, in bed and being looked after by the family's nanny, a young woman named Ellen Crone. Over time, Bram and his sister Matilda begin to question Ellen and her strange behaviour, particularly after Ellen manages to cure Bram of his illness, but it's hard to give yourself over to the suspense of Bram and Matilda's investigations when you, and everyone else who's picked up this novel, know exactly where this road is leading you. The 'Now' sections, unfolding over Bram's night in the tower, provide the sole source of excitement in these opening chapters, but with several pages of childhood suspicions unbalancing the short, sharp bursts of genuine horror, Dracul proves itself a hard book to initially get into.
Thankfully, Parts II and III are worth the slog, bringing with them genuine thrills, scares and creepy happenings, not to mention a storyline that's as gripping as it is terrifying. From the moment Bram and Matilda are prompted to reconsider their childhood experiences through less innocent, adult eyes, Dracul gives itself over to its genre. As Bram and Matilda and their older brother Thornley begin piecing together clues, myths and folklore that connects them to Ellen – and Ellen to several mysterious deaths in their hometown when they were children – they're drawn further into the world of the supernatural horrors they're exposing, and it's a world that takes them everywhere from Ireland to Whitby to the Village of the Damned outside of Munich as it builds towards a showdown with a character that has become legend.
Horror fans will find a lot to like in Dracul, and Dracula fans will find even more. In the afterword, we're told that the inspiration for this novel came from Bram's own notes and that he wanted to publish the manuscript as a "true story", serving as a warning of a very real evil. It's a fascinating lens through which to view this story, and Barker and Stoker do a commendable job of blurring the lines between fiction and reality. Technically, however, the novel does fall short in some places; mimicking the epistolary style of the original is a nice touch, but it would have been more than just a gimmick if each of the different journal's authors actually had different voices, or different perspectives, rather than simply serving as an extension or a recap of the other.
Overall, this is a chilling novel which, after a slow start, manages to successfully walk a fine line between supernatural intrigue and a grounded, historical setting and it relishes the opportunity to tell a story with the 'old-school' Stoker laws of vampirism that have been adapted, re-purposed and dismissed entirely over the years. Despite its faults, Dracul remains an entertaining and compelling read, serving to further tie the legacy of one of fiction's most famous characters more intrinsically to the life of his creator.
★★★
Dracul was published by Bantam Press on 18 October 2018