Book Review: Wonderland by Juno Dawson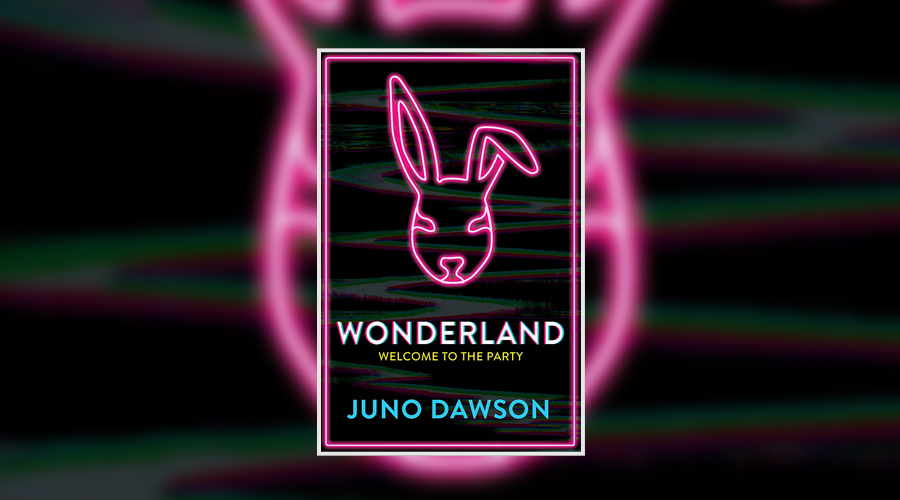 Alice's adventures in Wonderland have never looked quite like this. Juno Dawson's tale is a trippy mystery with a distinct Gossip Girl – the book series not the TV one – twist. And it's very, very queer. All the best books are, after all.
Set in present day London, this iteration's Alice boasts blue hair (how else will you know she's transgender, so she says), a bountiful vocabulary and a fervent desire to be fully herself – though who that is she hasn't entirely figured out yet. When her fast friend Bunny goes missing, she seems to be the only one dedicated to investigating where she's gone and why. A single clue leads her to Wonderland, an exclusive party and playground for the young and wealthy where a murder plot, or two, are afoot.
Dawson plays wonderfully with the language in Wonderland, invoking lines from Alice's Adventures in Wonderland that fit with the narrative thanks to her playful descriptions. The High Society vernacular melds the classic with the new beautifully, and makes the posh girl names, like Bunny and Jonty, a little more believable, at least in the novel's world. Similarly, Dawson recasts the Cheshire Cat and Caterpillar in new roles, while retaining their essence from the original story.
Wonderland is a hilarious, inspired and poignant story. It's at once a thrilling YA drama, featuring young love, battles for school status and family conflict, and a portrait of one trans girl's experience coming into herself. It's also a grounded exploration of teenhood, as Alice has mental health issues, which almost led her to end her own life, and concerns around how she is being perceived as a trans woman by her friends, family and wider society. She is exploring her sexuality and emotions like any other teen but with an acute awareness that she isn't having the same experience as her peers, or so it seems to her.
Beyond the welcome, modern views on sexuality and gender identity, which are explored through various pairings and Alice's socially conscious inner monologue, Wonderland is direct when discussing mental health. Alice's consideration of suicide is not something glossed over, neither are her urges and struggles with self harm. Through Alice, Dawson is able to take an honest look at what young people are dealing with and what help can look like. There is certainly no singular answer but this is one example and it feels honest. There is no hiding the harsh realities from the reader, though it skirts being visceral for shock's sake.
Alice is not a shy teen, but she is someone who has self-isolated. Limiting her friends to, well, A friend, she considers herself apart from those at her all girls school, and the connected all boys school. Yet, in crossing paths by chance with Bunny and deciding to take a leap of faith by going to Wonderland, she learns more about the diverse group of young people in attendance. She comes into contact with the meathead Tweedle twins, using their family money to finance their YouTube career, plus those who feel they are prisoners of privilege, like Maxim, a rugby star hoping for an easy out, and some who thrive on the hierarchy of the upper echelons, such as Willie, a tween entrepreneur.
Wonderland is an extravagant, fun and witty adventure, and an absorbing read from start to finish. Alice is a charming and complex character who draws you to her with a vulnerability and the kind of teen desires that so many can relate to. Dawson has created a superb novel and a fabulous addition to the multi-verse of Alices in Wonderlands.
★★★★★
Wonderland was published by Quercus on 28 May 2020
The following organisations offer support to anyone who is dealing with any of the issues and topics mentioned in this book: Samaritans (24hrs helpline for suicide prevention), Tel: 116 123, Web: www.samaritans.org.uk, and Mermaids (help and advice for gender diverse children, young people and their families, Tel: 0808 801 0400, Web: http://mermaidsuk.org.uk