Book Review: The Nine by Gwen Strauss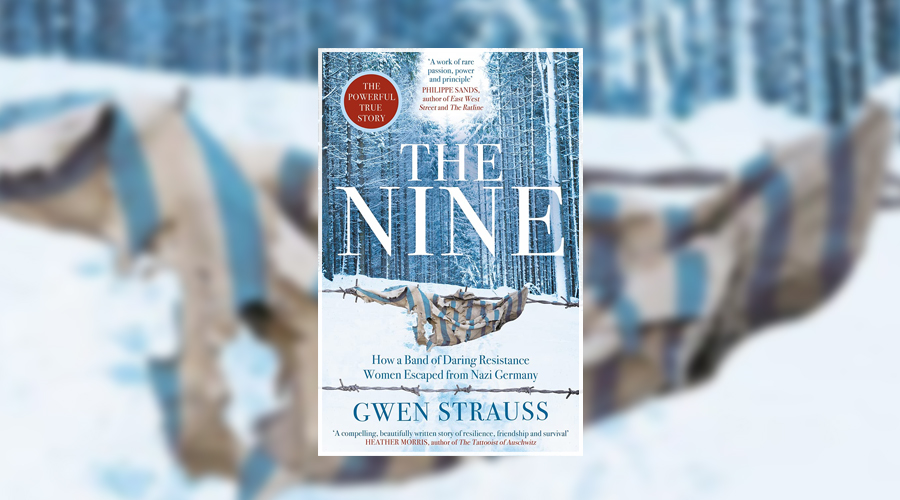 With her latest book, The Nine, children's book author Gwen Strauss tells the little explored real life story of a group of heroic women who fought fearlessly against the Germans and lived to tell the tale, breaking free from a Death March in 1945 and embarking on a perilous, uncertain journey in search of safety and freedom. Using her own great aunt's story as the basis for the book, Strauss puts these women front and centre, delving into how each of the nine came to be involved in the resistance, how they were captured, what they experienced in the concentration camps, and how they eventually – miraculously – escaped.
Strauss' great aunt, Hélène Podliasky, was just twenty-four when she was arrested in northeastern France. An intelligent and resourceful engineer, she spoke five languages and was an invaluable resistance fighter. But, like so many women fighting against the atrocious Nazi regime, her resistance against the Gestapo led to her imprisonment in Ravensbrück – a concentration camp in Northern Germany that was exclusively for women. It was there that she would meet eight other women – all of them resilient, strong and spirited by nature – who would become the subject of Strauss' emotional and heartrending book.
Six of the women were French (Hélène, Zaza, Nicole, Zinka, Jacky and Mena), two were Dutch (Lon and Guigui) and one – the youngest, Josée – was Spanish. The nine might have been different nationalities and from different backgrounds, but they were united in their battle against fascism; they were united in their care for each other and the other women in the camp. Even after they were captured they carried on fighting – it was just a slightly different fight. Now it was not just a battle against an oppressive regime but a battle for basic survival too. Strauss' book shines a light on the supreme strength and fortitude that these women showed in the face of hate and violence.
"It was springtime. Those rough hands, battered by the work in the factory, now felt something soft and natural. It was striking how beautiful the world continued to be even as men were making war and destruction."
With chapters dedicated to each of the nine individually, the book takes readers through their time at Ravensbrück and the now-or-never escape from the Death March that saw them fleeing for their lives, without food, water and proper clothes or shoes. We travel the route with the women as they seek out safe places to sleep at night and scout local towns to ascertain whether they will encounter friend or foe. Their ten-day journey across the front lines of WWII took place amidst the last stages of the conflict. Germany was losing, the war was almost over, and yet their lives and freedom still hung in the balance. They could still die from starvation or dehydration or exposure. They could experience an angry and desperate soldier on the road. They could still be betrayed by fearful villagers terrified of being caught harbouring camp escapees. Yet the women were clever and daring, often using the guise of feminine innocence and naivety to their advantage, and it would get them through many a close call.
The book also goes beyond the nine's journey by foot, exploring what happened after the war. The women's suffering didn't just end when Germany surrendered. Though their lives went back to a new kind of normal – they reunited with family, got married, had children, worked fulfilling jobs – they would continue to struggle with their experiences, physically and psychologically, for the rest of their lives. Strauss briefly touches upon how their on-going suffering affected their loved ones too, and the fact that the trauma of war was often transferred from adult to child, even though the children had never known the terror that haunted their parents. It's a truly sobering and distressing consequence of war.
The Nine is heartbreaking to read, particularly now during a time when our country continues to face modern day battles with prejudice and racism. It's easy to feel despair when humanity seems hell bent on repeating past mistakes. But though Strauss' book reveals the terrible conditions and terrors that the women – as well as men, children and babies – were subjected to, it's a real testament to her writing and research that the overriding theme here is not the atrocities of war. What lingers on long in the mind when the book comes to an end is the fierce resilience that Hélène and her friends – because that was what they became – displayed. This is a book of hope, fortitude, friendship and compassion for your fellow human beings. Four things that are as important now as they were then.
★★★★★
The Nine was published by Manilla Press on 24 June 2021