Book Review: Mrs England by Stacey Halls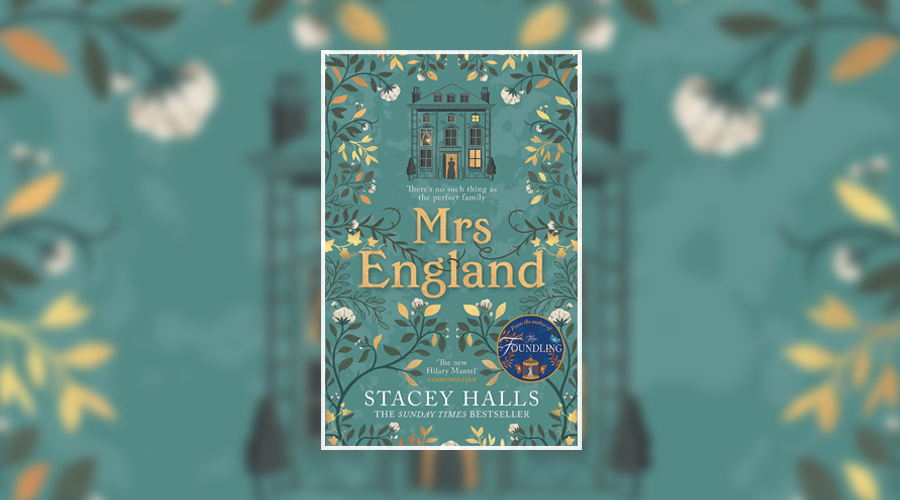 When the kindly family she works for relocate to America, Ruby May – a newly graduated nurse from the prestigious Norland Institute in London – takes a position looking after the children of Charles and Lilian England, a wealthy couple from a powerful dynasty of mill owners. At first daunted by the prospect of having four children under her care, where previously she only had one, Ruby soon settles into life at the isolated Hardcastle House in West Yorkshire. But there's something not quite right about the family entrusted to her care – a feeling that's reinforced by the beautiful yet mysterious and aloof Mrs England who wanders around in a daze and has a detached relationship with her children.
Ostracised by the other servants and feeling increasingly uneasy, Ruby doesn't have the luxury of leaving; the Norland institute frowns upon resignations and she desperately needs the money to send back to her own family. Instead she tries to put her doubts to one side, making herself indispensible to the charming and quick-witted Mr England, who adores his children and is well respected in the community. Yet the longer Ruby lives with the Englands, the more she's haunted by her own painful memories. She knows first hand that there's no such thing as the perfect family and she's determined to stop history repeating itself, even if it means protecting the children from their own flesh and blood.
With her previous two novels, The Familiars and The Foundling, Stacey Halls proved that she's an author with a unique talent for writing engrossing and atmospheric historical fiction centered around female protagonists haunted by complicated pasts. With the bar set so high, it's always a worry that the next book an author writes won't live up to the early successes of its predecessors. Happily, that couldn't be further from the truth with Mrs England, which opens with an intriguing flash-forward, before unravelling the events that lead Ruby to that moment.
Halls' storytelling is the slow-burning and refined kind – allowing readers to experience the growing menace and fear as Ruby does. Set in Edwardian times, the story explores the imbalance of power between women and men, particularly when they're of different social classes, and what that allows people to get away with. Ruby might be the narrator but the Englands' marriage – and the fraught relationship between Charles and Lilian – is just as central to the story. It shapes everything that happens in the house – affecting not just Ruby's mental state but the children she cares for too. Ruby's own personal trauma makes her fiercely protective of the England children but it also – understandably – clouds her judgement, which begs the question: how much of the strangeness she feels in Hardcastle House is a genuine, tangible concern, and how much of her own trauma is she projecting onto the family?
Mrs England is a tale of mental health, power and marriage, but it's also a story of the deepest and darkest deception – of the deceit between a husband and wife, between adults and children, between a person's heart and their mind. It's made all the more compelling by its isolated Yorkshire setting, which cuts its characters off from the outside world and which Halls writes about so beautifully. She has the ability to draw readers into her story so completely that it's a real effort to wrench yourself out of it when you invariably have to put the book down. If you've loved Stacey Halls' previous books, you're in for a real treat with this novel – the author's most evocative, intriguing and compelling book so far.
★★★★★
Mrs England is published by Manilla Press on 10 June 2021