Book Review: The Jasmine Throne by Tasha Suri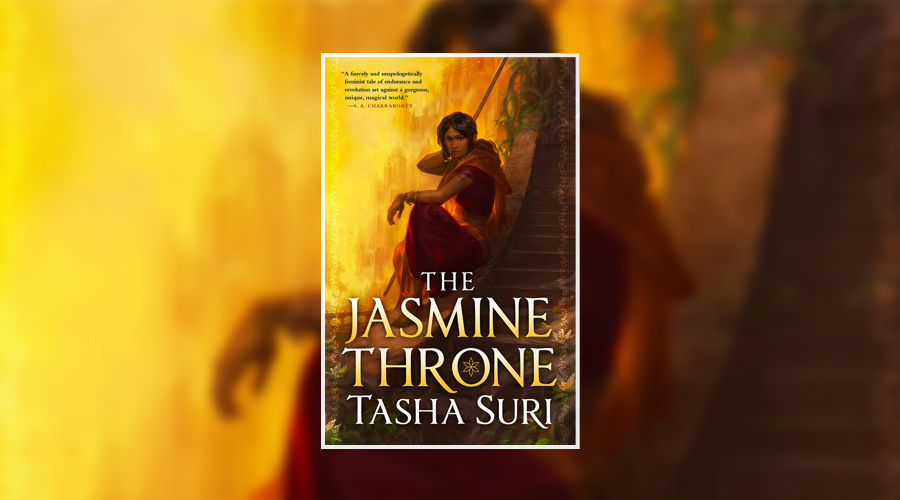 Inspired by the history and epics of India, The Jasmine Throne is a rich and immersive story that's built on a foundation of low-simmering political tension, a dark and violent history and a complex magic system, all of which are layered perfectly to tell the powerful story of the two women at its heart – a captive princess and a maidservant who, together, have the power to change the fate of an empire.
Set in a dark and intricate world and told through the eyes of two very captivating characters in particular, this novel explores everything from faith and conquest to fate and family, and it never once lets up on its breathtaking action or magic either. It really doesn't take very long at all for this book, the first in Tasha Suri's new Burning Kingdoms trilogy, to prove that it more than lives up to promise of the epic fantasy novel that it's been touted as and, as such, it quickly becomes clear that this is one fantasy novel that's definitely worth reading.
Malini is a Princess of Parijat who's been imprisoned by her dictator brother and forced to spend her days in isolation in the Hirana, an ancient temple in Ahiranyi. Once the source of great power, the Hirana is now no more than a decaying ruin and Priya is one of several maidservants who make the treacherous climb to the top of the Hirana every night to clean Malini's chambers.
But Priya is also hiding a secret about her own history and her true nature, and when Malini witnesses what Priya is capable of by accident one night, their destinies become irrevocably entangled. With Malini determined to depose her despot brother and Priya seeking to find her family again, the two women soon find themselves bound together as uneasy allies on a journey towards justice, vengeance and power, and all the while the fate of the empire of Parijatdvipa is left hanging in the balance.
"That was the problem with making allies. At some point, inevitably, there came a moment when a decision had to be made: Could this one be trusted? Had their loyalty been won? Was their generosity a façade for a hidden knife?"
As a whole, The Jasmine Throne checks off every box that any fantasy fan is looking for in their next great read. Rich world built on an intricate mythology and carefully crafted through detailed world-building? Check. Complex magic system with interesting rules and limitations that are constantly evolving as the novel unfolds? Check. Political machinations, uneasy alliances, and a bittersweet hint of romance between two characters whose reluctant trust of each other slowly builds into something more? Check, check and check again.
For all these familiar elements, though, The Jasmine Throne also holds the distinction of offering readers something completely unique and wholly compelling too. As the main characters, both Malini and Priya are endlessly fascinating, each with an interesting backstory to slowly uncover and with their own motivations for readers to keep puzzling out too. Both characters have suffered trauma in their pasts and both are working to their own ends and willing to use the other to achieve their goals, but seeing Malini and Priya come together and come to care for one another despite their reluctant beginnings is a beautiful thing to see unfold, and it's a testament to Suri's brilliant writing and excellent characterisation that it's the kind of slow-burning dynamic that hooks readers in completely and never feels rushed, underdeveloped or unrealistic either.
And truly, this novel thrives on Suri's brilliant narrative. At over 500 pages, The Jasmine Throne is a book that you have to be willing to commit to and although it's very clear that this whole novel is very much the beginning of a much bigger story, you can't fault the world-building. Alongside Malini and Priya, the book includes chapters from several other characters – from leading secondary figures to those on the sidelines – and therefore successfully captures a snippet of the story from every possible perspective to paint a broader story of an empire, the differing views of warring sides and the quick thoughts of those ordinary people who are caught up in conflicts not of their making too.
It's no easy feat to pull off, but Suri manages the multiple perspectives well here, and it helps serve the double purpose of not having to offer explanations for events in bulky dialogues later on too. In fact, The Jasmine Throne handles the unravelling of information in general extremely well throughout this novel, with Suri taking great care and calculation in dropping hints and letting knowledge unspool naturally through different viewpoints and nuanced conversations within the flow of the story, letting connections and histories play out with no jarring info-dumps and making the reading experience all the more rewarding for it.
The Jasmine Throne is a story of resistance and magic, blood and secrets, and it feels like the ideal successor for fans of the Daevabad trilogy searching for a new series to get lost in. It is overly long at times, and for all the steps forward in this novel, by the time you reach the final page it's hard to shake the feeling that The Jasmine Throne mainly serves as one big prologue for the books to follow, but it remains a wonderfully rich, intimate and evocative story all the same, and it's a brilliant start to what promises to be a truly epic series.
★★★★
The Jasmine Throne is published by Orbit on 10 June 2021