Book Review: More Happy Than Not by Adam Silvera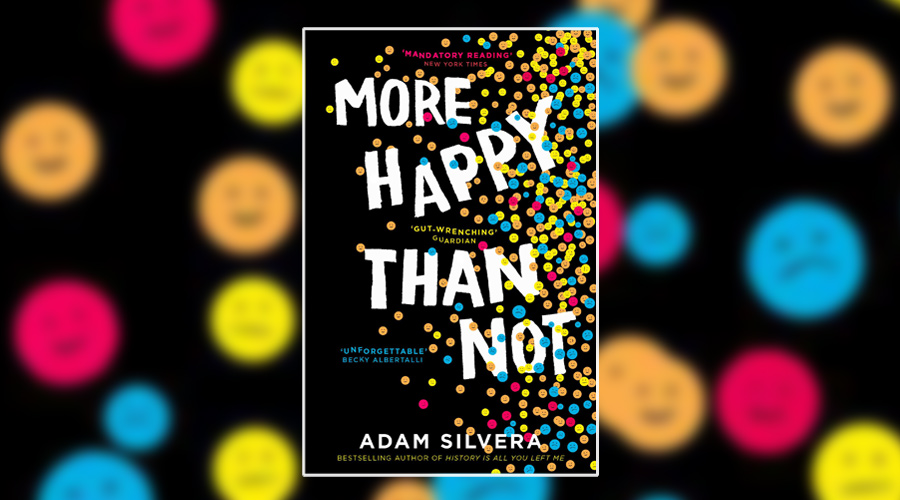 If you're at all interested in YA fiction, chances are you've heard of the name Adam Silvera. The author has built up a name for himself as a skilled writer of powerful and emotional (and also heartbreaking) stories over the last few years – but before there was History is All You Left Me, and before They Both Die at the End, Silvera made his debut as a YA writer with this book, More Happy Than Not. And now, three years after its initial publication, this latest re-release of the novel is here to remind us that Adam Silvera has always been able to hook an audience with his poignant storylines and intricate exploration of everyday issues.
More Happy That Not is Aaron's story, a sixteen-year-old boy from the Bronx who's trying to remember what happiness feels like after a couple of months where life has proven to be a bit too tough to cope with. His girlfriend Genevieve has proven to be a rock through the difficult times, but then Aaron meets Thomas and the connection is instant. As Aaron begins to develop feelings for Thomas, tensions with his other friends begin to escalate, and it isn't long before Aaron starts thinking about how much easier life would be for him if he didn't feel these feelings for another boy. A revolutionary memory-alteration procedure from the Leteo Institute may be the answer to helping him find happiness again, but it could come with a terrible cost – and Aaron is left facing a choice that makes him question what he wants and how far he'll go to get it.
"From the shapes cast by the green paper lantern, you would never know that there were two boys sitting closely to one another trying to find themselves. You would only see shadows hugging, indiscriminate."
In Silvera's own words, this is a novel about "science versus nature, friendship, sexuality, and a quest for happiness", and it's every bit as bold in scope as that sounds like. Over the course of this novel, Silvera confronts sexuality, race, class, suicide, depression, first loves, lost loves and bad loves, and yet it never feels like too much. Aaron is a remarkably grounded character and one of the most believable teenage boys in fiction. He's geeky, spends time in comic book stores, plays video games with his brother and sits around killing time with his friends, and it's heartbreaking – and also entirely plausible in this speculative world – that his sexuality causes him so much suffering that considering a risky procedure to alter the 'gay parts' of him feels like one of his only options.
There may be an LGBTQ+ slant to this novel, but the emotions running through it are entirely universal. This novel is both sad and bittersweet, gut-wrenching and hopeful, and how much you engage with it will undoubtedly depend on how you feel about a not-so-happy ending. At times, More Happy Than Not can be brutal and unlike typical YA fares that end on the message that everything turns out alright in the end, this novel maintains the more realistic message that life doesn't always go how you want it to, and people don't always act the way you feel they should. 
In all, More Happy Than Not is a unique take on a coming-of-age novel, combining the confusion of trying to figure out who you are with the heartache of one-sided relationships and complex feelings, all mixed in with the heavier topics of grief, loss and regret too. Silvera's writing is detailed and authentic, and though the tone shifts between slightly-too-rushed and slightly-too-slow at times, it is always compelling.
And, more than anything, More Happy Than Not isn't a novel that you're likely to forget in a hurry.
★★★★
More Happy Than Not was published by Simon & Schuster on 12 July 2018