Book Review: Infinity Son by Adam Silvera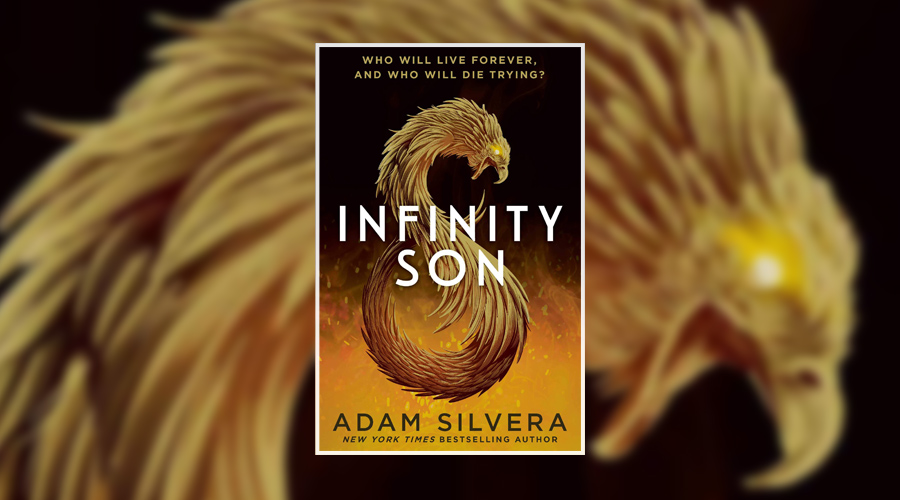 Adam Silvera has made a huge impact on the YA contemporary scene. His books, which include History Is All You Left Me and They Both Die At The End, have always been about the struggles of youth and embracing who you are; about loves lost and found and the fragility of life. They're refreshingly diverse and inclusive, charged with a raw emotion and tenderness often lacking from adult fiction. Silvera's latest, the enigmatically titled Infinity Son, is his first foray into the world of YA fantasy, traversing classic Silvera themes with a Harry Potter/X-Men-esque narrative.
Infinity Son throws readers straight into the action as brothers Emil and Brighton find themselves caught in a fight between two magical factions. Growing up in New York, the brothers idolised the Spell Walkers – a vigilante group born with super powers ranging from accelerated speed to levitation to the ability to heal people. The Spell Walkers have sworn to rid the world of specters – a rival faction who violently and illicitly steal their powers, exploiting the essence of endangered magical creatures.
Emil and Brighton have nothing but love for each other but they differ in what they want from life and from the impending war between the Spell Walkers and the specters. Emil is a gentle peacemaker who just wants the fighting to stop, whilst swaggering Brighton yearns to come into a power of his own so that he can join the fight and make more of a difference than just filming the action for YouTube. If one of the brothers had to suddenly gain a Celestial power and become a key player in the fight again evil, the obvious choice would be Brighton. But it wouldn't be a good story if that happened.
Like Harry Potter, Buffy and all the other chosen ones before him, Emil doesn't want the fate of the world on his shoulders but he can't ignore the fight, not when the lives of people he loves are in jeopardy. With the specters growing bolder and more powerful, Emil manifests a formidable power of his own that tests the loyalty and integrity of not only the brothers, but the Spell Walkers themselves as they struggle to put an end to the specters whilst holding on to the one thing that differentiates them from their enemy: their humanity.
"We know damn well how risky it is for someone to consume creature blood. Specters trade their lives for power, and I pray my brother never mistakes this tragedy for a miracle."
By self-admission, Silvera's first fantasy book has been ten years in the making and it works both in its favour and to its detriment. Those ten years have allowed the novel to evolve in tandem with the changing publishing landscape, allowing Silvera to write the story he truly wanted to tell: "One where a queer kid is powerful and carries the weight of the world and falls for a shapeshifting boy." Infinity Son is a very timely novel in the way it reflects issues that, regrettably, still plague contemporary society, chiefly xenophobia and discrimination.
Yet whilst the story is thought provoking and wise in the overarching themes it explores, as well as heartening in its representation and inclusiveness, the plot itself feels strangely hackneyed. It's impossible not to mention Harry Potter again, as the book wears its J. K. Rowling inspirations on its sleeve, right down to the 'Infinity Elder' dagger and a graveyard scene which evokes the duel in Little Hangleton. Of course every writer takes inspiration from other writers but, as readers, we shouldn't be able to so easily place the source of those inspirations. Combine the Harry vs. Voldemort style battle between good and evil with the X-Men super-hero team-up and Infinity Son suddenly goes from a book full of exciting promise to just another YA fantasy story that's a decent enough read at the time but easy to forget soon after.
That's not the only disappointment. Emil's insecurities about his body and the way he discloses them to his once-foe-turned-potential-love-interest, Ness, is shoe-horned into the final chapters and it feels uncomfortably rushed. We come to understand that Emil doesn't value himself throughout the novel but this key moment of vulnerability, a scene that should have had so much weight, would have been better placed further down the line, when the two characters have spent more time with each other and the trust genuinely feels earned.
However, it's the pacing and exposition that's ultimately the main issue in Infinity Son, with either not enough information – we're thrown into the story with minimal world building, making it difficult to keep up with all the names/major events in history that the characters jabber about – or too much (some of Emil's internal thoughts are cringe-inducingly ill timed and irrelevant). This might as well have been the second or third book in the series for all the introduction it delivers.
As a contemporary writer, Adam Silvera's stories explore culture, race, sexuality, identity and acceptance with an astuteness and openness that young adults need. Yet there's something missing from Infinity Son – a beating heart – which left me feeling empty and dissatisfied at the end. It's a shame too, as there's a really good story lurking in the pages of this book and Silvera is capable of writing it, if only he can move beyond his initial literary and cinematic inspirations to give the story more depth and originality.
★★
Infinity Son is published by Simon & Schuster Children's on 14 January 2020