Book Review: They Both Die At The End by Adam Silvera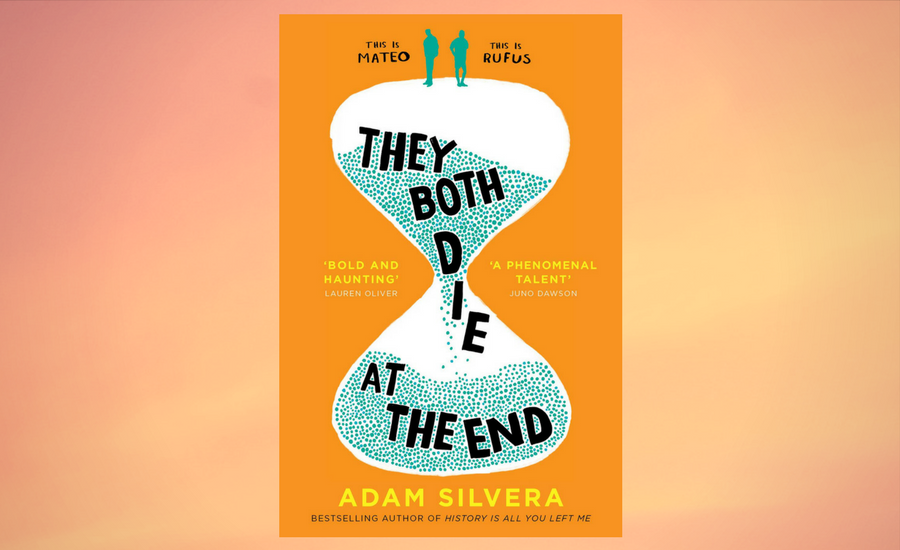 If there's one thing that contemporary YA author Adam Silvera knows how to do, it's take his readers on one hell of an emotional rollercoaster. Life, death, love and last chances are at the centre of his latest novel, They Both Die At The End, which explores LGBT romance against the backdrop of a high concept driven-by-fate plot.
Mateo Torrez and Rufus Emertrio are complete strangers but they have one thing in common: they're going to die today. A little after midnight on 5th September, they both get individual calls from Death-Cast giving them a warning that today is their End Day. There aren't any specifics, no how, where or precisely when, just that death will come for them within a window of 24 hours.
For different reasons, both Mateo and Rufus find themselves alone on their End Day and instead of living out their last hours miserable and lonely, they log on to the Last Friend app, where they meet virtually, before agreeing to meet in real life too. Afraid of most things, Mateo has always lived a cautious life and he just wants to spend his final day on earth actually living. Rufus is more spontaneous, currently on the run from the police, and is more than happy to help Mateo break out of his comfort zone.
Together, they go on one last adventure – attempting to live a lifetime in a single day without ever leaving the confines of New York. Amidst virtual reality adventures, underground raves and visits with loved ones, Mateo and Rufus discover things they could never have dreamt of finding on their End Day: Friendship, love, hope and happiness.
"No matter when it happens, we all have our endings. No one goes on, but what we leave behind keeps us alive for someone else."
Silvera's last book, History Is All You Left Me, explored love and grief with heart-breaking poignancy, and They Both Die At The End tugs just as hard on the heartstrings. For a story about two people on the cusp of death, it's surprisingly optimistic and buoyant, making it more about what you do with the time you have left, than what you've done before or what comes after. This isn't a book about regret – though each of the two main characters feel some form of remorse or guilt. It's about living for the moment, being open to opportunities and letting new people into your life.
Whilst the story is primarily told from the dual perspectives of Mateo and Rufus, we get small chapters from the viewpoints of other characters too; their best friends, the employees of Death-Cast who have to inform people that they're going to die, seemingly random strangers whose lives briefly collide. This gives the story a wider scope but at the same time it feels incredibly personal, like the reader is being invited to exist in the personal End Day bubble that Mateo and Rufus unintentionally create for themselves.
What I've always loved about Silvera's books is how down to earth they are and how they embrace love over hate. LGBT romance is sensitively explored here, as is the theme of death, learning to accept the things you can't change and living every moment as if it's your last. You know from the beginning that there's not going to be a magic cure whipped out at the end – just look at the title – but I was still praying that Mateo and Rufus would find some way to dodge death. Silvera makes you care about his characters like you know them and that's the best thing a writer can ever do.
They Both Die At The End is the kind of book that makes you sit back and ask if you're really living, rather than just existing. It's tender and relatable despite the high-concept narrative, capturing what it means to be young, what it means to love, and what it means to be human.
★★★★
They Both Die At The End was published by Simon & Schuster on 7 September 2017