March reads: 10 of the best new books published this month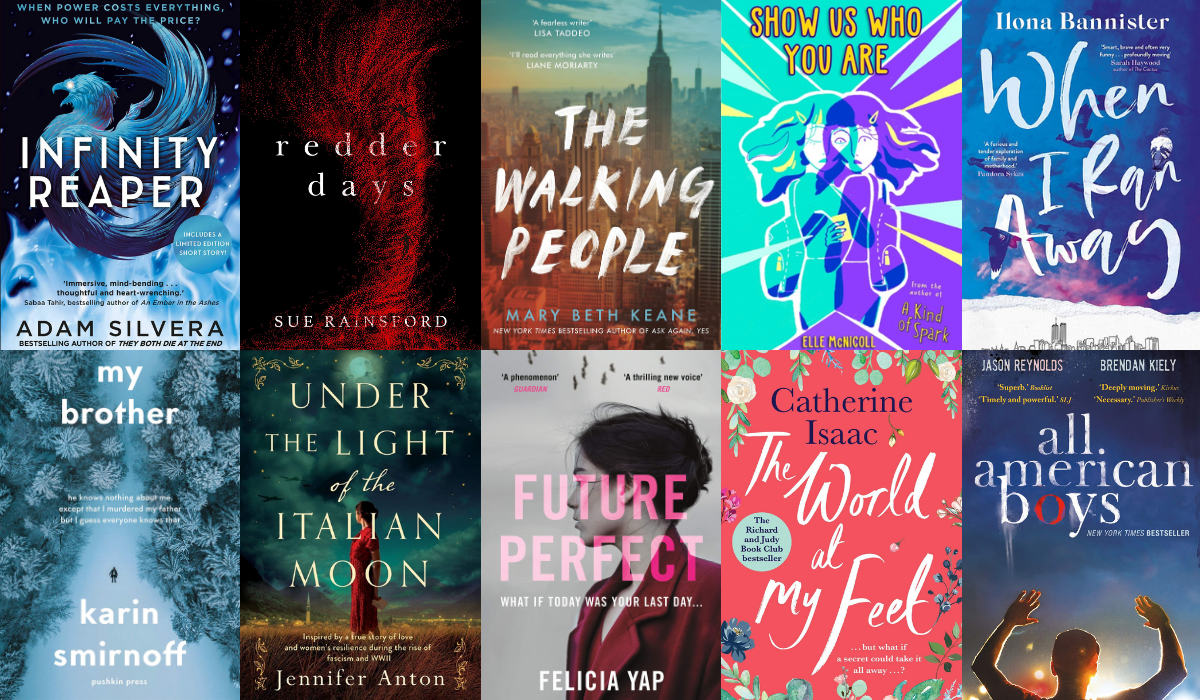 The sun is shining, the daffodils are out, and we can – just about – wander across grass without losing our wellies to a muddy quagmire. Spring's imminent arrival has everyone feeling a little brighter about life in general. And if you need another reason to feel optimistic about the month ahead, just look at all the exciting new books hitting local and independent bookshops in the coming weeks.
From eerie dystopia and immersive YA fantasy, to moving transatlantic voyages and sweeping historical fiction, this month's books offer heart, hope, thrills and escapism in spades. Here are ten must-read titles to add to your Spring TBR list.
The Walking People by Mary Beth Keane
Over ten years after it was first released in the US, Mary Beth Keane's debut is finally being published in the UK. The Walking People follows Greta Cahill, first as a child in 1950's Ireland as she leaves her deserted village and boards a ship bound for America, and then in 1960's New York, as Greta steps out of her sister's shadow to carve out a life for herself. Years later, now with children of her own, Greta yearns for the past but she has a family secret to protect. In uniting the worlds she so cautiously kept apart, Greta fears she might lose everything. This is a moving and sweeping story that takes readers from the west coast of Ireland to America, following a family of immigrants across the different decades. (4 March, Michael Joseph)
Show Us Who You Are by Elle McNicoll
If you read and enjoyed Elle McNicoll's acclaimed debut, A Kind of Spark, you'll love Show Us Who You Are – an #OwnVoices children's story that follows a twelve-year-old autistic girl who must unravel a dark plot involving artificial intelligence. Dragged to a party by her brother, Cora meets and befriends Adrien, another Neurodivergent child, who also happens to be the son of the intimidating CEO of the Pomegranate Institute, who are using AI to create life-like holograms of people to offer comfort to grieving families. Initially intrigued by the project, Cora agrees to take part in the company's research, only to realise that they have a much darker plan. McNicoll writes with such warmth and compassion as she explores Neurodiversity, friendship, courage, loss and platonic love. It's an empowering story that's vital reading for children and adults alike. (4 March, Knights Of)
All American Boys by Jason Reynolds & Brendan Kiely
Co-written by award-winning authors Jason Reynolds and Brendan Kiely, All American Boys is told from the alternating perspectives of two teenagers grappling with the repercussions of a violent act that ricochets through their community. Sixteen-year-old Rashad went into the shop looking for a bag of chips. Instead he encounters a fist-happy cop who, mistaking Rashad for a shoplifter, takes his power and authority too far. Basketball player Quinn witnessed the event; he knows what happened. But when the cop involved in the beating of a black teenager is the same man who helped raise you, the truth is a bitter pill to swallow. As the police brutality makes the news, kids at the boys' school begin to take sides, and it's not long before the whole town does too. Racism, prejudice and the imbalance of power still plaguing America are at the heart of this powerful and thought-provoking YA novel. (4 March, Faber & Faber)
When I Ran Away by Ilona Bannister
Ten years after 9/11, Gigi Stanislawski is still grieving the death of her younger brother, Frankie. She's lost and unfulfilled. So when she reunites with Harry, the British man who was with her on the day the Twin Towers collapsed, they fall deeply in love and move to London. However, the relocation only heightens the glaring differences in their class and culture, something that's further exacerbated after the traumatic birth of their baby. Struggling with marriage and motherhood, Gigi searches for a light to pull her out of the darkness and help her find a way back to the woman she wants to be. When I Ran Away is a beautifully written debut that handles the subjects of loss, postnatal depression and identity with honesty and wry observations. It's a book that really stays with you. (4 March, Two Roads)
Infinity Reaper by Adam Silvera
Following on from his first foray into YA fantasy, Adam Silvera delves back into the world of heroes and villains, Spell Walkers and Specters, as brothers Emil and Brighton once again fight for their lives, as well as the fate of the world. Having defied the odds in Infinity Son, Emil and Brighton thought they'd defeated their enemies. But with the Spell Walkers' ranks fracturing and Brighton on death's door after drinking the Reaper's Blood potion, Emil must race to find both an antidote to save his brother and a solution to the next battle ahead. As a sequel, Infinity Reaper benefits from readers already being familiar with the characters and the magical universe they exist in. With action, romance, revenge and complicated sibling dynamics, it's a must read for Infinity Cycle fans. (4 March, Simon & Schuster Children's UK)
My Brother by Karin Smirnoff
Set in the rural north of Sweden, My Brother follows Jana as she returns to see her twin brother, Bror. The siblings are both damaged by harrowing childhood experiences but Jana can't keep running forever; she must face the secrets and traumas of her past. Translated by Anna Paterson, Karin Smirnoff's Swedish bestseller is a dark and disturbing novel about family, love, complicity and abuse. Sentences are structured without commas and speech marks, which only heightens the intense, uncomfortable atmosphere. Smirnoff creates such a sense of isolation and hopelessness – but if you can persevere through the bleakness, you'll find that salvation and forgiveness can be found. My Brother is perfect for fans of Scandi-noir dramas. (4 March, Pushkin Press)
Under The Light Of The Italian Moon by Jennifer Anton
Inspired by a true story of Italian women during the rise of fascism, Jennifer Anton's historical debut takes place in Fonzaso, Italy, between the two world wars. It centres on Nina Argenta, the daughter of the town's strong-willed midwife, who embarks on a long-distance relationship with her childhood friend, Pietro, only for their future to be threatened by a country in chaos under Mussolini's rule and Nazi occupation. Under the Light of the Italian Moon is an engrossing family saga that highlights the determination and resilience of women during wartime. Exquisitely researched, with evocative historical detail, it's a testament to how fortitude, hope and love can overcome the worst of humanity. (8 March, Amsterdam Publishers)
Redder Days by Sue Rainsford
Twins Adam and Anna live in a strange landscape – a derelict commune where they stave off a condition called 'redness' and prepare for a world-ending event they believe is coming. Their only companion is Koan, their former leader, whose power still lingers despite his deteriorating health. They live a solitary life, until one of the commune's departed members returns, throwing everything the twins know into question. Exploring humanity, abandonment, emotional endurance and corrupt power, Sue Rainsford's second novel isn't your typical dystopian novel. From its intriguing first few pages to its surreal end, Redder Days proves itself to be an unnerving, unusual and atmospheric read. (11 March, Doubleday)
The World At My Feet by Catherine Isaac
The World At My Feet centres on the respective journeys of two women in two different time periods. In 1990, journalist Harriet is sent to Romania to report on the state orphanages. The things she sees whilst there will change not only her viewpoint but, ultimately, her life too. In 2018, gardener and Instagram influencer Ellie shares carefully curated photos with her followers. What they don't know is that she's agoraphobic and can't set foot beyond her garden gate. That is until someone enters her life who might finally force Ellie to overcome her fears. Moving between post-revolution Romania and picturesque England, this is a tale that's equal parts heart-warming and heart breaking – which is exactly what we've come to expect from Isaac's empathetic and emotional novels. (18 March, Simon & Schuster UK)
Future Perfect by Felicia Yap
Felicia Yap's second novel is a speculative literary thriller that takes readers into the world of high fashion when a bomb explodes during a show, killing a beautiful model on the catwalk. A murderer at large isn't the only thing on Police Commissioner Christian Verger's mind though. His wife has just left him, he has a past secret to keep, and his predictive voice assistant has forecast that he has a 99.74% chance of dying tomorrow. And so the race against time to solve a murder begins… Moving from Montana to Manhattan to a futuristic Britain, Future Perfect is a clever and multifaceted high-concept story with an engaging murder mystery at its core. Expect this to be one of 2021's biggest thrillers. (18 March, Wildfire)