Book Review: Lady Midnight by Cassandra Clare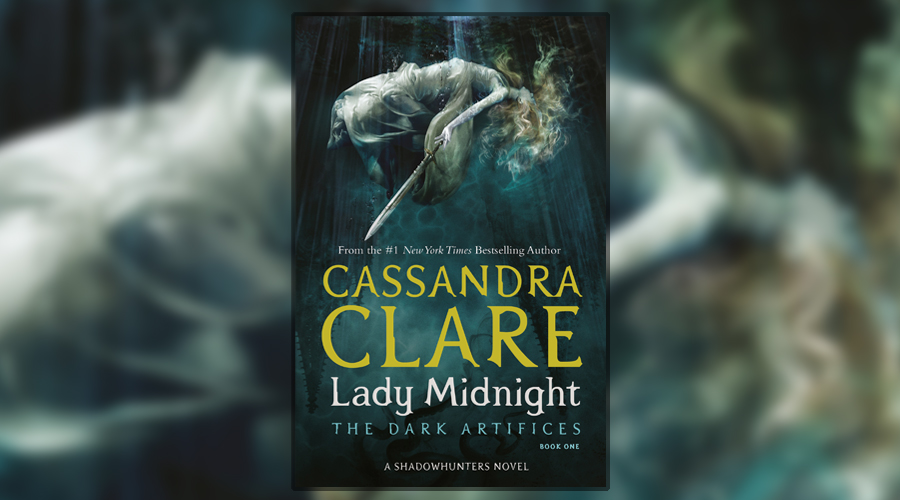 Cassandra Clare has spent the ten years since the first Shadowhunters novel was released building, adapting and expanding her world in a range of novels, spin-offs, prequels and tie-ins, so with the release of the latest Shadowhunter novel, and first in the new Dark Artifices series, you'd probably be forgiven for thinking you've read it all before. But actually, the beauty of Lady Midnight is that it is quite far removed from all that's come before it and instead embarks on a compelling new Shadowhunter mystery that explores the ties of family, love, blood and loyalty in a world that's beginning to move on from the events of City of Heavenly Fire. 
Emma Carstairs and Julian Blackthorn survived the Dark War with their worlds torn apart, but they've always had each other – which is how it should be for parabatai. Five years after the events of City of Heavenly Fire, Emma is a 17-year-old warrior, badass and the best Shadowhunter of her generation who's more determined then ever to discover who – or what – killed her parents and avenge her losses, while Julian was forced to grow up a bit too quickly to raise his younger brothers and sisters alone all the while trying to live with his forbidden feelings for Emma.
When the bodies of humans and faeries turn up murdered in the same way as Emma's parents were, she sees it as her chance to finally find answers and for Julian it's the chance to get back his brother Mark, who's been held captive by the faerie Courts and the infamous Wild Hunt for years. With an uneasy alliance formed between the Los Angeles Shadowhunters and the fey, Emma, Julian and Mark have three weeks to find the murderer and stop them before Mark is reclaimed by the faeries and Emma and Julian's worlds are turned upside down all over again.
The unavoidable fact is that yes, there are a lot of familiar elements in Lady Midnight, both for those who've read Clare's past work and for YA fantasy readers in general: there's a mission to undertake, a mystery to solve and a forbidden love at the centre of it all that you can assume will edge into love triangle territory. Where this novel sets itself apart though is its excellent group of complex characters and its quick-paced action-packed plot, meaning that even when you're reading something you've read before, you enjoy the journey a lot more.  
As a main character, Emma Carstairs is everything Clary Fray wasn't when we first met her and therefore very much benefits from Clare's not having to establish a new world or a historical setting in Lady Midnight. Both Emma and Julian have grown up in this world, so they're born and raised Shadowhunters and Emma in particular is self-assured, strong and someone who lives for the battle, making for an instantly engaging heroine in an immersive world. Julian too is a much more complex character than we're used to seeing from YA male leads and their parabatai relationship is an interesting new level to play with, even if it does seem slightly retconned in the Mortal Instruments universe in order to make Julian and Emma's feelings for one another 'forbidden' in the first place.
"Emma swallowed. She was remembering Julian, two years ago, standing in the overlapping circles of fire where the parabatai ritual was performed. The look on his face as they each stepped into the central circle and the fire rose up around them, and he unbuttoned his shirt to let her touch the stele to his skin and carve the rune that would bind them together for their whole lives."
Even so, between Emma and Julian's history and their changing relationship, the Shadowhunters dealing with the fallout of the Dark War and the Cold Peace that followed, and Mark's own history in faerie, with his time in the Wild Hunt continuing to have an effect on him and how he settles back with his family, Lady Midnight just felt like a more mature novel than most in the genre. There is lots of demons, death and fighting in this novel, and it doesn't shy away from the darker aspects of life that comes with those battles either, and that was a joy to dive into, especially when it builds towards its imaginatively creepy climax.
There's no denying that Clare can craft an interesting story, and Lady Midnight brings together her old faithful tropes with years of storytelling experience to launch a new series in an established world that really packs a punch. Yes, there is a fair bit of this that may not be particularly new or groundbreaking, but the way its told guarantees to hook you in anyway and once you give yourself over to the journey, you'll soon find yourself staying up all night to finish it.
★★★★
The new Lady Midnight paperback in published by Simon & Schuster on 23 February 2017