Book Review: Before The Rains by Dinah Jefferies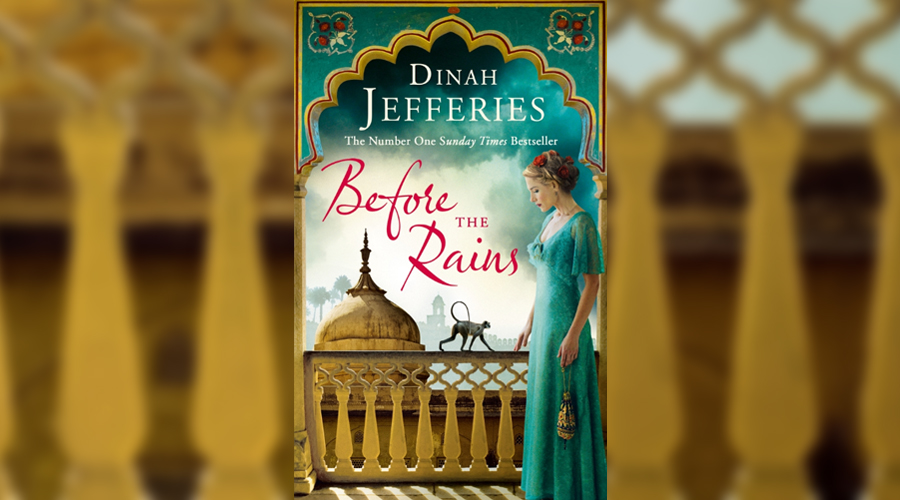 India has recently become a popular choice as the setting for several television series. With its diverse population and long history of association with the British Empire, it's an intriguing backdrop for any novel.
Enter Dinah Jefferies – author of The Separation (2014), The Tea Planter's Wife (2015) and The Silk Merchant's Daughter (2016) – whose latest novel, Before The Rains, is a seductive tale that captures the essence of a bygone era in an exotic setting.
Set in 1930's India, the story follows the tragically widowed but highly spirited Eliza, a 29-year-old photo-journalist who arrives in Juraipore, Rajputana for her biggest commission yet, to photograph the royal family in their castle surroundings. On her arrival at the castle she meets the royal inhabitants, including the charismatic and non-conformist Jay, the prince's mysterious younger brother.
Eliza is no stranger to India, having previously left Delhi with her mother in 1912 at the tender age of eleven, after witnessing the terrible death of her father. Confident she can put this tragedy behind her, she is determined to re-invent herself as a photographer to be reckoned with. She soon realises that all is not as it seems behind the palatial doors. Despite her independence and easy-going nature, Eliza has to bend backwards to adapt and fit in, finding the customs and family traditions continually standing in her way.
Eager to capture the spirit and essence of the real royal family and their opulent culture, she is undeterred by these conventions. She strikes an unusual bond with Jay when she finds they have a common interest. This soon draws them much closer than is socially comfortable for not only the royal inhabitants, but for the British community who follow a strict code of conduct for British women, particularly where relationships with Indian men are concerned.
The castle walls have ears and treachery abounds within them. Eliza finds her every move monitored and scrutinized by those who wish to further their position in the royal household and who will stop at nothing to blacken her character, incriminate her and make her photographic mission fail.
Eliza's life becomes increasingly complicated when she discovers that Clifford, the man who helped secure her current work position, has ulterior motives for helping her. She's soon torn between helping Jay implement improved conditions for local people, or by following the pre-arranged – and less desirable – course of having her hand forced into a loveless but practical marriage. Long hidden secrets will eventually surface which are both shocking and revealing for Eliza.
Before The Rains is a beautifully written novel which transports you back to a time when the British Empire was still heavily influencing India, and it gives the reader a real insight into the customs and traditions of the country in the 1930's. As with all Jefferies's novels, her research is impeccable and I really felt my senses come alive; gorgeous descriptions of desert landscapes, lakeside palaces and colourful festivals, combined with the intoxicating sights and sounds of the vibrant country, are guaranteed to keep you hooked.
Jefferies describes the complex emotions of love and loss with extreme sensitivity, and coupled with the steamy settings of her book, it makes for a heady concoction, providing the perfect setting for her strong, independent female protagonists.
★★★★
Before The Rains in published in hardback by Viking on 23 February 2017