Alex Dahl on the inspiration and research behind Cabin Fever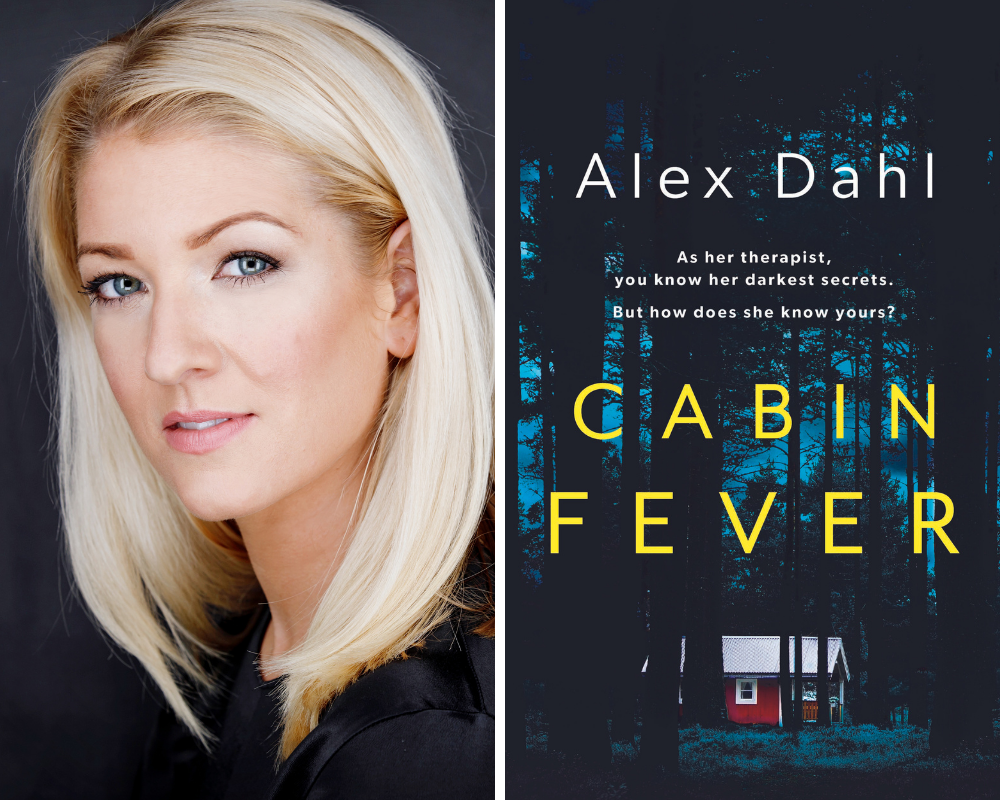 Cabin Fever tells the story of experienced psychotherapist, Kristina Moss, and her troubled client, Leah Iverson, a famous novelist, whose lives collide with devastating consequences, making them both come entirely undone.
When Leah shows up to their Friday afternoon session bruised and hysterical, begging Kristina to come to her cabin so she can tell her the truth, Kristina comes up against a hard professional boundary- the therapy room is the only space therapists and clients meet. But when Leah fails to turn up to their next session and Kristina discovers that Leah is 13 weeks pregnant, she goes to Leah's apartment, where she surprisingly encounters her violent ex-husband, Anton. Could it be that Leah has lied to her? Or is she in grave danger?
Heartbroken, hurt and lonely, Leah has retreated to her remote cabin in Telemark's dense forests where, unable to write her anticipated second novel, Leah begins to write to Kristina, and that's when the words finally begin to flow…
When the police refuse to go to Telemark to make sure Leah is okay, Kristina goes to find her client, but the cabin is empty and Kristina sustains a terrible injury which leads to her being trapped in the primitive cabin, with nothing but Leah's written confession for company.
The idea for Cabin Fever came to me during my own course of psychotherapy. I'd found it to be a very powerful and transformative tool for dealing with life's stresses, both past and present. I developed a strong interest in the therapeutic process and its history, immersing myself in lots of books on the topic, even briefly considering professional training myself. (I ultimately decided against it because I love what I do, but who knows, maybe someday.) The thought that became the seed for Cabin Fever was how very strange it is, to hand over the most precious and intimate part of ourselves- our minds- to an absolute stranger, about whom we'll never know anything much. This developed into- what if the therapist wasn't the soothing, calm, dependable person we believed them to be, but someone else entirely- someone with deep flaws and dark secrets?
I deliberately aligned Cabin Fever quite closely with my own life in some ways, something I'd never consciously done before. The main character, Dr. Kristina Moss, is named after one of my dearest friends, Kristina, who is also a practicing psychotherapist. The other main character is a novelist, like me, whose background vaguely mirrors some of my own experiences. We also meet Elisabeth and Trine, Kristina's two best childhood friends, named after my own. I used themes from therapy and elements of the therapeutic bond as I've experienced it. The similarities end there (hopefully) as the plot descends into obsession, addiction, stalking, trauma and murder, but I found it an interesting and challenging thing to do, to make elements of Cabin Fever slightly more personal than my previous novels.
Cabin Fever by Alex Dahl is just published by Head of Zeus at £18.99